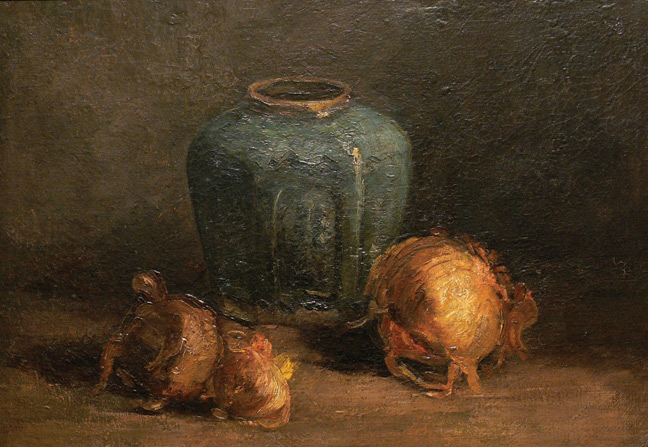 Van Gogh Worldwide is an online platform offering a wealth of art historical and material technical knowledge on the works of Vincent van Gogh (1853-1890). For the first time, all of the data on works by by Vincent van Gogh from various museums, institutions and private persons from across the world have been brought together, making this THE research resource for the work of this world-famous artist. The images and research data on Still Life: Ginger Pot and Onions from the McMaster Museum of Art collection can now be found on www.vangoghworldwide.org.
In 2015, the painting was examined using infrared reflectography, x-radiography, and ultraviolet fluorescent light (see these images by clicking here and scrolling down). The images indicate a strong possibility that there is a hidden composition underneath this painting, although the silhouette is unclear. The McMaster Museum of Art is very excited to have joined Van Gogh Worldwide to participate in the sharing of our resources, and contribute to the accessibility of research on this globally-recognized artist.
The Van Gogh platform incorporates photographs of the artworks, as well as object data, origin, exhibition- and literature data, letter references and material technical information. The website makes it easy to search by subject, material or date, and to view several artworks side by side and compare the data. Van Gogh Worldwide contains the data of more than 1100 artworks that are part of Dutch collections. Works from international collections began being added in 2022, these are scattered widely across the world, and are looked after by nearly 200 institutions and private persons.
Van Gogh Worldwide is an initiative of the RKD – Netherlands Institute for Art History, the Kröller-Müller Museum, and the Van Gogh Museum, and is supported by the Vincent van Gogh Foundation and the Mondrian fund.