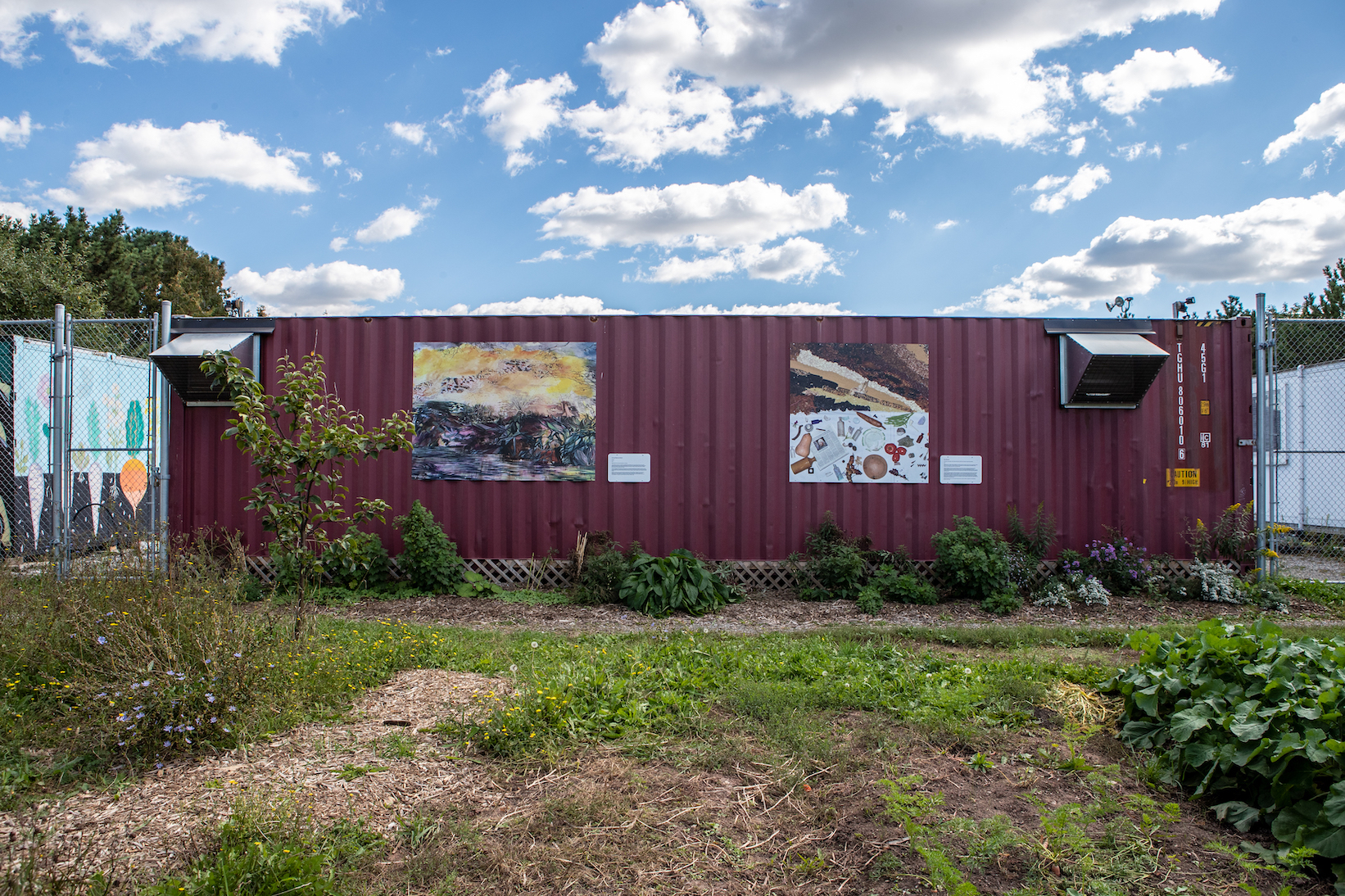 The new public art installations, part of enawendewin/relationships, were revealed at a public opening ceremony this weekend.
On Saturday, September 18th, the McMaster Museum of Art in collaboration with the City of Hamilton and McQuesten Urban Farm, celebrated the launch of two public art murals now permanently displayed in the farm's urban garden.
The murals are presented as part of the online and multi-site arts project at the M(M)A, enawendewin/relationships, curated by William Kingfisher.
The work on view includes Deluge by Anong Migwans Beam, and Remains in Association with Cultural Deposits: 10,000 Years Before Present Era (Detail) by Ron Benner.
To mark the opening, a public drop-in event welcomed a small crowd who gathered adjacent to a sacred fire to enjoy traditional Indigenous songs and remarks from the Aboriginal Health Centre, the City of Hamilton, as well as from M(M)A Senior Curator Pamela Edmonds, William Kingfisher, and artist Ron Benner. Thank you for all who attended and made the event such a success!
Folks who are interested in viewing the work can do so at their leisure by visiting McQuesten Urban Farm at 785 Britannia Ave, Hamilton, ON L8H 6P7.
To view the online component of the exhibition, click here.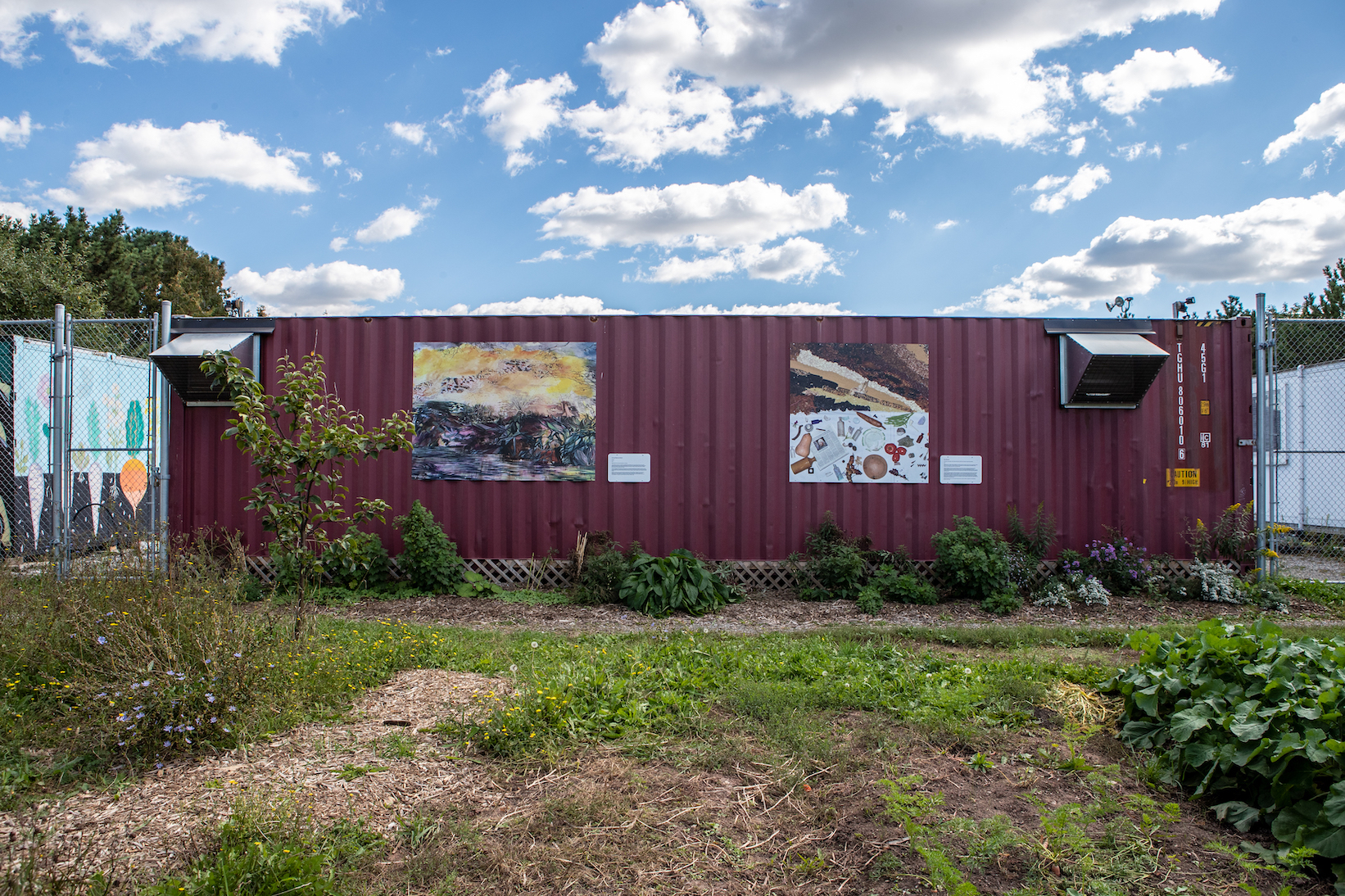 About the work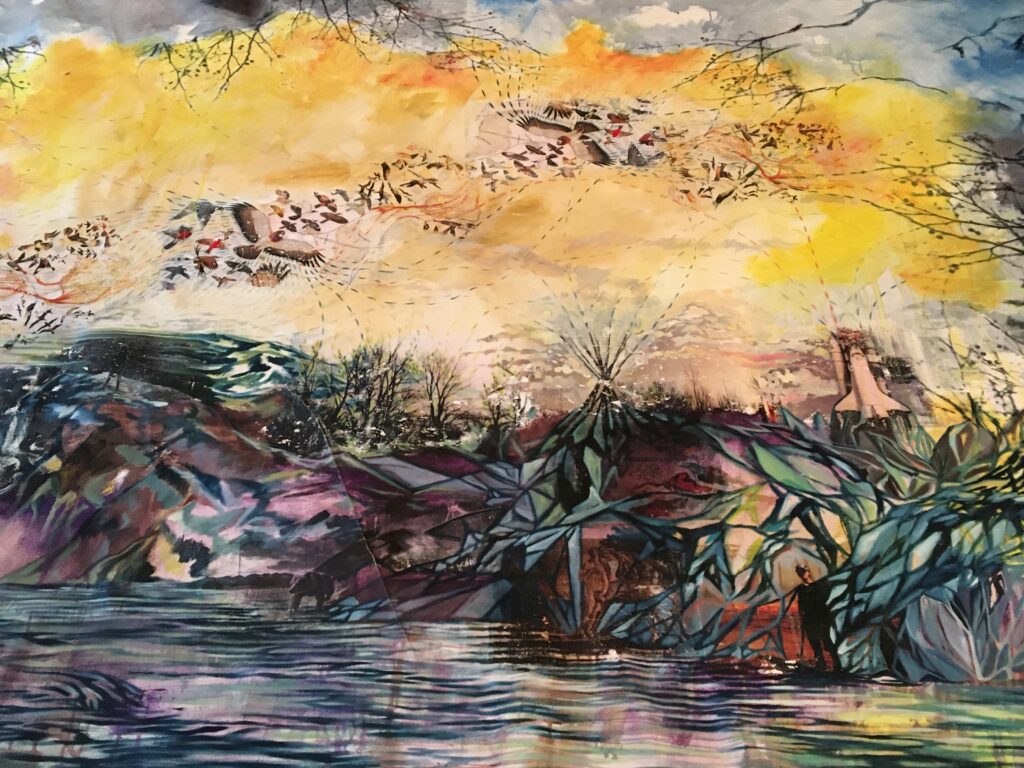 Anong Migwans Beam is an artist from M'chigeeng First Nation who, out of concern for the environment, makes her own paints from natural materials found near her home on Manitoulin Island. Born to artist parents Carl and Ann Beam, Anong's large format paintings incorporate a range of creative approaches, including phototransfers, printmaking and collage.
The word "deluge", which means a severe flood or an overwhelming quantity of something, connects Anong's art to her exploration of relationships between water and memory. This landscape, about reclaiming natural and social histories, incorporates birds, bears fishing for salmon, teepees, a space shuttle, and an image of the artist herself.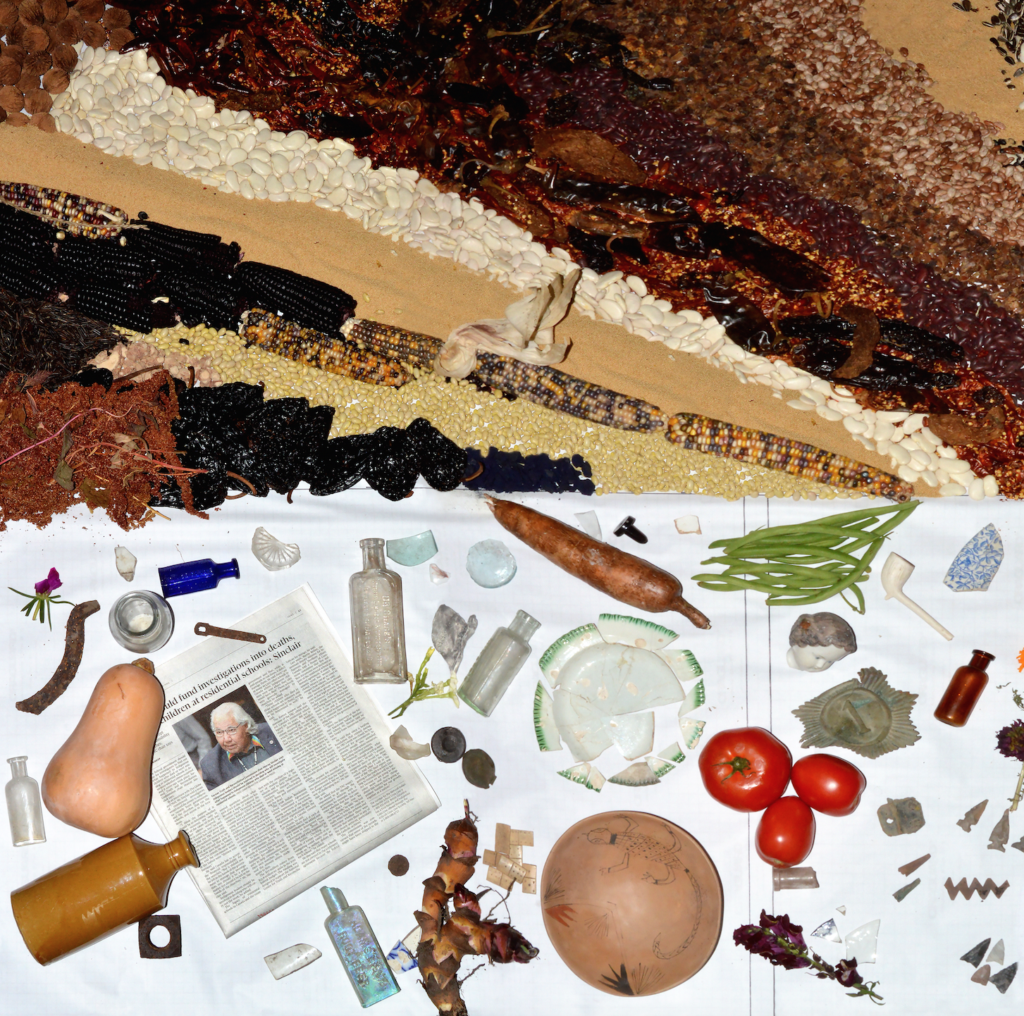 Since the 1970's Ron Benner has explored the economy of food and its connection with seeds, farming methods, Indigenous sources of food, colonialism, the local community and globalization.
Ron is an internationally recognized, London Ontario-based artist who studied Agricultural Engineering at the University of Guelph. Finding himself ethically opposed to bioengineering, he began to travel and research the politics of plants and food.
In this image, which is a part of a larger photographic mural, Ron links dried seeds and grains to fresh flowers, fruits and vegetables indigenous to the Americas to a range of archaeological objects. He includes a Globe and Mail newspaper article by Murray Sinclair (the chairman of the Indian Residential Schools Truth and Reconciliation Commission from 2009 to 2015) on the recent findings of unmarked graves at the residential schools. The work signifies the early presence of organized farming and points to the economic and political factors at play in the migration of plants from their indigenous lands, offering a critique of the ongoing effects of colonization on food preservation.