McMaster Museum of Art is pleased to announce the award recipients for emerging artists participating in this year's BFA graduating exhibition SUMMA 2023. McMaster School of the Arts faculty and exhibition curator Mosa McNeilly presented the awards to students during the Opening Reception held on April 6, 2023.
The museum award, selected by guest curator Mosa McNeilly, was presented to Tanisha Bryan.
Tanisha Bryan (she/her) is a Black, Indigenous, Belleville-based conceptual artist who works primarily in installation. While completing her BFA at McMaster University, Tanisha's concepts have revolved around her experiences as a BIPOC and LGBTQSIA+ individual, in addition to the struggles of her family and BIPOC community. She brings these difficult topics to light for people to start a conversation.
Tanisha's works are ever evolving as she uses different mediums and creations to best fit the concept of a current art piece. In the future, Tanisha hopes to take her passion for BIPOC advocacy and apply it to her career as an advocate for BIPOC student-athletes and the BIPOC community, to help get young athletes into university.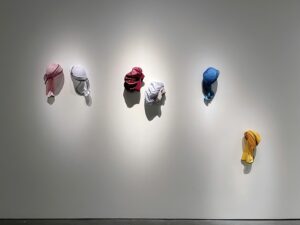 The honourable mention for the museum award, selected by guest curator Mosa McNeilly, was presented to Ben Cumming.
Ben Cumming (He/Him) is an interdisciplinary artist based in Hamilton. Ben's work often confronts environmental concerns regarding climate change and over extraction of natural materials. He confronts these concerns through imagining sustainable futures that lean away from dystopian representation and towards a sustainable and equitable depiction of the futures. Ben does this visually by investigating organic and non-organic forms, materials and techniques and finding the intersection they have to each other visually and conceptually. Ben's material choices have a basis in digital media and sculpture but are heavily rooted in experimentation and adaptation with emerging technologies.