Current & Upcoming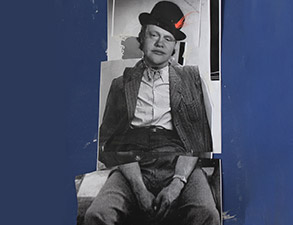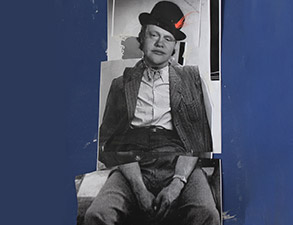 ANGELA GROSSMANN
Troublemakers
CURATORS:
Lynn Ruscheinsky, PhD
RECEPTION:
Thursday, January 17, 6 - 8 pm
ARTIST TALK:
Friday, January 18, 12:30-1:20 pm
Troublemakers: Angela Grossmann
Curator: Lynn Ruscheinsky, PhD  |  January 17 - March 9, 2019
Opening Reception: Thursday, January 17, 6 - 8 pm
Artist/Curator Talk: "Hello Dolly" Friday, January 18th, 12:30-1:20 pm
      Artist Angela Grossmann in conversation with Curator Dr. Lynn Ruscheinsky
*  *  *  *  *
The 68 works presented in Angela Grossmann's Troublemakers address the role that performance plays in the transgression of gender and social expectation, the stigma of the unruly body and the disciplinary power of shame.
Throughout her career Grossmann has sought to re-create and re-dress the marginalized, the misunderstood and dispossessed with her strongly "feminist" dynamic mixed media works that intervene in both the physical form and visual experience of subjectivity. Troublemakers continues with this project exploring concepts relating to the "wanting to be" and "not wanting to be" of identity.
The re-make is at the heart of her undertaking. From her large found photo archives, which include vintage mug-shots (retrieved from the trash at the closure of the BC Penitentiary), risqué images of women posing in cheap motel rooms, sentimental portraits of children, tweens and toughs, her interventions strategically alter their meaning or potential meaning by dislocating them from their "normal" or expected context. Through the snip of her scissors, the deconstruction and reconstruction of body parts, the addition of doll's clothes, feathers and felt hats, Grossmann blurs the borders between the unconscious and the purposeful and the finished and the unfinished. Certainly the most prominent, most creative and unspoken attraction in Grossmann's work is her exceptional ability to create believable characters triumphant in their troublemaking. Her passionate provocations imply the possibility of other subject positions and with them the possibilities that the edicts of power are capable of being resisted, rewritten, and even reversed.
The show includes new and past works from Grossmann's exhibitions: Mistress Works (2017), Models of Resistance (2015), Alpha Girls (2006), The Basement Show (2003), Corrections (2000), and Smaller than Life (1987-ongoing).
Angela Grossmann is a Vancouver-based visual artist. Over the last two decades her paintings and collages have been the subject of more than 20 solo shows in Canada, the U.S.  Europe and Japan beginning with the Young Romantics Exhibition at the Vancouver Art Gallery (1985). The Art Newspaper (June 2006) included Grossmann on a list of 100 artists who have most influenced students at art schools in Britain (culled from 11 leading British art schools). Recently her work has been featured in three Vancouver Art Gallery exhibitions including Unreal that showcased her miniature surrealist paintings. A series of her collages were featured in a solo booth at ArtToronto 2015.
Grossmann's work has been the subject of numerous scholarly articles including:  Princeton Press: The End of Innocence: Picturing Her (Dr. Loren Lerner), Le Mois de la Photo: Memoires and Testimonies  (Dr. Martha Langford), Hobo Magazine: Alpha Girls (Sean Starke): Flesh for a Fantasy ( Danielle Egan), Canadian Art Magazine: Portrait a Toughs (Deborah Campbell), Canadian Art, Whitehot Magazine, the Vancouver Sun, the Georgia Straight and Border Crossings reviewed Grossmann's Models of Resistance.
Alongside her solo career Grossmann continues collaborations with the Futura Bold collective, its members including: Attila Richard Lukacs, Graham Gillmore and Douglas Coupland - to date the group have launched six major self-initiated projects.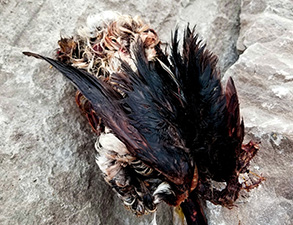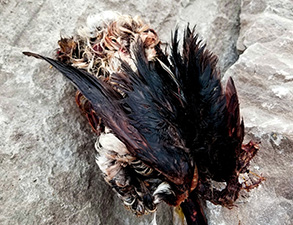 RECEPTION:
Thursday, January 17, 6 – 8 pm
ARTIST TALK:
Thursday, February 7, 12:30 – 1:20 pm
Michael Allgoewer: 1514
January 17 - March 16, 2019
OPENING RECEPTION: Thursday, January 17, 6 – 8 pm
ARTIST'S TALK: Thursday, February 7, 12:30 – 1:20 pm
Taking Albrecht Dürer's 1514 print, Melencolia 1, as an inspiration and starting point, this installation by Hamilton-based artist Michael Allgoewer deconstructs Dürer's image into discrete sculptural elements; with oblique references to Judd, Johns, Kiefer and Beuys.
Image:
Michael Allgoewer
detail of Wings
photograph
30x30 inches
collection of the artist
The Artist would like to acknowledge the support provided
through the City Enrichment Fund.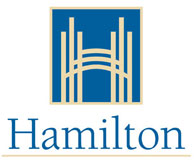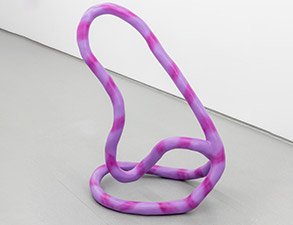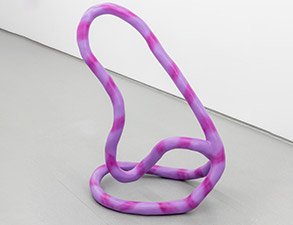 JAIME ANGELOPOULOS
Oblique Choreography
RECEPTION:
Thursday, January 17, 6 – 8 pm
Jaime Angelopoulos: Oblique Choreography
Curator: Ivan Jurakic ­
January 17 - March 16, 2019
OPENING RECEPTION: Thursday, January 17, 6 – 8 pm
Artist Jaime Angelopoulos gives physicality to personal emotions and social behaviours through her sculpture and impossibly intertwined drawings.
Jaime Angelopoulos is a Toronto based artist who has exhibited widely with recent solo exhibitions at the MacLaren Art Centre (Ontario), Judith Norman & Alix Art Gallery (Ontario), Parisian Laundry (Montreal), MKG 127 (Toronto), and Musée Regional de Rimouski (Quebec). She received her MFA from York University and studied sculpture at Meadows School of the Arts (Dallas, TX). She was awarded the inaugural Hazelton Sculpture Prize in 2013 and has participated in numerous artist residencies including KulttuuriKauppila Art Centre (Finland). Her work can be found in numerous collections in Canada and internationally.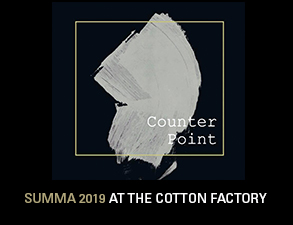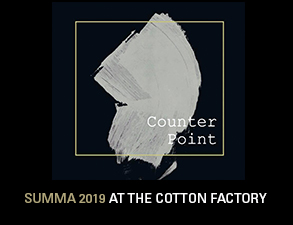 COUNTERPOINT
SUMMA 2019 @THE COTTON FACTORY
COUNTERPOINT: SUMMA 2019
Graduating McMaster BFA Student Exhibition
Guest Curator: Hitoko Okada
LOCATION: The Cotton Factory*
270 Sherman Ave N, Hamilton, ON L8L 6N4
April 6 - 19, 2019
OPENING RECEPTION: Saturday, April 6, 11 am – 3 pm at The Cotton Factory
Since entering the McMaster Studio Art program in 2015, our class has developed and grown both as individuals and as a group. As our time here at McMaster comes to an end, we have the pleasure of presenting our work to the public in a final exhibition. This show is titled Counterpoint, which means, "to combine elements". With the elements of our practices merging and influencing one another, Counterpoint is a commemoration of experiences and artistic endeavours.
- The McMaster BFA Class of 2019
Norah Andresen, Lucia Cackovic, Jayda Conti, Sean Cooper, Neville Dennis, Deeshani Fernando, Safiyyah Figaro, Deanna Gallo, Meghan Giudice, Andjelija Jancic, Emily Kester, Katherine A. Laird, Caroline Eun-ae Lee, Anthony Lok, Robyn McCallum, Delaney McVeigh, Audrey Pearson, Josh Ravenhill, Jason Lee Rhyno
*McMaster Museum of Art has hosted the Studio Art Graduation exhibition for more than 30 years, but had to close from March 19 – August 23, 2019 for Environmental Systems Upgrades full details. We are pleased that an alternate location has been found for 2019, and look forward to future SUMMA presentations.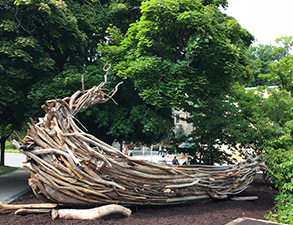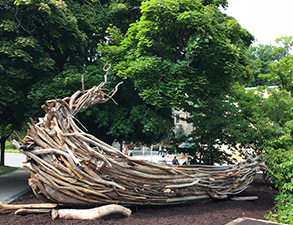 Ernest Daetwyler
ARTIST GARDEN: The Boat Project/everythingwillbefine
ARTIST TALK:
October 18, 12:30 pm
Ernest Daetwyler
The Boat Project/everythingwillbefine
Artist Garden  | 2018 – 2020
Canadian artist Ernest Daetwyler will build a site-specific work in the Museum's Artist Garden this summer. He will transform pieces of driftwood into a boat form, embedded with a steelcut text message, creating an environment for both active engagement and reflection.  The surreal and poetic installation is intended to symbolize a time of change, challenges, and the existential fluctuations that life can present.
<more info>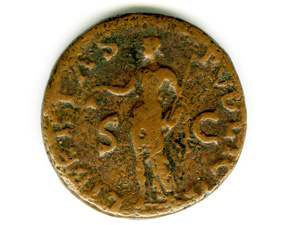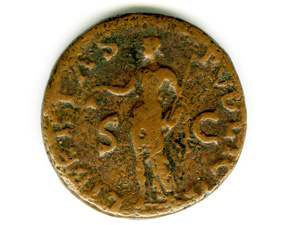 THE VISHNIAC COIN COLLECTION
Curated by Dr. Spencer Pope
Ongoing
This is an exhibition of twenty-two coins, mostly from the Roman Republic, dating back to Alexander the Great. They are significant for both their value to McMaster's Teaching Collection and their provenance. The Collection was generously gifted to McMaster University by McMaster astronomy professor Ethan Vishniac, who inherited it from his grandfather, renowned photographer Roman Vishniac.
Image: Vishniac 12: Roman Orichalcum Coin of Emperor Galba (AD 68-69)
OBVERSE: Laureate head of Galba, facing right, "IMP SER GALBA CAES AUG TR P".
REVERSE: Libertas (deity representing Liberty) standing left, holding pileus and rod, "LIBERTAS PUBLICA SC".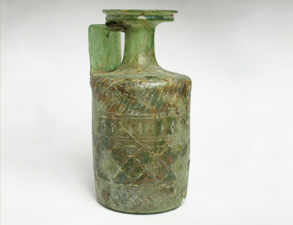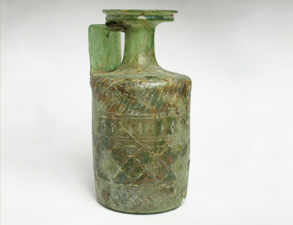 ANTIQUITIES
WINE, WATER, and OIL
CURATORS:
Dr. Spencer Pope
Domestic Vessels from the Greek and Roman World
Ongoing
This new antiquities exhibition presents a picture of daily domestic life in the ancient world through objects familiar to Greek and Roman households. All vessels are drawn from McMaster Museum of Art's permanent collection.