Current & Upcoming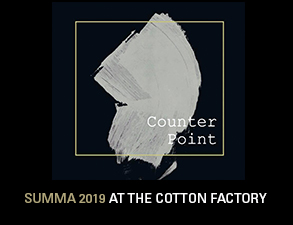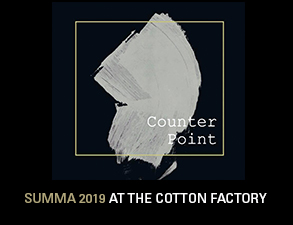 COUNTERPOINT
SUMMA 2019 @THE COTTON FACTORY
COUNTERPOINT: SUMMA 2019
Graduating McMaster BFA Student Exhibition
Guest Curator: Hitoko Okada
LOCATION: The Cotton Factory*
270 Sherman Ave N, Hamilton, ON L8L 6N4
April 6 - 17, 2019
OPENING RECEPTION: Saturday, April 6, 11:30 am – 3 pm at The Cotton Factory
Following the reception, open hours are April 8 - 12 and April 16 - 17 from 11 am – 3 pm
Since entering the McMaster Studio Art program in 2015, our class has developed and grown both as individuals and as a group. As our time here at McMaster comes to an end, we have the pleasure of presenting our work to the public in a final exhibition. This show is titled Counterpoint, which means, "to combine elements". With the elements of our practices merging and influencing one another, Counterpoint is a commemoration of experiences and artistic endeavours.
- The McMaster BFA Class of 2019
Norah Andresen, Lucia Cackovic, Jayda Conti, Sean Cooper, Neville Dennis, Deeshani Fernando, Safiyyah Figaro, Deanna Gallo, Meghan Giudice, Andjelija Jancic, Emily Kester, Katherine A. Laird, Caroline Eun-ae Lee, Anthony Lok, Robyn McCallum, Delaney McVeigh, Audrey Pearson, Josh Ravenhill, Jason Lee Rhyno
*McMaster Museum of Art has hosted the Studio Art Graduation exhibition for more than 30 years, but had to close from March 19 – August 23, 2019 for Environmental Systems Upgrades full details. We are pleased that an alternate location has been found for 2019, and look forward to future SUMMA presentations.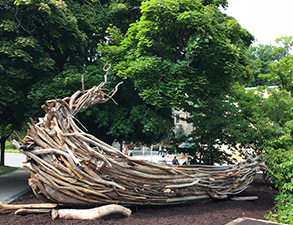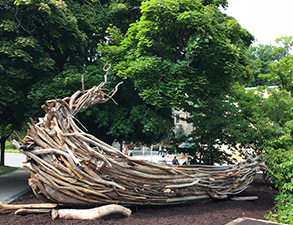 Ernest Daetwyler
ARTIST GARDEN: The Boat Project/everythingwillbefine
ARTIST TALK:
October 18, 12:30 pm
Ernest Daetwyler
The Boat Project/everythingwillbefine
Artist Garden  | 2018 – 2020
Canadian artist Ernest Daetwyler will build a site-specific work in the Museum's Artist Garden this summer. He will transform pieces of driftwood into a boat form, embedded with a steelcut text message, creating an environment for both active engagement and reflection.  The surreal and poetic installation is intended to symbolize a time of change, challenges, and the existential fluctuations that life can present.
<more info>