Current & Upcoming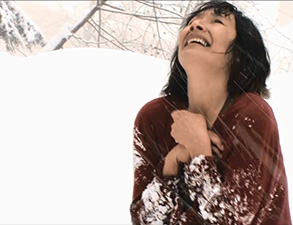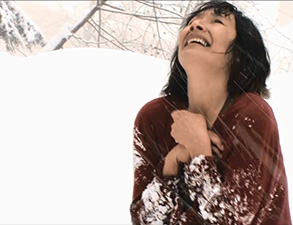 Rebecca Belmore:  MARCH 5, 1819
Rebecca Belmore:  MARCH 5, 1819
From the collection of McMaster Museum of Art
May 10 – August 18, 2018
Since 1987, Anishinaabe artist Rebecca Belmore has addressed history, place, and identity through her consistently powerful and provocative multi-disciplinary works of art.
March 5, 1819 is a recently acquired video work that considers the frantic final moments before Demasduit, a young Beothuk woman (later renamed Mary March) is captured by colonists at Red Indian Lake in Newfoundland. Her husband Nonosabasut dies trying to save her.
Belmore's re-enactment of this historical moment in contemporary dress, places the viewer into the middle of the event – as both witness and perpetrator – effectively bringing the historical struggle of Indigenous peoples in Canada viscerally into the present.
Rebecca Belmore (Anishinaabe/Canadian) is internationally recognized for her performance and installation art. Belmore was Canada's official representative at the 2005 Venice Biennale, received the Governor General's Award for Visual and Media Art in 2013, and was awarded the 2016 Gershon Iskowitz Prize.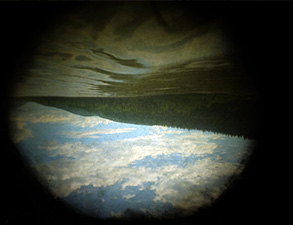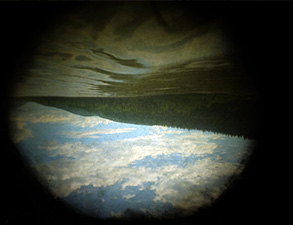 The Midnight Sun Camera Obscura Project
The Midnight Sun Camera Obscura Project
Organized by the University of Lethbridge Art Gallery
Principal Investigator and Artist/Researcher: Donald Lawrence
Curator: Josephine Mills
Artists: Dianne Bos, Lea Bucknell, Ernie Kroeger, Holly Ward and Kevin Schmidt, Carsten Wirth, and Andrew Wright
May 10 – August 18, 2018
During summer solstice 2015 in Dawson City, Yukon, the Midnight Sun Camera Obscura Festival brought together an international group of artists and other researchers interested in cameras obscura and related optical phenomenon as a meeting place of art and science, cultural and wilderness settings, learning and play.
Curated from the results of the festival, this exhibition includes one of the actual cameras obscura; images projected by several of the devices; documentation of the event; and new work produced by the artists in response to the initial research.
<more info>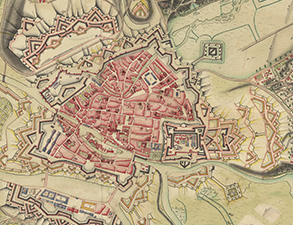 McMaster University Library Collection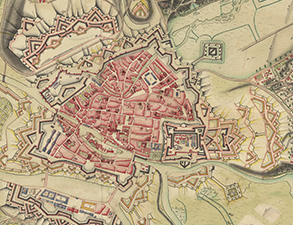 McMaster University Library Collection
Gentleman, Soldier, Scholar & Spy: The Napoleonic era maps of Robert Clifford
Gentleman, Soldier, Scholar & Spy:
The Napoleonic era maps of Robert Clifford
From the Collection of McMaster University Library
Curators:  Gord Beck and Jason Brodeur
May 26  – September 1, 2018
Public Lecture: Frederick C. Schneid and Gord Beck. Details & RSVP info
While the Honourable Robert Clifford (1767-1817) was an officer in Dillon's Regiment of the Irish Brigade serving Louis XVI of France, he acquired training in the most advanced methods of military science and cartography of the age. This knowledge of the inner workings of the French military, coupled with the maps of fortifications he smuggled out of France while narrowly avoiding the guillotine, proved to be of great value to his English countrymen.
This exhibit presents a selection of maps from the Clifford collection, some on public view for the first time since they were acquired in 1969.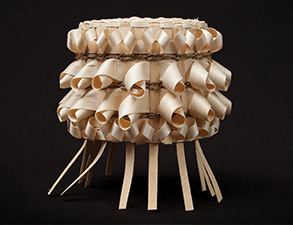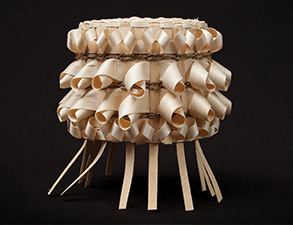 URSULA JOHNSON
Mi'kwite'tmn (Do You Remember)
Ursula Johnson:  Mi'kwite'tmn (Do You Remember)
Organized by Saint Mary's University Art Gallery
Curated by Robin Metcalfe
McMaster Museum of Art  |  September 13 – December 10, 2018
PUBLIC PERFORMANCE: Sept 20 – 22, 11 am – 3 pm
an endurance performance by the artist in the gallery
Ursula Johnson's practice ranges from fine craft and traditional Indigenous art forms through performance and installation. Mi'kwite'tmn (Do You Remember) examines ideas of ancestry, identity and cultural practice. Johnson deconstructs and manipulates the function and image of Mi'kmaw basketry, using traditional techniques to build non-functional forms.
In Mi'kwite'tmn, Johnson creates three distinct spaces. A "Museological Grand Hall", "Archive Room" and "Performative Space".
Ursula Johnson is an Interdisciplinary Artist from Nova Scotia with Mi'kmaw Ancestry. She graduated from the Nova Scotia College of Art & Design with a BFA and is currently based out of Eskasoni Nation. In 2017, Johnson won the Sobey Art Award, Canada's biggest contemporary art prize.
The exhibition was produced by Saint Mary's University Art Gallery, Halifax, in collaboration with Unama'ki College and with support from the Government of Canada and the Canada Council for the Arts. The artist wishes to acknowledge support from Arts Nova Scotia.
Image: Ursula Johnson, Upmetuk, O'pltek Form, 2012. Black Ash, Maple Wood, Sweetgrass, 21 x 15 x 15 cm, Courtesy of the Artist. Photo: Wendy McElmon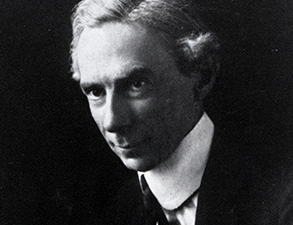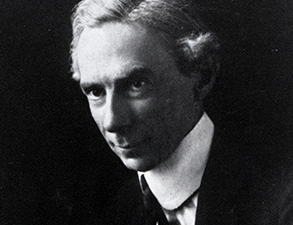 Undying Hope for this Dangerous World:  Bertrand Russell in perspective
CURATORS:
William Ready Division of Archives and Research Collections, McMaster University
Undying Hope for this Dangerous World:  Bertrand Russell in perspective
Curated by the William Ready Division of Archives and Research Collections, McMaster University Library
May 26 – December 22, 2018
This exhibition will explore the life of Bertrand Russell, one of the foremost public intellectuals of the 20th century, through artwork, artefacts, photographs, and his own personal papers with a particular focus on his political activism and personal relationships.
The exhibition is presented in conjunction with the 50th anniversary of the Archives at McMaster University.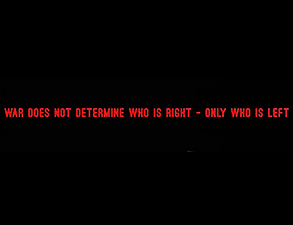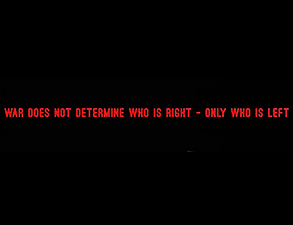 BRUCE BARBER
The Bertrand Russell Reading Room
ARTIST TALK:
September 18, 12:30 - 1:20
Bruce Barber: The Bertrand Russell Reading Room
Tomlinson Gallery | September 13 - December 22, 2018
In conjunction with the McMaster Russell Archives 50th anniversary exhibition, the Museum invited Nova Scotia College of Art and Design professor Bruce Barber to develop an artist project.
For the Museum, Barber has devised a reading room environment. The key gallery element is a constructed simulacrum of the Brixton prison cell, where Russell spent six months in 1918 for prejudicing "His Majesty's relationship with the U.S.A".  It is furnished with a bed, writing desk, stool and a quote from Russell, realized in neon: "War does not determine who is right – only who is left." Other Russell quotes will be positioned on the perimeter walls of the gallery space, with two Barber-produced videos relating to Russell, his life and times, and images of the present to raise awareness of Russell's life and work and continuing relevance in today's world; the complex ethical issues that surround forms of oppression, terrorism and "war responses" affecting the lives of people globally.
Bruce Barber was born in New Zealand and has worked internationally across performance, installation, film, video and photography since the early 1970s. His artwork has been exhibited internationally at the Paris Biennale, Sydney Biennale, 49th Parallel Gallery NYC, the New Museum of Contemporary Art, NYC, Walter Phillips Gallery, and more and is represented in various public and private collections. Curators Stephan Cleland and Blair French summarized Barber's work as "developing propositional and situational works that engage and question social and political regimes of power."  (From Bruce Barber Work 1970-2008, Artspace, Sydney and Te Tuhi Centre for the Arts, Manukau)  www.brucebarber.ca
READING ROOM EVENT
Tuesday September 18, 12:30 – 1:20 pm
Artist Bruce Barber in conversation with McMaster University faculty and members of the public about key themes relating to the exhibition including, but not limited to:
- Pacifism and its continued relevance in today's globalized world.
- Feminist Approaches to Bertrand Russell's philosophy.
- Academics, Public intellectuals and Political Activism.
Virginia Aksan, Professor Emeritus, Department of History
James Ingram, Professor, Department of Political Science
Neil McLaughlin, Professor, Department of Sociology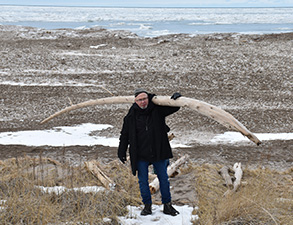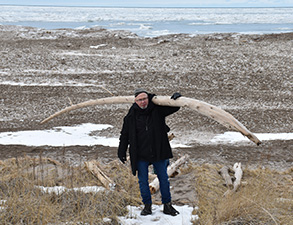 Ernest Daetwyler
ARTIST GARDEN: The Boat Project/everythingwillbefine
Ernest Daetwyler
The Boat Project/everythingwillbefine
Artist Garden  | 2018 – 2020
Canadian artist Ernest Daetwyler will build a site-specific work in the Museum's Artist Garden this summer. He will transform pieces of driftwood into a boat form, embedded with a steelcut text message, creating an environment for both active engagement and reflection.  The surreal and poetic installation is intended to symbolize a time of change, challenges, and the existential fluctuations that life can present.
<more info>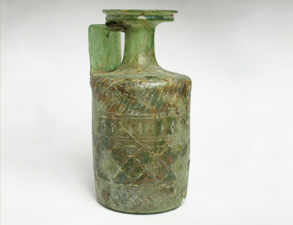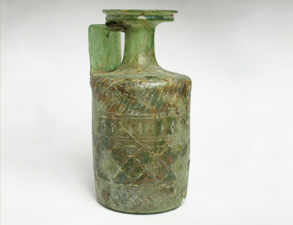 ANTIQUITIES
WINE, WATER, and OIL
CURATORS:
Dr. Spencer Pope
Domestic Vessels from the Greek and Roman World
Ongoing
This new antiquities exhibition presents a picture of daily domestic life in the ancient world through objects familiar to Greek and Roman households. All vessels are drawn from McMaster Museum of Art's permanent collection.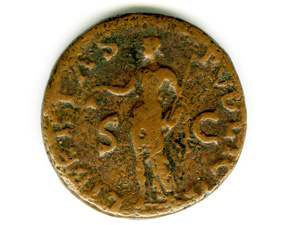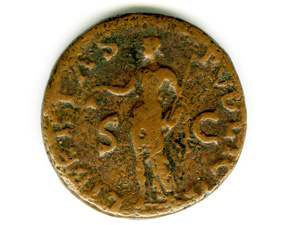 THE VISHNIAC COIN COLLECTION
Curated by Dr. Spencer Pope
Ongoing
This is an exhibition of twenty-two coins, mostly from the Roman Republic, dating back to Alexander the Great. They are significant for both their value to McMaster's Teaching Collection and their provenance. The Collection was generously gifted to McMaster University by McMaster astronomy professor Ethan Vishniac, who inherited it from his grandfather, renowned photographer Roman Vishniac.
Image: Vishniac 12: Roman Orichalcum Coin of Emperor Galba (AD 68-69)
OBVERSE: Laureate head of Galba, facing right, "IMP SER GALBA CAES AUG TR P".
REVERSE: Libertas (deity representing Liberty) standing left, holding pileus and rod, "LIBERTAS PUBLICA SC".