Current & Upcoming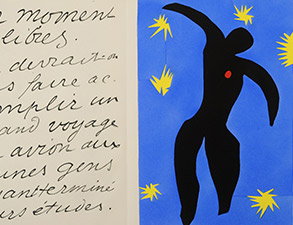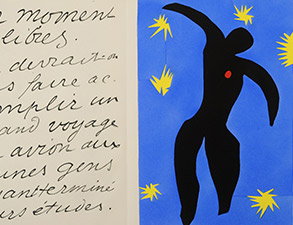 The Levy Collection
it is from here that the world unfolds
A reconsideration of the Levy Collection. Curated by Pamela Edmonds
Presented in celebration of the Levy Collection's return to McMaster, following its cross-Canada tour A Cultivating Journey.
Image: Henri Matisse, Icarus, Plate VIII from Jazz, 1947, Pochoir on Arches paper. Levy Bequest Purchase. Collection of McMaster Museum of Art, McMaster University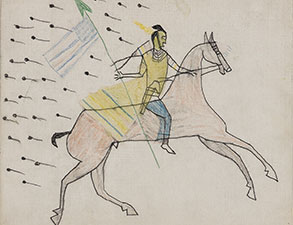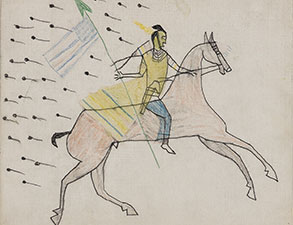 CURATORS:
Rhéanne Chartrand and Dr. Gerald McMaster
Peripheral Vision(s):
Perspectives on the "Indian" image by 19th century Northern Plains warrior-artists, and 20th century American artists Leonard Baskin, and Fritz Scholder
Curators: Rhéanne Chartrand and Dr. Gerald McMaster
This project arose from the curators' mutual interest in interrogating the "Indian" image, applying gaze theory and the praxis of survivance to the critical analysis of Indigenous art, and building Indigenous art histories from an Indigenous perspective. It will generate insights on image-making, self-representation, misrepresentation, naming, and the overall intent of portraiture.
The exhibition will present:
Works by Luiseño-American artist, Fritz Scholder (1937-2005), are generously on loan from the following American institutions: Harwood Museum of Art at the University of New Mexico (Taos, NM), IAIA Museum of Contemporary Native Arts (Santa Fe, NM), Minneapolis Museum of Art (Minneapolis, MN), and Tucson Museum of Art (Tucson, AZ).
Ledger drawings by 19th century Northern Plains warrior-artists, including the renowned Short Bull (c.1845-1923), are drawn from both regional and American institutions including: the Hood Museum of Art at Dartmouth College (Hanover, NH), the Royal Ontario Museum (Toronto, ON), and Simcoe County Museum (Minesing, ON).
eleven of McMaster Museum of Art's twenty-seven "Indian portraits" by Jewish-American artist, Leonard Baskin (1922-2000), generously donated to MMA by Baskin's brother, a long-time Hamilton resident, Rabbi Bernard Baskin.
This curatorial project, including the exhibition and scholarly publication, is supported by the Terra Foundation for American Art.

Image: White Swan, Apsaalooke, 1851 – 1904, Untitled (White Swan Riding Through Gunfire), about 1890, graphite and colored pencil on wove canvas paper. Hood Museum of Art, Dartmouth: Mark Lansburgh Ledger Drawing Collection; Partial gift of Mark Lansburgh, Class of 1949; and partial purchase through the Mrs. Harvey P. Hood W'18 Fund, and the Offices of the President and Provost of Dartmouth College; 2007.65.93.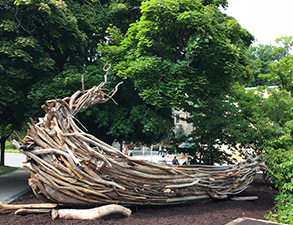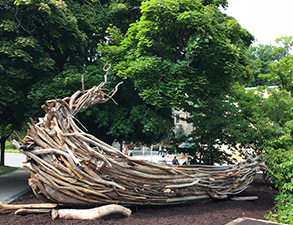 Ernest Daetwyler
ARTIST GARDEN: The Boat Project/everythingwillbefine
ARTIST TALK:
October 18, 12:30 pm
Ernest Daetwyler
The Boat Project/everythingwillbefine
Artist Garden  | 2018 – 2020
Canadian artist Ernest Daetwyler will build a site-specific work in the Museum's Artist Garden this summer. He will transform pieces of driftwood into a boat form, embedded with a steelcut text message, creating an environment for both active engagement and reflection.  The surreal and poetic installation is intended to symbolize a time of change, challenges, and the existential fluctuations that life can present.
<more info>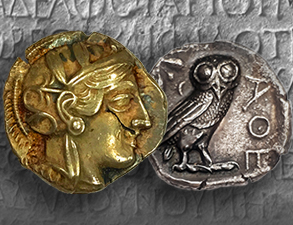 Coins from Antiquity to Today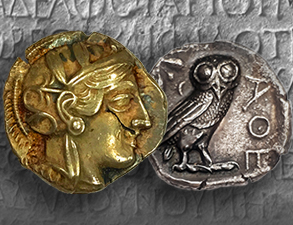 Coins from Antiquity to Today
INSTRUMENTS OF EXCHANGE
Instruments of Exchange: Coins from Antiquity to Today
Curated by Dr. Spencer Pope
An exhibition focusing on trends in coinage that continue across the centuries. It will feature a selection of coins drawn from the McMaster Museum of Art's Bruce Brace Coin Collection.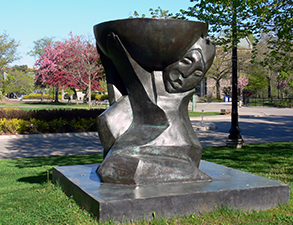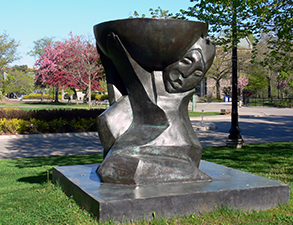 There is a wealth of sculpture to be explored all across McMaster University campus. Find out the stories behind more than 25 of them via the McMaster Campus Sculpture Tour (website/app). This tour app and website begins at the Museum and guides you to a variety of campus treasures - inside and out of buildings.
Featured sculptures include those accessioned into the collection of the McMaster Museum of Art and those independently commissioned on campus.
Please see our Facebook Page events for updates about Guided Walking Tours led by the museum of art's education team.