Current & Upcoming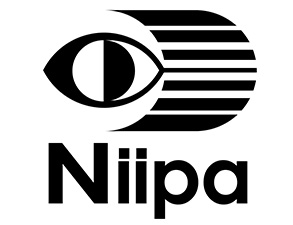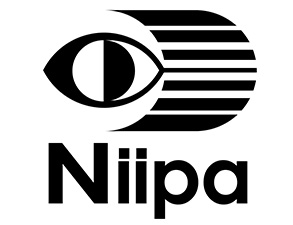 NIIPA 1985 – 1992
#nofilterneeded
CURATORS:
Rhéanne Chartrand
RECEPTION:
Opening January 11, 6 - 8 pm
#nofilterneeded
shining light on the Native Indian/Inuit Photographers' Association, 1985 – 1992
January 2 – March 24, 2018
Curated by Rhéanne Chartrand
Featuring works by founding NIIPA members:
Simon Brascoupe, Dorothy Chocolate, Rick Hill, Martin Akwiranoron Loft, Tim Johnson, James (Jimmy) Manning, Yvonne Maracle, Murray McKenzie, Brenda Mitten, Shelley Niro, Greg Staats, Jeff Thomas and many more.
OPENING RECEPTION: Thursday, January 11, 6 – 8 pm
PANEL DISCUSSION: Thursday, February 8, 6 – 8 pm. Details tba
In 1985, a group of Indigenous image-makers came together to form the Native Indian/Inuit Photographers' Association, or NIIPA, with the core objective to promote a positive, realistic and contemporary image of Indigenous peoples through the medium of photography. They felt that, for far too long, Indigenous peoples had been portrayed through someone else's lens, and that it was time they took control of the image in order to contest and demystify stereotypical representations of Indigenous peoples.
As a member-based organization, NIIPA played a significant role in training and advocacy for Indigenous photographers. Aside from the Society of Canadian Artists of Native Ancestry (S.C.A.N.A.), which actually incorporated the same year as NIIPA, the organization provided technical training and networking opportunities for Indigenous photographers at a time when there were few, if any, supports for Indigenous image-makers. Photography was still a relatively new medium of artistic expression in the mid 80s, and few institutions were actively collecting or exhibiting photography, much less photography by Indigenous artists. NIIPA filled a much-needed gap by providing a network and platform for Indigenous photographers to show their work and support each other's art practice.
NIIPA's founding demonstrates that Indigenous artists are equally adept at adapting to and making use of new technologies to advance Indigenous ways of seeing the world. The photographs presented in #nofilterneeded are derived from one or more of NIIPA's early, self-produced exhibitions, and provide an unfiltered view into the interests and concerns of beautiful, resilient and thriving peoples.
#nofilterneeded shines much needed light on a significant moment in Indigenous art history by paying respects to the founding members of NIIPA and celebrating the momentum of the organization's early years.
The exhibition will consist of 30-40 framed photographs, mostly black and white, of varying dimensions. The vast majority of the photographs will come from the Indigenous Art Centre at Indigenous and Northern Affairs Canada. Additional photographs will come from private collection and/or collection of the artist.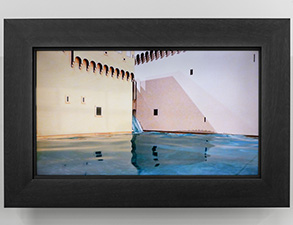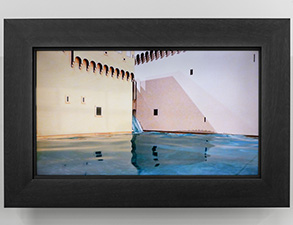 Susan Schelle: Selected Works
RECEPTION:
Opening January 11, 6 - 8 pm
Susan Schelle: Selected Works
January 2 – March 24, 2018
Guest Curator: Ana Barajas
Sherman Gallery, Level 2
OPENING RECEPTION: Thursday, January 11, 6 - 8 pm
ARTIST & CURATOR'S TALK: Wednesday, March 7, 12:30 pm
Susan Schelle, a Hamilton native, has been making art since 1976. Practicing over decades has given her the opportunity to revisit familiar themes setting up a dialogue between works and often re-working elements over time. This exhibition, and its upcoming companion at Gallery Stratford, serves as a resting perch from which to survey a working life embedded in visual thinking. The continuity of ideas point to an open-ended search for the location of the self within an environment that is at times ominous.
The element of water is at the center of Schelle's explorations. It appears in many forms and states, but it always affects the position of the viewer.  Infinitely relatable, the concept of water weaves in and out of this selection of works and posits questions about our relationship to it, our usage and misuse, and our subjugation to its force. The image of the physical body, often absent from the work, is hinted to be a peripheral witness, both rooted in the moment and detached from its referent.
Susan Schelle: Selected Works and celebrates a shift in the artists' practice after twenty years as art educator; while recognizing the methodology of an artist deeply concerned with environmental phenomenology and its effects on the human environment.
Susan Schelle was born in Hamilton, Ontario, and currently lives and works in Toronto. She was an Associate Professor Emeritus in Visual Studies, J.H. Daniels Faculty, University of Toronto. Working with sculpture and photography, Schelle is interested in the "manipulation of the familiar: images that deal with the phenomenon of the physical world and the customs of a particular time and place." She has completed a number of public art commissions, notably salmon run The Rogers Center Toronto. passage York University Toronto and laws of nature Court House Square Park, Toronto, Ont. She has shown both nationally and internationally including The Cenci Gallery, Rome, Italy and The Freedman Gallery Albright College, Reading Pennsylvania. Her work resides in the collections of Air Canada, The Art Gallery of Ontario, The Art Gallery of Hamilton, McMaster Museum of Art, The Winnipeg Art Gallery, The Vancouver Art Gallery, and The National Gallery of Canada. In addition to her own work, Schelle has collaborated with Mark Gomes on several public commissions, most recently jetstream at Terminal One, Pearson International Airport, Toronto.
Born in Mexico City, Mexico, Ana Barajas holds a BFA from OCAD University in Sculpture/Installation. She received a MVA, Curatorial and a MA, Modern Art History from the University of Toronto. Barajas is Director of YYZ Artists' Outlet, a non-profit artist-run centre.
Image: Susan Schelle, flood (detail), video, 2015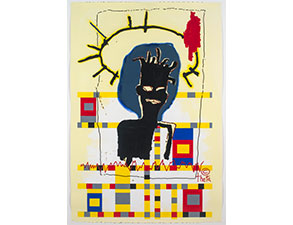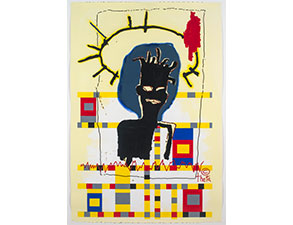 Gordon Bennett, Be Polite
CURATORS:
Aileen Burns and Johan Lundh, IMA Brisbane
RECEPTION:
Thursday, January 11, 6 – 8 pm
Gordon Bennett, Be Polite
Organized and circulated by IMA Brisbane
Levy and Tomlinson Galleries | January 11 – May 12, 2018
CURATORS' TALK by Aileen Burns and Johan Lundh from the Institute of Modern Art, Brisbane, Australia: Thursday, January 11, 12:30 pm
OPENING RECEPTION:  Thursday, January 11, 6 – 8 pm
Drawn from the Estate of Gordon Bennett, the exhibition presents a selection of works on paper including drawing, painting, watercolour, poetry, and essays from the early 1990s through to the early 2000s. Though rarely seen in exhibition contexts, Bennett's drawing and script form the foundation of his practice. Paper is the site where imagery, words and ideas often found their first expression before being combined into the large-scale conceptual paintings for which Bennett is known. Despite their intimate scale, works in Be Polite embrace rich layers of Western and Australian Indigenous art history and contemporary politics, a direction Bennett played a leading role in developing throughout the 1980s and continued to explore in his successful career. As noted by the Contemporary Art Gallery, Vancouver, in their press release for their presentation of Be Polite in summer 2017, "the shared colonial histories with Canada and in particular the plight of local First Nations are set in dialogue across continents. Issues, events and histories are given compelling voice in these provocative and often disturbing images." In his 1996 text "The Manifest Toe" Gordon Bennett wrote:
I abhor violence, and I have little compulsion to glorify it in any case, so I thought of the depiction of violence as a way to disturb firstly the complacent acceptance of Australia's sanitized history, and secondly, through the shock of that disturbance, to "jolt" the spectator "out of accustomed ways of perceiving the world" and perhaps foster empathy and understanding of contemporary issues that affect all of us as human beings.
Gordon Bennett (1955–2014) was of Aboriginal and Anglo-Celtic descent and one of Australia's most visionary and critical artists. He has been the subject of major solo presentations and retrospectives at Ikon Gallery, Birmingham (touring, Europe), 1999–2000, Griffith University, Brisbane (touring, Australia), 2004–2005, and the National Gallery of Victoria, Melbourne (touring, Australia), 2007–2009. International recognition and attention for Bennett's work has been growing with his inclusion in the acclaimed dOCUMENTA (13) in Kassel in 2012, and the 8th Berlin Biennale in 2014.
Gordon Bennett, Be Polite is organized and circulated by the IMA, Brisbane where it was first presented in October 2015 and toured to the Perth Institute of Contemporary Arts in 2016. Contemporary Art Gallery, Vancouver, and McMaster Museum of Art, Hamilton are the sole Canadian exhibition partners. The exhibition is supported by the Queensland Government through Arts Queensland, Australia Council for the Arts, Ministry of Communications and the Arts through Visions of Australia, The Estate of Gordon Bennett, Milani Gallery, and Sutton Gallery.

Image: Gordon Bennett, Notes to Basquiat: Boogie Man, 1998, acrylic on paper, 120 × 80 cm. Collection: The Estate of Gordon Bennett, Brisbane. Photography: Carl Warner © The Estate of Gordon Bennett.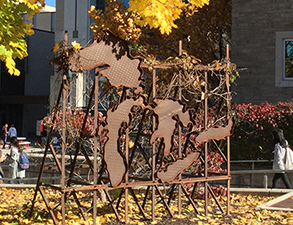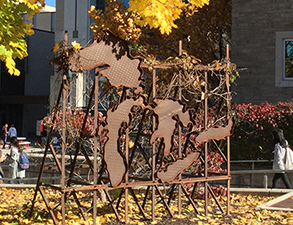 Basin - The TH&B Artist Garden
TH&B, a creative partnership of Hamilton-based artists Simon Frank, Dave Hind, Ivan Jurakic and Tor Lukasik-Foss, have produced a new work of art for the McMaster Museum of Art's Artist Garden. The installation is titled Basin and its foundation is a metal structure with forms of the Great Lakes on it. The artists will add a mix of plants to this to reflect contrasting elements of the geography that we share and occupy.
"Our plan is for the Great Lakes billboard to function as a trellis. Over two seasons we essentially want to see it grown over and integrated into the garden site as if it had always been there—a modern ruin," says Ivan Jurakic.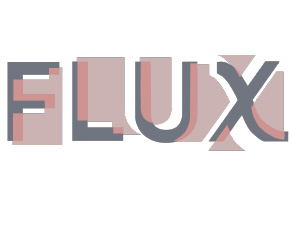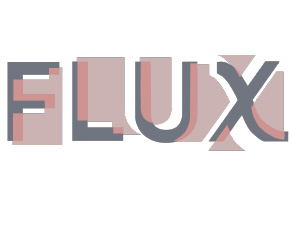 SUMMA 2018
FLUX: McMaster BFA Graduation Exhibition
CURATORS:
Paul Cvetich, Artist
RECEPTION:
April 14, 2 - 4 PM
ARTIST TALK:
April 11 at 12 noon
FLUX
April 5 – 28, 2018
Guest Curator: Paul Cvetich
Graduating McMaster BFA Student Exhibition (aka SUMMA 2018)
ARTIST TALKS:  Wednesday, April 11, 12 noon
RECEPTION:  Saturday, April 14, 2 – 4 pm
ARTISTS:
D. Clarke Blake, Emerald Bruce, Ruth Cioban, Sabryna Correa, Colline Do, Amanda Dreise, Emily Gaudet, Dina Hamed, Emily Hamel, Kai Jacobs, Clara Laratta, Priscilla Loo, Tiffany Mulholland, Abby Nicholson, Sheetal Prasad, Sarah Sproule, Chantelle Stringle, Christina Ugge
Over the past four years, the Class of 2018 have spent many long hours working together in the Fitzhenry Studios, learning new techniques, refining skills across a wide range of media, and preparing for the art world outside of an academic context. The SUMMA exhibition is the culmination of that hard work. It is an opportunity for the emerging artists to publicly showcase their art and celebrate a significant milestone.
Flux, the exhibition title, represents the continuous change, development, and growth that the students experienced during their time at McMaster University.
PREVIEW:  For each week leading up to the exhibition opening at the Museum, @mcmastersumma2018 will be taken over by two artists to showcase their work and see what they are up to in the studio.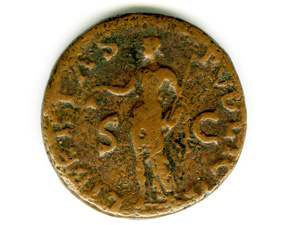 TEMPORARILY CLOSED DEC 4/17 - JAN/18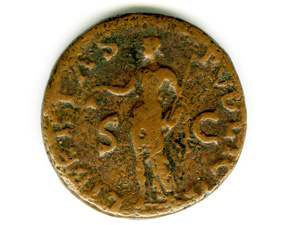 TEMPORARILY CLOSED DEC 4/17 - JAN/18
THE VISHNIAC COIN COLLECTION
Curated by Dr. Spencer Pope
NOTICE: This exhibition is temporarily closed during 4th Floor renovations December 5, 2017 - January 1, 2018
Otherwise, Ongoing
This is an exhibition of twenty-two coins, mostly from the Roman Republic, dating back to Alexander the Great. They are significant for both their value to McMaster's Teaching Collection and their provenance. The Collection was generously gifted to McMaster University by McMaster astronomy professor Ethan Vishniac, who inherited it from his grandfather, renowned photographer Roman Vishniac.
Image: Vishniac 12: Roman Orichalcum Coin of Emperor Galba (AD 68-69)
OBVERSE: Laureate head of Galba, facing right, "IMP SER GALBA CAES AUG TR P".
REVERSE: Libertas (deity representing Liberty) standing left, holding pileus and rod, "LIBERTAS PUBLICA SC".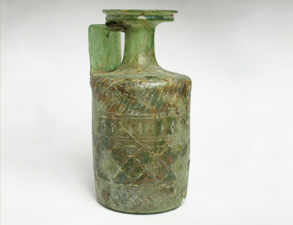 Temporarily Closed Dec 4/17 - Jan/18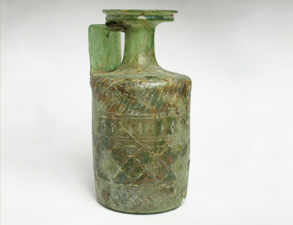 Temporarily Closed Dec 4/17 - Jan/18
WINE, WATER, and OIL
CURATORS:
Dr. Spencer Pope
Domestic Vessels from the Greek and Roman World
NOTICE: This exhibition is temporarily closed during 4th Floor renovations December 5, 2017 - January 1, 2018
Otherwise, Ongoing
This new antiquities exhibition presents a picture of daily domestic life in the ancient world through objects familiar to Greek and Roman households. All vessels are drawn from McMaster Museum of Art's permanent collection.