Current & Upcoming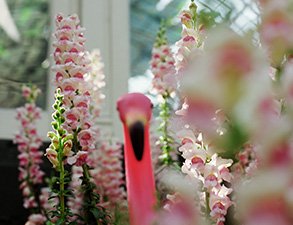 Mary Anne Barkhouse, Kathryn Eddy, Erica Gajewski, Derek Jenkins, Colleen Plumb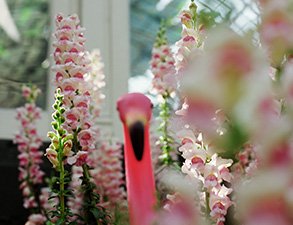 Mary Anne Barkhouse, Kathryn Eddy, Erica Gajewski, Derek Jenkins, Colleen Plumb
Animals Across Discipline, Time & Space
RECEPTION:
Thursday 16 January, 6-8 pm
Animals Across Discipline, Time & Space
Curator: Tracy McDonald, Department of History, McMaster University
January 4 – March 21, 2020
Opening Reception:  Thursday, January 16, 2020, 6 – 8 p.m.
Artist Panel: Thursday, March 19, 2020, 6 – 8 p.m.
Events / Workshops:  March 19-21, 2020 at McMaster University https://www.aadts20.org/ 

The exhibition features the work of:​
Mary Anne Barkhouse
Kathryn Eddy
Erica Gajewski
Derek Jenkins
Colleen Plumb
The relationships between human and nonhuman animals have always been at the heart of our existence. Notions of human superiority, reinforced in the age of enlightenment, have played a fundamental role in where we find ourselves in the 21st century: deep in the human-created catastrophe of the Anthropocene.
Animals Across Discipline, Time & Space brings together work by five artists who explore the nonhuman. The exhibition includes sculptural installations inside and outside of the museum by Mary Anne Barkhouse (Nimpkish tribe, Kwakiutl Nation), the interactive Urban Wild Coyote Project installation by Kathryn Eddy (American), large scale drawings by Erica Gajewski (Canadian), a film installation by Hamilton-based artist Derek Jenkins (American) and selected photographs by Colleen Plumb (American) from her series Animals Are Outside Today.
Exhibition catalogue includes essays by Mandy-Suzanne Wong.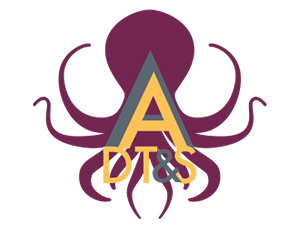 Image: Colleen Plumb Flamingo, photograph from the series Animals Are Outside Today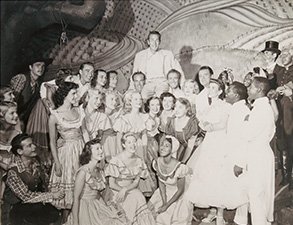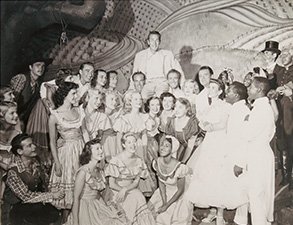 Deanna Bowen: A Harlem Nocturne
CURATORS:
Kimberly Phillips
RECEPTION:
Thursday 16 January, 6-8 pm
Deanna Bowen:
A Harlem Nocturne
Organized and circulated by the Contemporary Art Gallery, Vancouver
Curator: Kimberly Phillips
McMaster Museum of Art
January 16 – May 9, 2020
Opening Reception: Thursday 16 January 2020, 6-8 pm
Curator's Talk | Kimberly Phillips: Friday, January 17, 12:30 – 1:20 p.m.
Artist Talk / In Conversation: Thursday, February 27, 7 – 9 p.m.
Deanna Bowen and Selina Mudavanhu, assistant professor, Communications Studies and Multimedia
Film Screening / Discussion: Friday, April 3, 7 – 9 p.m.
Location: Black Box Theatre, L.R. Wilson Hall, McMaster University
Deanna Bowen's solo exhibition presents still and moving images following ongoing research into the artist's family lineage in Canada. Bowen's practice concerns itself with histories of Black experience in Canada and the US that remain below the threshold of visibility, not because they are impossible to see but because they are difficult for the majority of culture to acknowledge. Mining overlooked archives, forgotten documents, and related ephemera, Bowen employs a range of artistic gestures to bring traces of a complex, deeply personal and often violent past into public visibility. The exhibition takes up many of the concerns currently shaping discussions in photography and Black visual studies.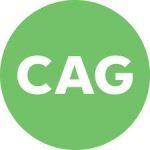 Image: Deanna Bowen, Theatre Under the Stars' cast photo from Finian's Rainbow, circa 1953, 2019, archival inkjet print on cotton rag, paper, 22.5 x 18.5 inches. Courtesy the artist, Theatre Under the Stars and Cecilia and Roger Smith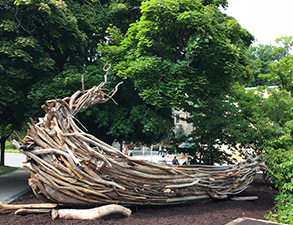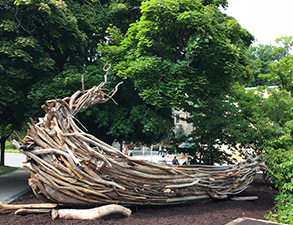 Ernest Daetwyler
ARTIST GARDEN: The Boat Project/everythingwillbefine
ARTIST TALK:
October 18, 12:30 pm
Ernest Daetwyler
The Boat Project/everythingwillbefine
Artist Garden  | 2018 – 2020
Canadian artist Ernest Daetwyler will build a site-specific work in the Museum's Artist Garden this summer. He will transform pieces of driftwood into a boat form, embedded with a steelcut text message, creating an environment for both active engagement and reflection.  The surreal and poetic installation is intended to symbolize a time of change, challenges, and the existential fluctuations that life can present.
<more info>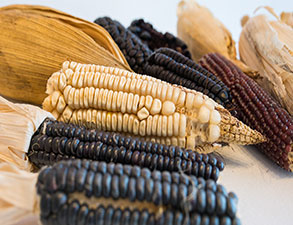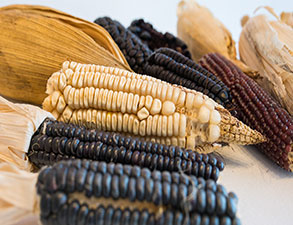 Enawendewin / Relationships
CURATORS:
William Kingfisher
Enawendewin / Relationships
curated by William Kingfisher
May 7 – August 8, 2020
An exhibition of work by:
Anong Migwans Beam
Ron Benner
Jennifer Cole
David Deleary
Lisa Myers
Enawendewin/Relationships looks to the ancestral gardens of the Anishinaabe as inspiration and as a practical organizing principle for growing gardens today. In 2019, five gardens planted; two in a rural setting and three in the urban spaces of Peterborough. Using these gardens as sites of learning and creation, five visiting artists were asked to consider how can we use the concepts within enawendewin/relationships and what this can mean in today's world. 
Presented in partnership with Artspace Peterborough.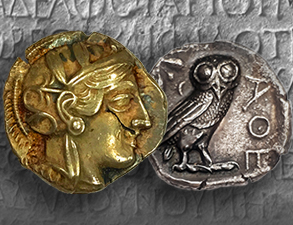 Coins from Antiquity to Today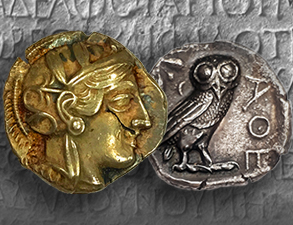 Coins from Antiquity to Today
INSTRUMENTS OF EXCHANGE
Instruments of Exchange: Coins from Antiquity to Today
Curated by Dr. Spencer Pope
September 12, 2019 - August 23, 2020
OPENING RECEPTION: September 12, 6- 8 pm 
CURATOR'S TALK | Spencer Pope: September 19, 12:30 – 1:20 pm
Because they are instruments of economic exchange, coins contain richly detailed images that provide an assurance of their value. And because they are issued by a political authority, the images represent the community that produced and keep them in circulation. In this way, coins sit at the intersection of economic, political, and artistic interests. Coinage developed a visual language that spoke both to their value and their origin as early as the seventh century BCE. It remained a fundamentally conservative medium throughout antiquity and even beyond: their recognizability is part of their function. The visual language established in antiquity still governs many coins today, with the result that much of what circulates now is indebted to long-lived traditions. This exhibition will present coins from the McMaster Museum of Art and consider their role as instruments of exchange.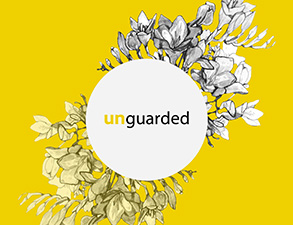 McMaster BFA Graduating Students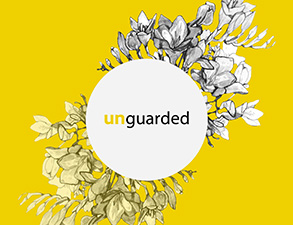 McMaster BFA Graduating Students
Unguarded
RECEPTION:
Saturday, April 4 from 2 – 4 p.m.
ARTIST TALK:
Tuesday, April 7, 12:30 – 1:20 p.m.
Unguarded: SUMMA 2020
Guest Curator: Stylo Starr
April 4 – 25, 2020
Public Reception: Saturday, April 4 from 2 – 4 p.m.
Artists' Talks: Tuesday, April 7, 12:30 – 1:20 p.m.
The McMaster Museum of Art is pleased to present the graduation exhibition of the McMaster BFA Class of 2020:
Sage Barker, Maria Basso-Jimenez, Jordan Blake, Caitlin Cino, Amanda Drinkwater, Kelsey Dykstra, Aislinn Farrell, Brittany Forrest, Dean Hossack, Celine Jeong, Sohyun Kim, Alexandra Roberts, Emily Roberts, Shveta Sharma, Sarah Urban, Jenna Wellman
Over the past four years, this class of 16 individuals has come together to learn, create, and understand one another in both artistic and personal settings. They have supported each other as they delve into new directions in their respective practices, across a wide range of media from clay and paint to digital and sound art. Throughout, they have worked collaboratively to develop and curate exhibitions, notably the ambitious 2018 spring fashion show, Renovate My Body.
Join us as we showcase the work of these emerging artists and celebrate a major milestone.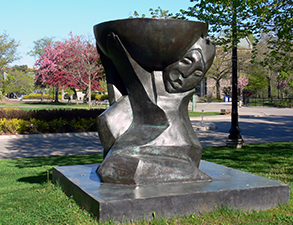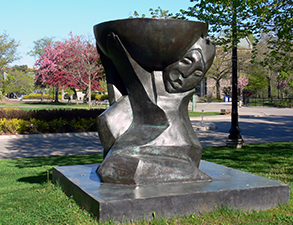 There is a wealth of sculpture to be explored all across McMaster University campus. Find out the stories behind more than 25 of them via the McMaster Campus Sculpture Tour (website/app). This tour app and website begins at the Museum and guides you to a variety of campus treasures - inside and out of buildings.
Featured sculptures include those accessioned into the collection of the McMaster Museum of Art and those independently commissioned on campus.
Please see our Facebook Page events for updates about Guided Walking Tours led by the museum of art's education team.