| Published by MMA
Cancelled: Film Screening | Deanna Bowen
April 3 @ 7:00 pm

-

9:00 pm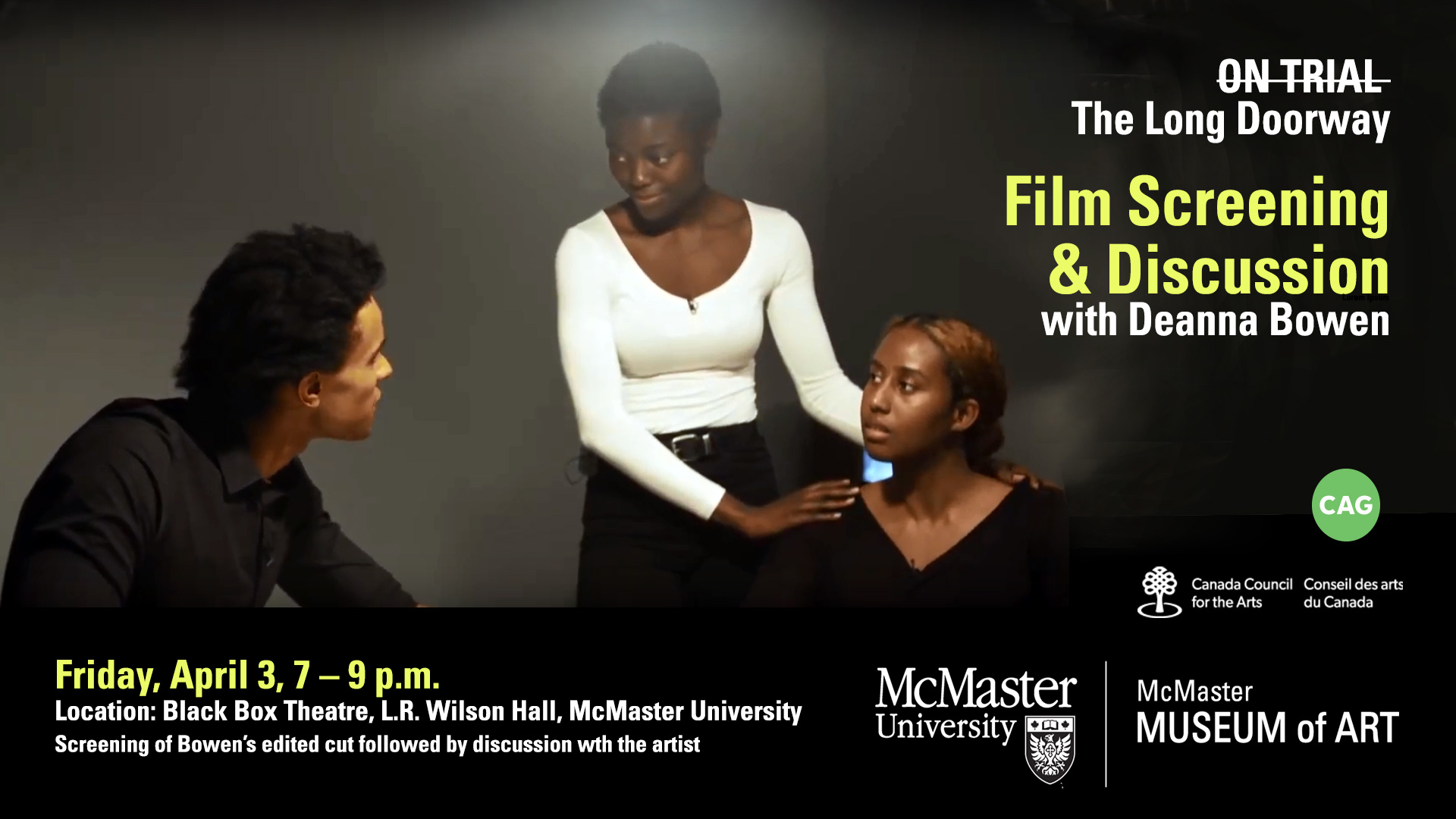 IMPORTANT NOTICE: All McMaster Museum of Art events are cancelled until the end of April, as per McMaster University's COVID-19 Update of March 12/2020. https://covid19.mcmaster.ca/changes-to-university-travel-and-events
————————–
This event is cancelled.
FILM SCREENING / DISCUSSION:  Friday, April 3, 7 – 9 p.m.
Location: Black Box Theatre, L.R. Wilson Hall, McMaster University
Join us for a special screening and discussion of Bowen's edited cut of On Trial The Long Doorway. The film focuses on a lost 1956 CBC teledrama titled The Long Doorway, in which Bowen's great uncle Herman Risby played a supporting role, and tells the story of a Black legal aid lawyer tasked with representing a white University of Toronto student charged with the assault of a rising Black basketball player. The screening will be followed by a talk with Bowen, discussing familial connections and repressed histories and traumas of Black communities within Canada and the US.
Presented as a complement to the exhibition
Deanna Bowen: A Harlem Nocturne
Organized and circulated by the Contemporary Art Gallery, Vancouver
Curator: Kimberly Phillips
Deanna Bowen's practice concerns itself with histories of Black experience in Canada and the US that remain below the threshold of visibility, not because they are impossible to see but because they are difficult for the majority of culture to acknowledge. Mining overlooked archives, forgotten documents, and related ephemera, Bowen employs a range of artistic gestures to bring traces of a complex, deeply personal and often violent past into public visibility. Taking up many of the concerns currently shaping discussions in photography and Black visual studies, this solo exhibition presents still and moving images following ongoing research into the artist's family lineage in Canada.
Deanna Bowen has received several awards in support of her artistic practice including 2017 Canada Council New Chapter and Ontario Arts Council Media Arts production grants, a 2016 Guggenheim Fellowship and the 2014 William H. Johnson Prize. She has exhibited at the Royal Ontario Museum, Toronto (2017); the Art Museum at the University of Toronto (2016); the Institute of Contemporary Art at the University of Pennsylvania, Philadelphia (2015); McMaster Museum of Art, Hamilton (2014 – 15) and the Art Gallery of York University, Toronto (2013).