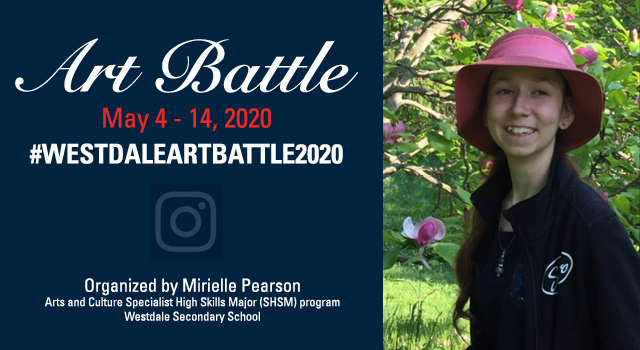 Westdale Secondary School's Art Battle, inspired by works from McMaster Museum of Art's collection, opens to the wider community this year.

New! #WestdaleArtBattle2020 RULES and inspiration 
Introduction from the Art Battle organizer:
Hi, my name is Mirielle Pearson, and I am currently a Grade 12 student enrolled in the French Immersion and Arts and Culture Specialist High Skills Major (SHSM) program at Westdale Secondary School. What I love the most about the SHSM program are the opportunities and experiences it provides, particularly those that connect the classroom experience with the art community. I have a growing interest in art history, curatorial practices, the exploration of new media and hands-on interactive environments. Because of this, I was excited to accept a Co-operative Learning placement at the McMaster Museum of Art.
This placement provides me with practical exposure to the real work environment of a museum curator, and opportunities to experience the real-world role of museums within communities. Next year I will be attending NSCAD University in Nova Scotia where I will continue my art education.
In 2019, the McMaster Museum of Art facilitated an Art Battle at Westdale Secondary School to encourage young artists to remain engaged and aware of the museum during its physical closure during renovations.
This year McMaster Museum of Art would like to expand upon this, inviting all students and budding artists from the community to participate in the Art Battle!  I've chosen four works from the McMaster Museum of Art collection to inspire your creations. You'll have about a week to create your own piece based on one of these artworks.
On Monday, May 4, a link to a page of Art Battle rules and images of the four artworks will be posted at the top of this page.
Stay tuned, the Art Battle begins May 4!