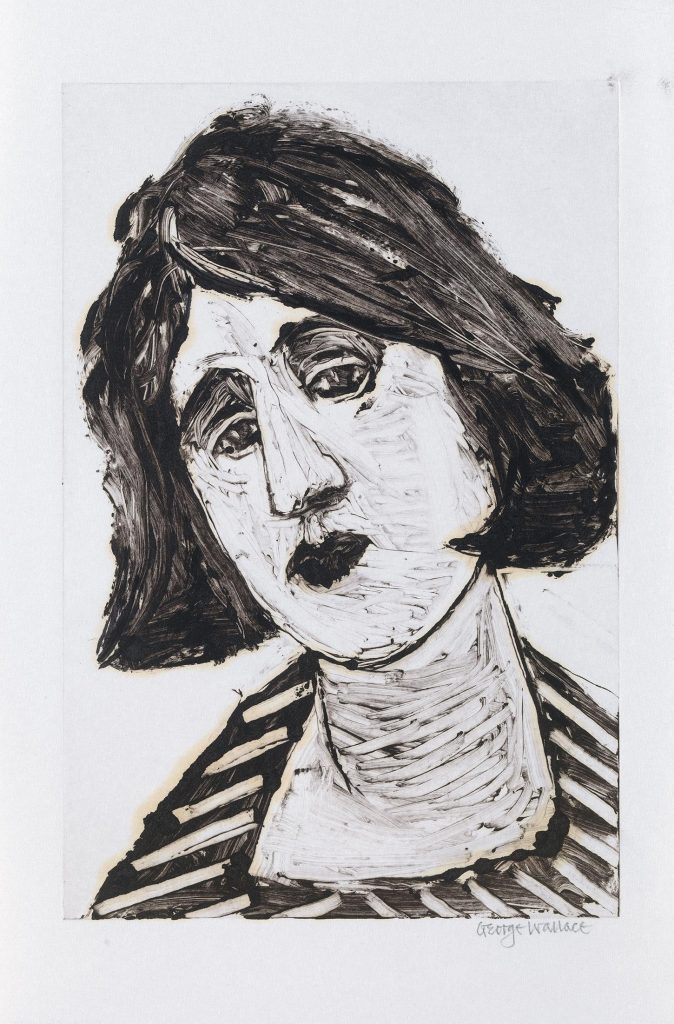 George Wallace (1920-2009), celebrated artist and McMaster professor emeritus, has been honoured with a solo exhibition of his prints at the National Gallery of Ireland (see their press release below).
Wallace taught art at McMaster University for 25 years, becoming chair of the Fine Art Department until his retirement in 1985. He was prolific in his practice and passionately involved in the arts at McMaster – in education, programming and acquisitions. In his early years, he oversaw the student-run Wentworth House Art Committee and later he was named by Herman Levy as a recommender for university art purchases made with Levy's bequest. Wallace played a key, foundational role in the creation of what is now the McMaster Museum of Art.
McMaster Museum of Art's collection currently boasts 115 works by Wallace and 35 donated by the artist from his own significant collection. For the McMaster campus community, Wallace's most familiar work is his striking sculpture "Man Releasing Eagles," on permanent display in the Arts Quadrangle.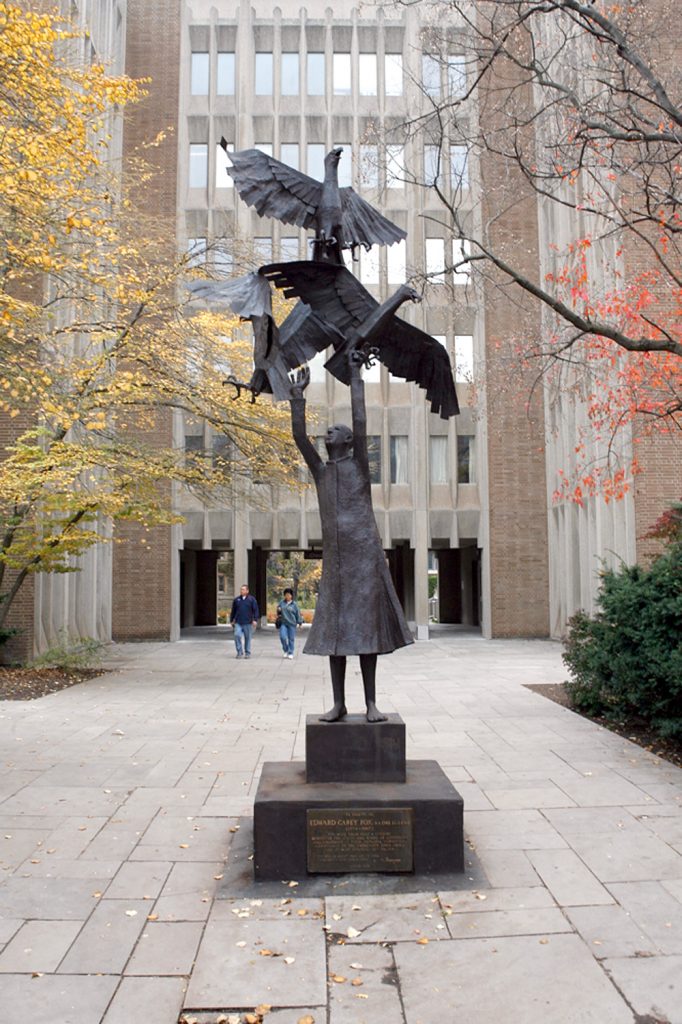 PRESS RELEASE from the National Gallery of Ireland
Canadian artist George Wallace honoured in National Gallery of Ireland Exhibition
Artist's family gifts collection to National Gallery of Ireland
From 11 September to 13 December 2020, the National Gallery of Ireland presents the Print Gallery exhibition George Wallace: Reflections on Life. Over 60 works by this Canada-based artist go on view for the first time in Ireland. The selection is drawn from a collection presented to the Gallery by the Wallace family in 2016. The exhibition marks 100 years since the artist's birth.
Born in Dublin, but based in Canada for most of his life, George Wallace (1920–2009) was a significant artist and influential educator who created powerful prints and sculptures throughout his career. He was a deep thinker who published insightful writings on art.
In September 2015, Kit Wallace, the artist's son, visited the National Gallery of Ireland bringing a sample selection of George Wallace's prints with him. The following year, the Gallery accepted the Wallace family's generous gift of some 250 etchings, woodcuts, monoprints and drawings by George Wallace.
Born in Sandycove in 1920, George Wallace studied theology and philosophy at Trinity College Dublin in the early 1940s. He lived in the UK for several years, teaching at Falmouth School of Art, before emigrating to Canada where he continued his teaching career to become Professor of Fine Art at McMaster University, Ontario. For most of his adult life, Wallace specialised in printmaking and sculpture.
The exhibition features etchings, monotypes, woodcuts and drawings. These works on paper, drawn from a prolific career of over 50 years, include early abstract etchings and preparatory drawings inspired by the clay pits at St Austell in Cornwall, and a series of monoprint 'heads', inspired by photos of newly promoted business executives featured in Globe & Mail (Canada's national newspaper) in the 1980s.
At times humorous, and always insightful, the work of George Wallace is both personal and universal. Through powerful imagery the artist comments on everything from the boredom of suburban life to human vulnerability and ageing.
Anne Hodge, curator of the exhibition, added: "George Wallace's skilfully made etchings, monoprints and drypoints reflect his philosophical outlook, wry sense of humour and changing attitudes to life. His comments on Hogarth could easily describe his own work: 'He thought of his prints and paintings as mirrors in which the people of the time might see themselves reflected … in their sometimes grim, sometimes humorous surfaces we may perhaps still find something of ourselves reflected back to us.'"
George Wallace: Reflections on Life is on view until 13 December 2020. For those who cannot attend the Gallery in person, visit the Gallery's website for virtual tours of the collection including exhibitions and iconic spaces such as the Shaw Room and the Grand Gallery.
Listing
What: George Wallace: Reflections on Life
When: 11 September – 13 December 2020
Venue: National Gallery of Ireland (Print Gallery), Entry via Merrion Square West, Dublin 2.
Admission: Free
About George Wallace
George Wallace was born in in Sandycove, County Dublin, and grew up in nearby Killiney. He went to school at St Columba's College, and was interested in art from a young age (he had vivid memories of a school visit to the home of avant-garde artist May Guinness). Wallace graduated from Trinity College Dublin with a degree in philosophy and a teaching diploma. On leaving Trinity, he got a job as a teacher in Radley College, near Oxford in the UK. After a few years he enrolled in the West of England College of art in Bristol. He later taught printmaking at Falmouth School of Art. His abstract lithographs and etchings from that time recall the work of the St Ives School. Although he rarely showed his work in public exhibitions, Wallace excelled as a printmaker. In 1957, Wallace emigrated with his wife, Margaret, and young family to Canada. Victor Waddington, who had shown Wallace's work in Dublin, gave him an introduction to his brother George, who had recently opened a gallery in Montreal. Gradually, George Wallace established himself; he ended his career as Professor of Fine Art at McMaster University, Ontario.