Art lovers from the campus and Hamilton communities came together last Thursday to launch the Museum's summer exhibitions. The public response has been terrific these first four days. Below are selected comments from our guest book in response to the work of emerging Ontario artists, Matt Sparling and Fausta Facciponte. Reviews in 10 words or less – I thought they captured some of the flavour of these shows.

Matt Sparling: Crossroads –  Matt Sparling's installation of large-scale composite photographs chronicles journeys through southern Ontario's back roads and ghost towns.
Very dynamic and provocative
What about the "Dawning of the Age of Aquarius", have you considered photos on this theme? Faust's deal with the devil…
Mind blowing!
I grew up in these pictures.
Evocative landscape photos. What stories they tell…
Matt you are brilliant!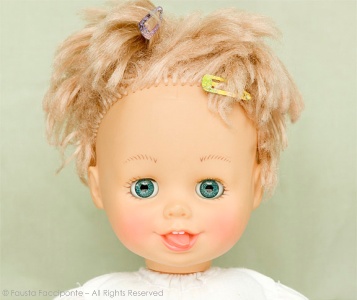 Fausta Facciponte: Reliable  –  Commonplace objects are transformed by time, experience and the photographic process in the work of Ontario artist, Facciponte.
Walter (one of Fausta's doll portraits) was so creepy, but the prints and the idea of photographing old dolls was awesome!
Dolls are rich, beautiful and totally unnerving.
Arresting and very creepy. Congratulations!
auguri Fausta Bellissimo
Great artwork! Love the Dolls!!!!
Big Pictures! Love it!
–  Rose Anne Prevec, McMaster Museum of Art