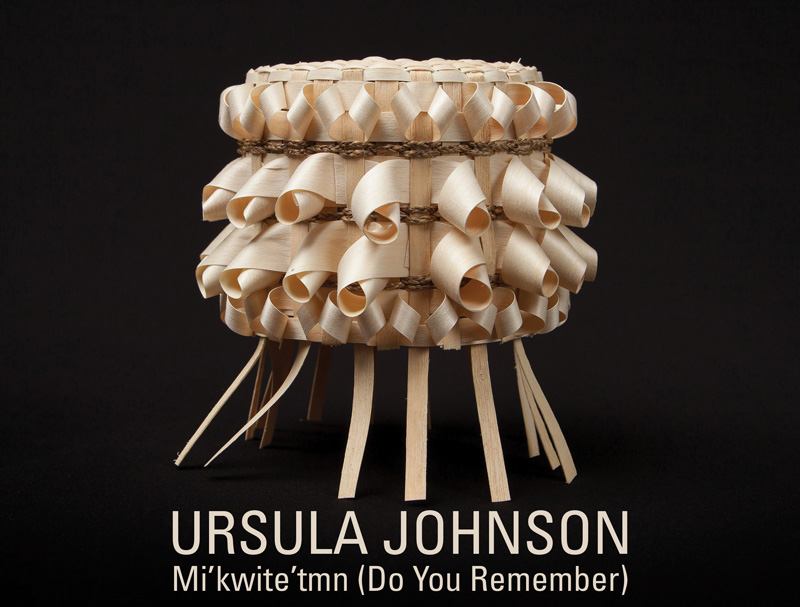 McMaster Museum of Art presents
Ursula Johnson: Mi'kwite'tmn (Do You Remember)
Organized by Saint Mary's University Art Gallery
Curated by Robin Metcalfe
on view at the McMaster Museum of Art, September 13 – December 8, 2018
Ursula Johnson's practice ranges from fine craft and traditional Indigenous art forms through performance and installation. Mi'kwite'tmn (Do You Remember) examines ideas of ancestry, identity and cultural practice. Johnson deconstructs and manipulates the function and image of Mi'kmaw basketry, using traditional techniques to build non-functional forms.
In Mi'kwite'tmn, Johnson creates three distinct spaces. A "Museological Grand Hall" displays empty plexi vitrines bearing sand-blasted diagrams of traditional Mi'kmaw baskets. An "Archive Room" is crowded with mutant basket-type objects from the series O'pltek ("It is Not Right"). In the "Performative Space", the artist presents an endurance performance of shaving, pounding and splitting an ash-wood log to produce a mountain of splints, as traditionally employed in Mi'kmaw basket-making.
Johnson explores the impact of colonialism on Indigenous material and linguistic culture, and challenges the museological and ethnographic frame imposed upon it.
Public Performances: Sept 20 – 22, 2018
The artist's endurance performance begins each day in the exhibition space when the gallery opens.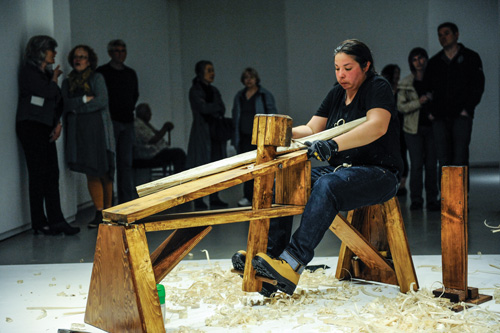 About the Artist
Ursula Johnson is an Interdisciplinary Artist from Nova Scotia with Mi'kmaw Ancestry. She is currently based out of Eskasoni Nation. She obtained a BFA at NSCAD University, Halifax (2006). Her work has been featured in a number of solo exhibitions, including L'nuk (in collaboration with Jordan A. Bennett, Anna Leonowens Art Gallery, Halifax, 2012) and O'pltek (Thunder Bay Art Gallery, Thunder Bay, 2010). Johnson has also exhibited in such group shows as Ke Pite'm (Cape Breton University Art Gallery, Sydney, 2013), Snapshot (Khyber Centre for the Arts, Halifax, 2012) and Ka'kawej (Banff Centre for the Arts, Banff, 2010). In 2017, Ursula Johnson won the Sobey Art Award, Canada's biggest contemporary art prize.
Mi'kwite'tmn (Do You Remember) has been organized by Saint Mary's University Art Gallery Produced by Saint Mary's University Art Gallery, Halifax, in collaboration with Unama'ki College and with support from the Government of Canada and the Canada Council for the Arts. The artist wishes to acknowledge support from Arts Nova Scotia.

Banner image is Ursula Johnson, Upmetuk, O'pltek Form, 2012. Black Ash, Maple Wood, Sweetgrass. 21 x 15 x 15 cm. Courtesy of the Artist. Photo: Wendy McElmon