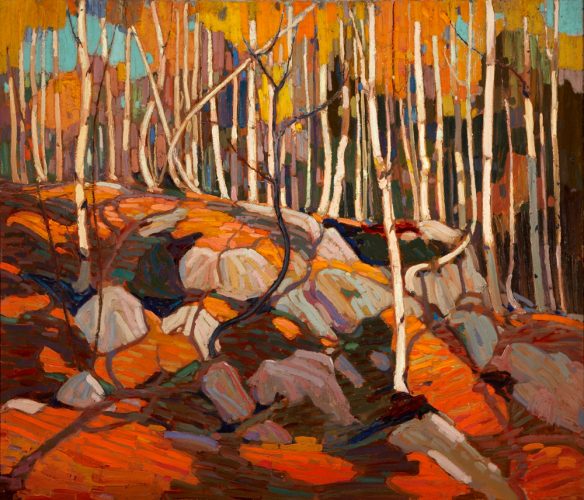 McMaster Museum of Art proudly presents
Struck by Likening: The Power & Discontents of Artworld Analogies
Guest Curator: Mark A. Cheetham
Levy Gallery (level 4)
19 August – 2 December, 2017
PUBLIC RECEPTION: Thursday, September 14, 6 – 8 pm
CURATOR'S TALK  |  Getting Some Distance on Likening:  Wednesday October 4, 12:30 – 1:20 pm
Struck by Likening explores commonplace declarations such as "Tom Thomson is the Van Gogh of Canada" and Norval Morrisseau is "the Picasso of the North." We may call these familiar comparisons "likenings." Innocent though they might seem, we need to take likenings seriously. They occur with such frequency as to become largely unheard and invisible. They structure not only what we say about art, but literally how we see it. Likenings can trigger 'ah-ha' moments when we are 'struck by likening' in the sense of having an insight or they can commit us to dubious cultural assumptions.
Likening is a form of analogy, a process by which a connection is asserted between two distinct elements. Examples abound in pop culture ("Prabhu Deva [is] the Michael Jackson of India"), politics ("Nelson Mandela: The Lincoln of Africa"), science (Ernest Rutherford's analogy between the atom and solar system), and the law, which argues from analogous precedents. Analogy is fundamental to the way we make sense of the world. Struck by Likening interrogates how we construct our views on artists, their works, and art history through analogy.
The exhibition has five viewing stations, each exploring the issues raised by likening. Questions of national aspiration, genius, gender, anachronism, inter-media comparison, humour, and cultural appropriation are brought into focus. Visitors will see likenings that seem right and lend insight and those that reinforce stereotypes. When comparing the comparisons on exhibit, are you inclined to accept or to resist likenings?
Works for Struck by Likening are drawn from the historical, modern and contemporary collection of the MMA, and loans from the Art Gallery of Hamilton, the Art Museum at the University of Toronto, Museum London and the Corkin Gallery, Toronto. They include works by Henri Cartier-Bresson, Jack Chambers, George Grosz, William Hogarth, William Kurelek, Wifredo Lam, David Lucas, Norval Morrisseau, Pablo Picasso, Pierre Puvis de Chavannes, Gerhard Richter, Tom Thomson, Harold Town, Homer Watson, and Edward Weston.
An illustrated exhibition guide will be available.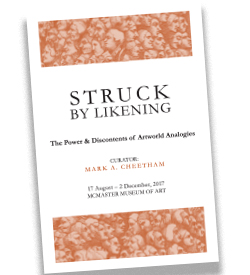 About the Curator
Dr. Mark A. Cheetham is a professor of art history at the University of Toronto. He has received national and international awards and authored numerous books and essays on modern and contemporary art: Landscape into Eco Art: Articulations of Nature since the '60s will be published by Penn State University Press in early 2018.
Professor Cheetham gratefully acknowledges the research support of the Social Sciences and Humanities Research Council of Canada.
MCMASTER MUSEUM OF ART
Alvin A. Lee Building
McMaster University
1280 Main St W
Hamilton, ON L8S 4L6
905.525.9140 x.23241
Follow us:  Facebook |  Twitter  |  Instagram
Admission to all exhibitions and events is FREE
Museum Hours: Tue/Wed/Fri 11am-5pm, Thu 11-7, Sat 12-5

museum@mcmaster.ca
http://museum.mcmaster.ca