Spend a day in the garden at McMaster Museum of Art. We're taking a journey through time to artist gardens past and present, all commissioned for one plot of land on the campus of McMaster University and we're revealing who is up next. Hear Canadian artists Simon Frank, TH&B (Tor Lukasik-Foss speaking) and Ernest Daetwyler speak briefly about their inspirations and their installations – planted, constructed or both.
The Artist Garden project series was launched in 2014 to revitalize an empty lawn adjacent to the McMaster Museum of Art (MMA) entrance. Artists are commissioned to create site-specific temporary/ephemeral works of art. MMA Artist Garden projects are each exhibited for two years.
The MMA Artist Garden is a site for experimentation, exploration and, perhaps now more than ever, a welcome respite from the stresses of the daily life.
ABOUT THE ARTISTS
Simon Frank is an established Hamilton-based multidisciplinary artist, educator. Over the past 18 years, he has exhibited across Canada and internationally. His contemporary art practice examines the relationship between people and the natural environment.
TH&B is the creative partnership of Simon Frank, Dave Hind, Ivan Jurakic and Tor Lukasik-Foss, a group of established visual artists working out of the Hamilton area. Basin, 2016 is part of their ongoing exploration and mapping of the Great Lakes and escarpment through a variety of artworks and actions.
Ernest Daetwyler is a Swiss-Canadian multi-disciplinary artist who studied sculpture in Italy and Switzerland before moving to Canada two decades ago. His work is exhibited across Canada and internationally. He is one of the founders of CAFKA, The Contemporary Art Forum Kitchener and Area, a biennial exhibition in southern Ontario (www.cafka.org).
Next featured artist: Susan Blight (Anishinaabe, Couchiching First Nation) is an interdisciplinary artist working with public art, site-specific intervention, photography, film and social practice. Her solo and collaborative work engages questions of personal and cultural identity and its relationship to space. Her Artist Garden will be presented as part the upcoming exhibition Enawendewin / Relationships curated by William Kingfisher. The MMA Artist Garden is made possible through the support of McMaster University and the Ontario Arts Council
RESOURCES.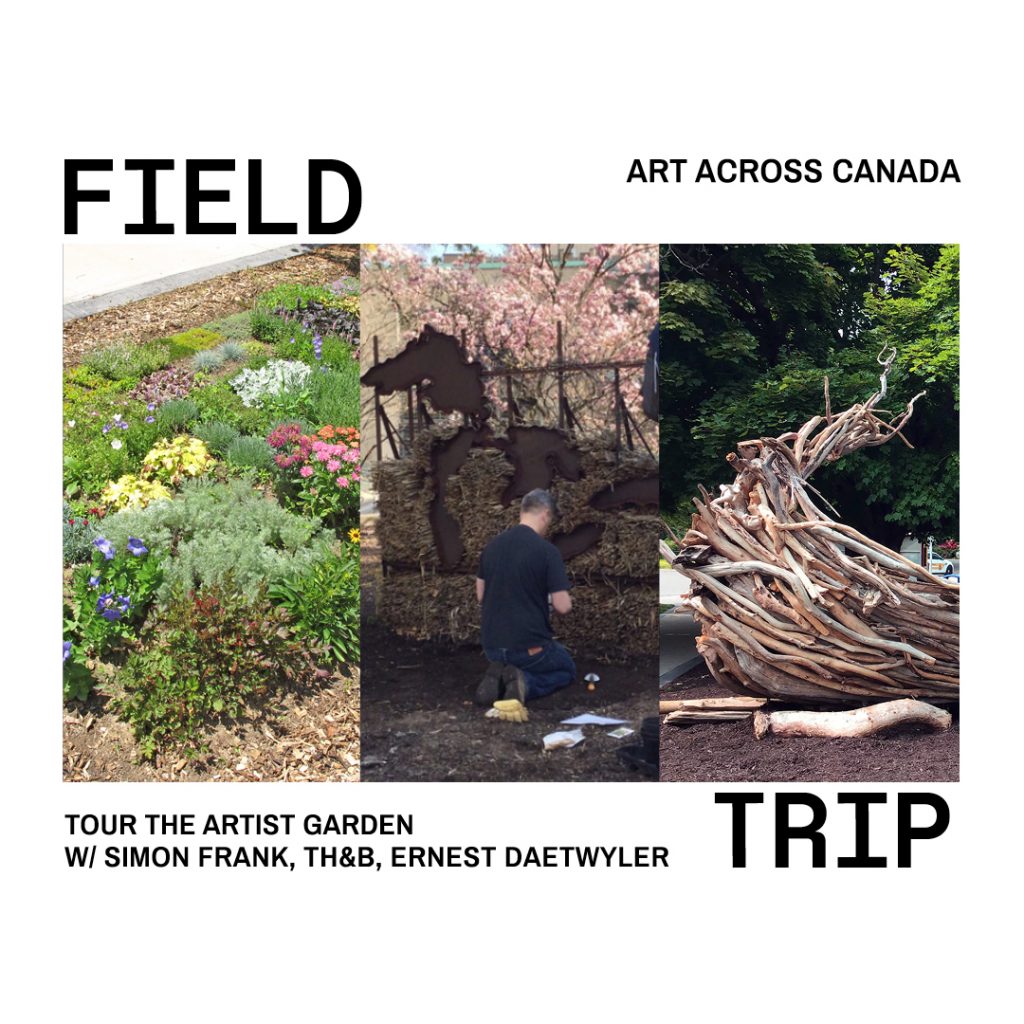 This Visit to the MMA Artist Garden was featured in May on fieldtrip.art  #ArtAcrossCanada
Until your next visit we invite you to
TAKE A VIRTUAL WALKING TOUR OF MCMASTER CAMPUS SCULPTURE