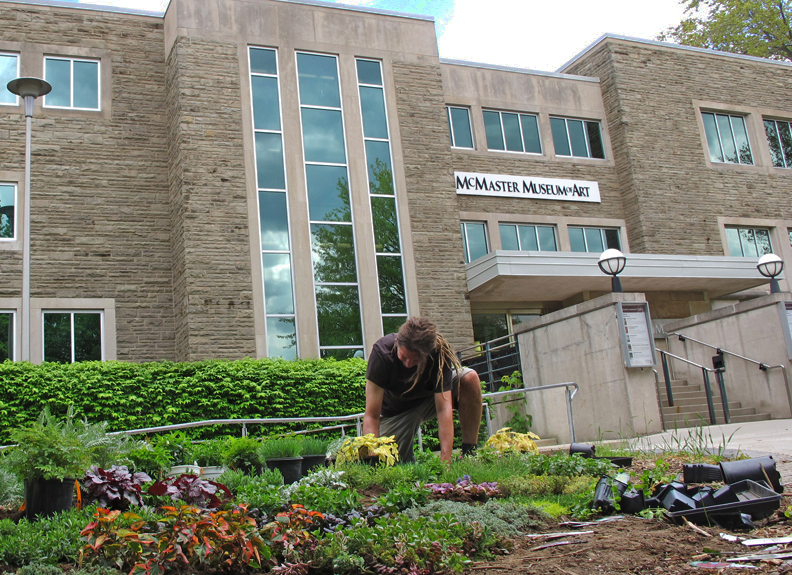 Artist's Garden

This summer, an unpurposed garden plot beside the Museum entrance is getting an artist's touch. The Museum has commissioned Simon Frank, a Hamilton-based multidisciplinary artist, educator (at Cardinal Heights Elementary School) and recipient of the 2013 City of Hamilton Arts Award for Visual Art, to create a site specific installation.
The artist proposed a planted work, titled Untilled, comprising diverse perennial plants and ground covers, each chosen for their specific colour and texture.  Untilled references a watercolour in the Museum's collection by Paul Klee. 
Says Frank, "Klee's abstracted landscape was directly inspired by his travels in North Africa, and the array of colours he encountered in the Tunisian landscape. With Untilled, I will reverse this process (and return the favour), drawing my inspiration from the way he uses colour in the work, and translating it back into a small, living, growing landscape."
The work also references an experience the artist had while traveling by train through the Netherlands. "I saw rows of pure colour (tulips) stretching to the very distant and flat horizon."
McMaster students and Museum docents will assist Frank with the planting and maintenance of the garden installation through the summer.
Simon Frank is a Scottish-born (Glasgow 1968), Canadian artist whose contemporary landscape-based work draws from a broad range of artistic and cultural traditions, to explore the complex relationship between nature and culture. The natural environment provides Frank's continually evolving artistic practice with an aesthetic frame of reference, and the source of both raw materials and inspiration. Much of his recent practice has concentrated on process-oriented works, which when enacted in a public space, take on elements of performance and ritual.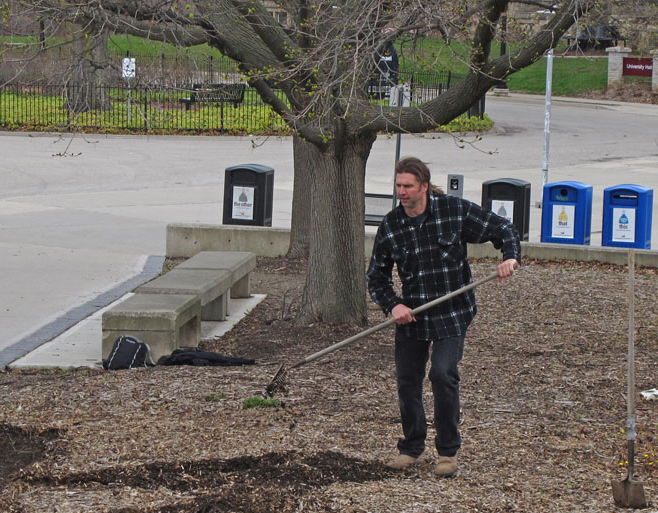 Over the past eighteen years, Frank has participated in solo and group exhibitions across Ontario, as well as exhibiting in special projects in Saskatoon, Italy and South Korea. He has received grants from both the Canada Council for the Arts and the Ontario Arts Council. Selected exhibitions and offsite projects include: "Take on Me", Luminato Festival, Toronto (2014); "Romancing the Anthropocene", Nuit Blanche, Toronto (2013); "View (from the escarpment)", Art Gallery of Hamilton (2012); "The Tree Project", McMichael Gallery, Kleinburg (2012); "Terra Incognito", Rodman Hall, St Catharines (2009); "Earth Art", Royal Botanical Gardens, Hamilton (2008); "Sketch for New Forest", The Koffler Gallery, Toronto (2007); "Wild Wood" Haliburton Forest Preserve, Haliburton (2007); "The Forest for the Trees" Galleria di Arte Contemporanea, La Spezia, Italy (2007); "Ice Follies 2006", WKP Kennedy Gallery, North Bay (2006); "Gold Leaf" (performance), Art Gallery of Ontario (2005); "Shorelines", MacLaren Art Centre, Barrie (2005); "Exchange-Changing the Landscape", The Tree Museum (2004); "SPASM II", Saskatoon (2004); "The Geumgang Nature Art Project", Korea (2002); "CAFKA/Power to the People", Kitchener (2002);  "Zone 6B: Art in the Environment", Hamilton (2000). Frank is also a member of the Hamilton-based collective TH&B, which has produced site-specific projects in Hamilton, Kingston, Toronto, Banff, Buffalo and New York.
His work was shown at McMaster in the past in a 2004 performance, Core, and the 2004-2005 exhibition LANDeSCAPES (with Reinhard Reitzenstein).
This installation will be celebrated along with the Museum's summer exhibitions with a Public Reception, Artist Talk and refreshments on Saturday June 14 from 2-4 pm.