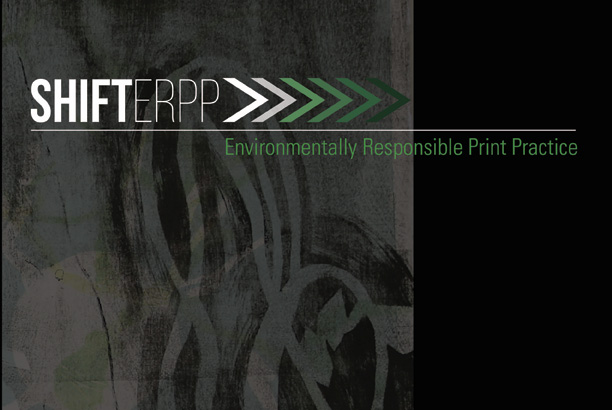 SHIFT: E.R.R.P.




8 North American Print Artists Sharing a Concern for Sustainability
McMaster Museum of Art
McMaster University
January 14 – April 2, 2016
Curated by Judy Major-Girardin and Briana Palmer
McMaster University School of the Arts
RECEPTION: February 26, 2016, 3 – 5 pm
EXHIBITION CATALOGUE:  Now Online. View the Catalogue

The Shift exhibition at the McMaster Museum of Art celebrates a selection of artists who are seeking alternatives that lighten the footprint of their print practice, provide safer studio methods and explore pressing issues of our times.
The call for submissions attracted seventy-eight artists from across North America residing in over sixty different cities, eleven states, nine provinces and one territory. The twenty-eight artists selected for the exhibition are:

Frances Ashforth (Connecticut)
François-Matthieu Bouchard (Québec)
Marjolaine Bourgeois (New Brunswick)
Liz Chaflin (Massachusetts)
Karen Cornelius (Manitoba)
Manuel Gonzales (Texas)
John Graham (Saskatchewan)
Melissa Harshman (Georgia)
Florin Hategan (Ontario)
Brece Honeycutt (Massachusetts)
Mary Hood (Arizona)
Anita Hunt (Massachusetts)
Carrie Phillips Kieser (Alberta)
Jeff Mann (Ontario)


Monique Martin (Saskatchewan)
Julie McIntyre (British Columbia)
Nathan Meltz (New York)
Liz Menard (Ontario)
Wolf Mendritzki (Québec)
Duane Paxson (Georgia)
Lynn Peterfreund (Massachusetts)
Johnny Plastini (Colorado)
Tammy Ratcliff (Ontario)
Sarah Paisley (Ontario)
Stephanie Russ (Québec)
Kyle Topping (Ontario)
Matthew Trueman (Ontario)
Rob Truszkowski (Saskatchewan)
Represented with this group is a broad range of approaches that question, activate, inspire, educate and contribute to a critical discourse linked to environmentalism or sustainability. Some of these artists are exploring new technologies or products. Others are reviving older approaches. Some have eliminated volatile organic compounds and acids in their studios or are using biodegradable chemicals, DIY practices, or certified products and are embracing the opportunity to reuse, reclaim and recycle. This exhibition provides an overview of sustainable initiatives within the printmaking field and is intended to gauge where we are and share successes that demonstrate our ability to reduce hazards and environmental impacts without sacrificing quality or integrity.
ENVIRONMENTALLY RESPONSIBLY PRINT SYMPOSIUM: February 26, 2016, 8 am – 3 pm
A one-day symposium is scheduled to facilitate a network for the sharing and dissemination of information that will promote an ongoing dialogue and continued advancements in the field. The symposium will feature workshops, tours of the McMaster Museum print collection, a panel discussion and student and faculty exhibitions in the new Dr. Robert and Andrée Rhéaume Fitzhenry Studios and Atrium in Togo Salmon Hall, McMaster University. The symposium will end with the opening reception of the show in the McMaster Museum of Art at 3 pm.
To register for the free Environmentally Responsible Print Symposium on Friday, February 26, 2016 please contact: girardin@mcmaster.ca
This project is supported by Forward with Integrity, Office of the President, McMaster University.