The current exhibition at McMaster Museum of Art takes its name from one of the works on view, Rebecca Belmore's Rising to the Occasion. Here's a great AGO video of the artist discussing that work:
It originated as a performance and action, drawing attention to the effects of colonization on First Nations women. The Victorian-style dress, resembling a beaver dam and adorned with broken china teacups, was made and worn by Belmore during the Duke and Duchess of York's official visit to Canada in 1987, and then reconstructed as a sculpture.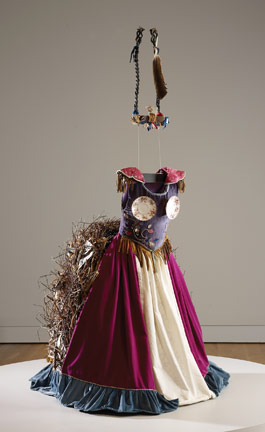 Born in Upsala, Ontario, Rebecca Belmore is an artist currently living in Vancouver, British Columbia. She attended the Ontario College of Art and Design in Toronto and is internationally recognized for her performance and installation art. Since 1987, her multi-disciplinary work has addressed history, place and identity through the media of sculpture, installation, video and performance.