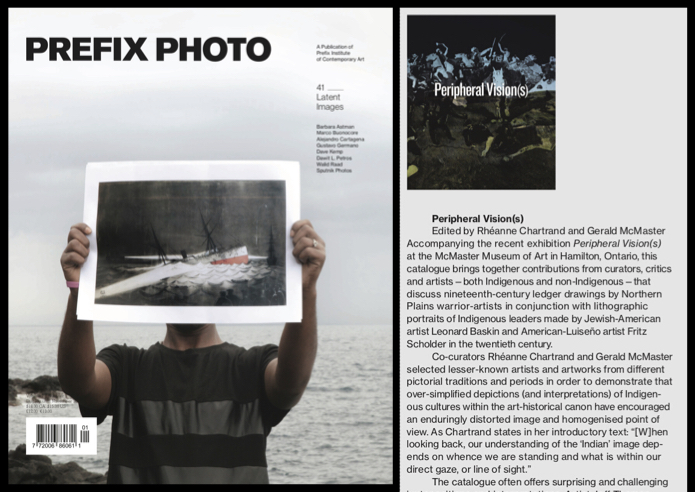 The forty-first issue of Prefix Photo magazine has been released and includes Rebecca Travis's great review of the McMaster Museum of Art's recent publication Peripheral Vision(s).
"Packed with full colour reproductions of prints and drawings, the book beautifully illustrates the layering of time, peoples, social points of view, and art historical contexts."
Peripheral Vision(s) documents an exhibition of the same name, co-curated by Rhéanne Chartrand and Gerald McMaster, and presented at McMaster in late 2019. It sparked a visual dialogue between 19th century ledger drawings by Northern Plains warrior-artists and the lithographic prints of 20th century American artists Leonard Baskin and Fritz Scholder. 
Extended information about/from the Peripheral Visions exhibition
Both the exhibition and publication were generously supported by the Terra Foundation for American Art
The publication Includes scholarly essays by some of the most prominent Indigenous and non-Indigenous voices within the fields of Indigenous art history and art criticism today:
Janet C. Berlo, Professor of Art/Art History and Visual Culture at University of Rochester;

Christina E. Burke, Curator of Native American & Non-Western Art, Philbrook Museum of Art, Tulsa, OK;

Paul Chaat Smith, Associate Curator at the National Museum of the American Indian, Washington, DC;

Gerald McMaster, curator, artist, author, and Tier 1 Canada Research Chair of Indigenous Visual Culture and Curatorial Practice, Ontario College of Art and Design University, Toronto, ON; and

Jeffrey Thomas, independent photo-based artist and research and recipient of the 2019 Governor General Award for the Visual Arts.

Rhéanne Chartrand, curator of Indigenous art, McMaster Museum of Art
Publisher: McMaster Museum of Art. 132 pages, 109 colour illustrations, 14 black- and-white illustrations, softcover, $40.00 CA, November 2019.
Video Flip through the catalogue
We look forward to the day when we are back at the Museum and ready to distribute catalogues. In the meantime, we encourage you to support arts writers and publishers and check out Prefix Photo https://www.prefix.ca/magazine/