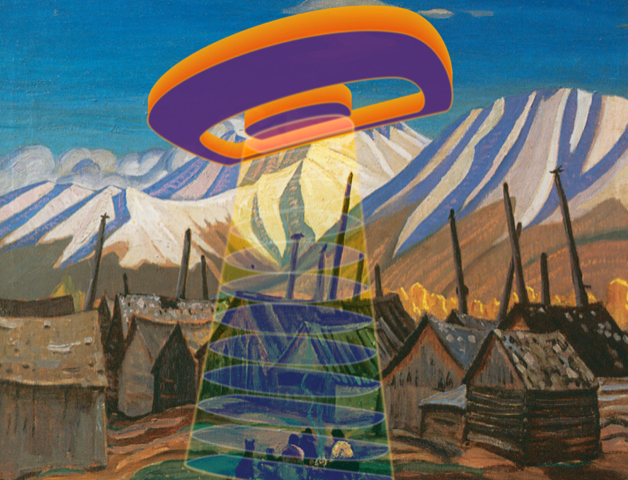 The McMaster Museum of Art is pleased to announce the purchase of 20 works of art, 19 of them by living artists working in Canada. The museum of art's biannual acquisitions committee meeting, postponed from March due to COVID-19, met last week and unanimously approved all proposals put forward by the curatorial team. Acquisitions include contemporary artworks by Sonny Assu, Deanna Bowen, Catherine Blackburn, Denyse Thomasos and Shellie Zhang.
"Supporting the Canadian arts community is a vital role for Museums, especially during this time of economic hardship due to the pandemic," says Carol Podedworny, Director and Chief Curator at the museum of art. "I am grateful to the curators, Pamela Edmonds and Rhéanne Chartrand, for bringing these amazing works to the table, and to the committee for their overwhelming support. We can hardly wait for the works to arrive and for the opportunity to share them with everyone."
These purchases continue the museum of art's goal to advance equity and diversity across the board, in collections, programming and scholarship. This intentional shift — notably marked by increasing acquisitions starting with art by Bob Boyer in 2010, the hire of the inaugural Aboriginal Curatorial Resident in 2016, a focus on equity and inclusion in exhibition programming, and the forthcoming Curatorial Leadership through Diverse Mentorship Initiative — was formalized in the museum's 2020/2025 Strategic Plan, which launched January 1.
Acquisitions include:
Purchases were funded by the Museum of Art Collection Trust, Naomi Jackson Groves Trust and Donald Murray Shepherd Trust.
---
Our Mission Statement 2020-2025
The McMaster Museum of Art is a meeting space for both the campus and the community situated within the traditional territories of the Mississauga and Haudenosaunee nations. The Museum engages, educates and inspires through: growing an awareness of the interconnectivity of the past, present and future; advancing de-colonization; engaging in innovative and imaginative research; dismantling institutional and ideological boundaries; partnering and collaborating with intentionality; diversifying the collection; and building capacity.