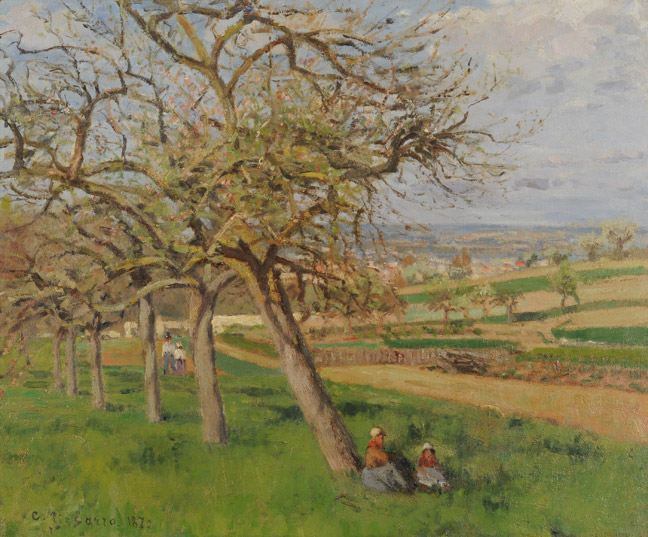 Back in February, the groundhog said something about an early spring and, whatever you may think of rodential predictions, Wiarton Willie was certainly right this time.  A nice way to get yourself in the green-time mood is to take a look at the fantastic example of early Impressionism that is the MMA's Pissarro painting, Pommiers en Fleur.
Pissarro was a stalwart Impressionist.  He was the only artist to exhibit in all eight of the Impressionist's shows.  He was described by many as a "fatherly" type, encouraging, peaceful, a superb teacher.
He moved with his family to Louveciennes (a western suburb of Paris) in 1869, and began to paint in an entirely Impressionist style.  The early 1870s is regarded as his most stylistically successful, and the MMA is lucky to have a work from this period.
Pissarro thoroughly enjoyed his time in Louveciennes.  This place was quiet, peaceful, and ideal.  His feelings towards his home can be seen in Pommiers en Fleur.  Swaths of joyful, lively green coat the work; you're invited in along the path, and happily so.  Above your head is a soft blue sky, surrounding you is a gentle breeze, and there to greet you are two figures, enjoying a sit beneath a very tall apple tree in blossom.
Visit Pissarro's springtime oil painting Pommiers en Fleur in the 125 & 45 exhibition, currently on display at the MMA.
– Teresa Gregorio, Museum Monitor / Information Officer, McMaster Museum of Art