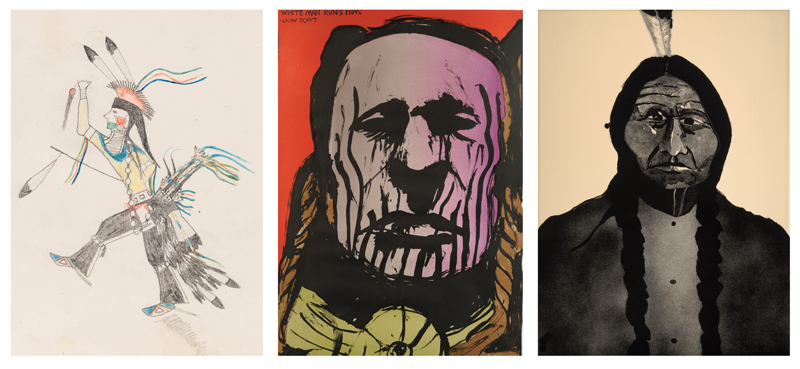 McMaster Museum of Art proudly presents
Peripheral Vision(s)
Curated by Rhéanne Chartrand and Gerald McMaster
Supported by the Terra Foundation for American Art
Opening Reception: Thursday September 12, 6 – 8 pm
On view until December 20, 2019
A new exhibition at McMaster Museum of Art sparks a visual dialogue between 19th century ledger drawings by Northern Plains warrior-artists and the lithographic prints of 20th century American artists Leonard Baskin and Fritz Scholder.
"Essentially, this exhibition [Peripheral Vision(s)] is a critical rethinking of the origins of the 'Indian' image, endeavoring to understand how artists have shaped – and been shaped by – this image," says Rhéanne Chartrand, Curator of Indigenous Art at the museum of art and co-curator of this exhibition. "It invites visitors to consider how the lens of the present shapes our understanding of the past."
The exhibition draws together nearly 50 works of art from institutions across North America.
Twenty-one ledger drawings record, in veracious detail, the first-hand experiences of four 19th century warriors-turned-artists. These include Short Bull / Tȟatȟáŋka Ptéčela (Sičháŋǧu Lakota, c. 1845–1923), Pretty Eagle / Déaxitchish (Apsáalooke, 1846–1903), White Swan / Mee-nah-tsee-us (Apsáalooke, 1851–1904), and Iron Cloud / Mahpiyamaza (Lakota, 1851–?).

Within the exhibition space, these ledger drawings are placed into conversation with twelve of the twenty-seven "Indian portraits," in McMaster's collection by Jewish-American artist, Leonard Baskin (1922-2000) and fourteen lithographs by Luiseño/American artist, Fritz Scholder (1937-2005), borrowed from five prominent US institutions.
Individually and collectively, the artists in this exhibition occupied the periphery of mainstream Euro-American society, history, art, and culture during their lifetimes. Though almost a century separates them, they are bound together by their common creative pursuit of reflecting on vision(s) of self, of Other, of place, and on particular moments and events in ways that do not conform to, or uphold, the accepted "truths" of history.
"Together these artworks generate a new critical analysis of history, the politics of representation, image-making, and the overall intent of portraiture," says Chartrand.
Peripheral Vision(s) is an exhibition that refutes the well-known adage "history is written by the victors," encouraging visitors to activate their peripheral vision—largest portion of our visual field—in order to see objects, ideas, truths, gestures, and movement outside of their direct line of sight, or histories not at the centre of the dominant worldview.
Events*
OPENING RECEPTION: Thursday, September 12, 6 – 8 pm

CURATOR'S TOUR by Rhéanne Chartrand: Wednesday, September 25, 12:30 – 1:20 pm


CONCERT | Night of Indigenous Music: Thursday, September 26, 7 – 9 pm
Cris Derksen
A rising star on the Canadian world / classical / folk / electronica scenes, award-winning Indigenous cellist Cris Derksen is known for building layers of sound into captivating performances. Her music braids the traditional and contemporary in multiple dimensions, weaving her traditional classical training and her Indigenous ancestry with new school electronics, creating genre defying music.
nêhiyawak
nêhiyawak hails from amiskwaciy in Treaty 6 Territory. The trio of Indigenous Canadian artists – Kris Harper (vocals, guitars), Marek Tyler (drums), and Matthew Cardinal (synths, bass) – transcends a new intersection of contemporary sound and the traditional storytelling of their ancestry. Their music is a resonant expression of indigeneity in the modern world.
PANEL DISCUSSION: Wednesday, November 20, 6 – 9 pm
– Janet Berlo, professor of art/art history and visual culture, University of Rochester
– Gerald McMaster, curator, artist, author, and Tier 1 Canada Research Chair of Indigenous visual culture and curatorial practice, OCADU
– Jeffrey Thomas, artist and recipient of the 2019 Governor General Award for the Visual & Media Arts
– Rhéanne Chartrand, curator of Indigenous art, McMaster Museum of Art*All events are free and open to the public.

The Scholarship
The exhibition will be accompanied by a significant publication exploring the "Indian" image with scholarly essays by some of the most prominent Indigenous and non-Indigenous voices within the fields of Indigenous art history and art criticism today:
Janet C. Berlo, Professor of Art/Art History and Visual Culture at University of Rochester;
Christina E. Burke, Curator of Native American & Non-Western Art, Philbrook Museum of Art, Tulsa, OK;
Paul Chaat Smith, Associate Curator at the National Museum of the American Indian, Washington, DC;
Gerald McMaster, curator, artist, author, and Tier 1 Canada Research Chair of Indigenous Visual Culture and Curatorial Practice, Ontario College of Art and Design University, Toronto, ON; and
Jeffrey Thomas, independent photo-based artist and research and recipient of the 2019 Governor General Award for the Visual Arts.
Rhéanne Chartrand, curator of Indigenous art, McMaster Museum of Art
Lending Institutions
Harwood Museum of Art at the University of New Mexico (Taos, NM)
IAIA Museum of Contemporary Native Arts (Santa Fe, NM)
Minneapolis Museum of Art (Minneapolis, MN)
Tucson Museum of Art (Tucson, AZ).
the Hood Museum of Art at Dartmouth College (Hanover, NH)
the Royal Ontario Museum (Toronto, ON)
Simcoe County Museum (Minesing, ON)
*     *     *
For more information about the exhibition, please contact:
Rhéanne Chartrand, Curator of Indigenous Art, McMaster Museum of Art
905-525-9140 ext. 27573   chartrr@mcmaster.ca