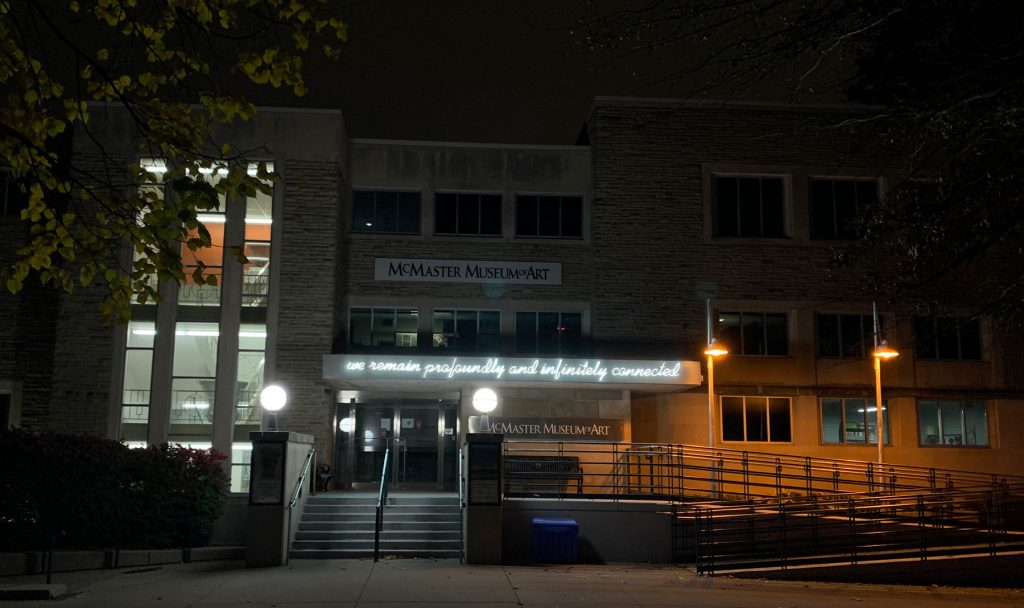 As we roll into autumn, join me in celebrating some of the big news—in terms of funding, commissions, digital programmes and staff—at the McMaster Museum of Art.
To begin, we are thrilled to have recently received the following grants: Canada Council for the Arts, Sector Development (for BIPOC Mentorship); Canada Council for the Arts, Project (for forthcoming exhibition we are made of stardust); and Department of Canadian Heritage, (COVID-19 Emergency Support Fund).
Moreover, while we have recently completed a new public art installation on campus by artist Hiba Abdallah, we have also extended support to several local public art commissions – our annual support of the Supercrawl Public Art Commission Program; and for the second year in a row, our role as nominating institution for the Supercrawl James Street North Billboard commission, this year with artist Shellie Zhang.
As you know, in January 2020, we launched our new strategic plan and one of the top three priorities is digital strategies. Recognizing the good work that we were already doing in this sphere, especially amongst our university-affiliate peers, we nonetheless envisioned an opportunity to explore additional innovative programs such as (on-going) virtual exhibitions, live publications, augmented reality experiences, and so on.
Our first step was to take stock of the digital work and assets to date. Over the course of the past 15 years we have created, activated and maintained a website, blog, on-line collections database, geocache, evites (a green initiative since 2011), social media platforms (Twitter, Instagram, Facebook), Youtube channel (98 videos and counting), and several virtual interactive exhibitions including The Unvarnished Truth (2015-2018) and most recently our annual SUMMA exhibition, which presented the McMaster BFA student show online for the first time. Secondly, we looked at our digital performance, which has been significant as described in my summer 2020 update.
In the COVID spring of 2020​, we immediately began to offer all Museum content online. Therefore, all public and education programs, including tours, classes, courses, workshops and more are now on-line for faculty/student groups; McMaster employee groups; school groups; community groups; and camps. In short, our current digital presence is impressive!
To date, much of the Museum's digital presence is the responsibility of our Communications Officer, Rose Anne Prevec, who is retiring after 26 years at the Museum. Rose Anne's work has been marked by her commitment to the best interests of the MMA: an ethical commitment to artists, cultural producers and her peers at institutions across the country; a vast knowledge of national arts & culture media venues; an exhaustive commitment to on-going professional development; an unerring ability to manage, administer and create within and for the digital assets of our times; a tireless dedication to her work; and a humility that defies the workload she carried and output she produced. She will be very much missed and very difficult to replace.
As we move forward, we have in place a Digital Strategies Steering Committee, comprised of key staff; and are at the development stage of a re-brand and re-design of our digital assets under the design team at Underline Studios Inc., Toronto (ADCC 2019 Design Studio of the Year). The hope is that with the re-brand, re-design and proposed innovations developed over the coming year, we can continue to excel in the digital realm!
Carol Podedworny
Director and Chief Curator, McMaster Museum of Art