Preparations are underway for MAC Fair 2009, the Museum's a one-of-a-kind craft sale which runs November 11-13 this year, featuring the work of local artisans. Last year's Fair was a tremendous success with 25 vendors, approximately 3,000 visitors and a ton of positive feed back. If you are an artisan in the Hamilton area, I invite you to apply.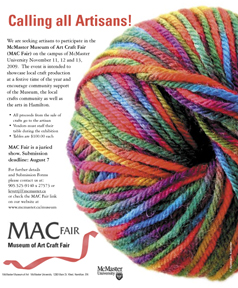 Here are some of the details:
MAC Fair will take place November 11th, 12th and 13th, 2009
Hours are November 11th, 11 am – 5 pm; November 12th 11 am – 7 pm and November 13th from 11 am – 5 pm
Vendors must be present for the duration of the show (i.e. staff their table)
Tables are $100.00 each and are 6' wide x 3' deep and located in an area that is 8' wide by 6' deep
All proceeds from the sale of crafts go to the artisan as the museum does not take a percentage of sales
Parking for the 3 day event is the responsibility of the vendor (parking fees at McMaster are $20.00 per day). Parking fees are not part of the registration fee nor will they be reimbursed.
MAC Fair is a juried show and we would ask that all interested artisans fill out the submission form and submit up to 5 images of their work for the selection committee to review. Images can be sent as slides, photographs, brochure copy, electronically (low resolution jpegs) or send us a link to your website. If you wish your images returned you must include a self-addressed, stamped envelope with the correct postage attached.
Submissions must be received at the Museum by August 7th, 2009. Artisans will be notified of their acceptance no later than August 21st, 2009. At that time, accepted artisans will be sent additional details regarding exhibiting at the Museum as well as be invoiced for the table rental fee of $100.00.
If you have any questions, please contact me, Jude Levett at the Museum at (905) 525-9140 ext. 27573 or levettj@mcmaster.ca, or check out the links to submission forms and details on the Museum's home page.
– Jude Levett, McMaster Museum of Art