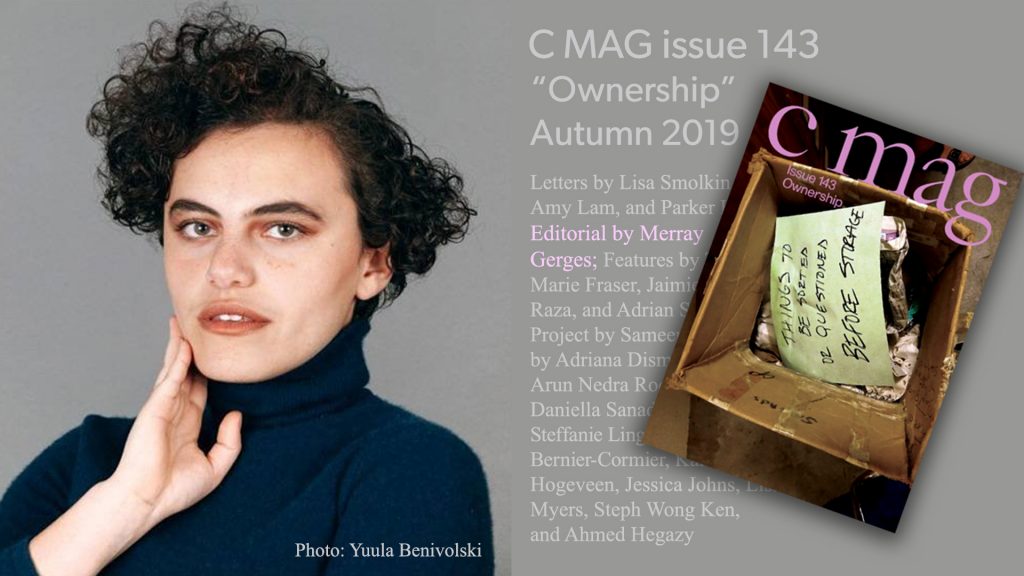 Talk on Collections and Ownership
by Merray Gerges
Art Critic and current Editorial Fellow at C Magazine
at McMaster Museum of Art, McMaster University
Thursday, November 28, 12:30 – 1:20 pm
Presented by McMaster Museum of Art and C Magazine.
Collections tell stories. They are indicative of the priorities of their owners—what they see and don't see, and what they value and don't value. In the past few years, many collecting institutions have begun attempts to change the story of art that their collections tell by reconsidering the space allotted to overrepresented artists in order to make space for those who are still underrepresented. Merray Gerges's talk at McMaster springboards from the latest issue of C Magazine centred on the theme of Ownership.
Merray Gerges writes around art rather than about it. She studied art history at NSCAD and journalism at King's University in Halifax, where she co-founded and co-edited CRIT, a free biannual criticism publication. She was editorial resident at Canadian Art in 2016, and assistant editor there from 2017 to 2019. She is now editorial fellow at C Magazine, where she is conceptualizing and commissioning a year of themed issues addressing systemic change—the people who push for it, the structures within which they operate, and the discourse around this work. Her work has appeared in Canadian Art, C Magazine, MOMUS, Hyperallergic and others, and has tended to pay more attention to art's contexts rather than its contents.
Presented as a complement to the exhibition it is from here that the world unfolds.
Attendees will receive a complimentary copy of the upcoming issue of C Magazine. Issue #143 will also be available for purchase.
This event is free and open to the public. Seating is first-come-first-served.