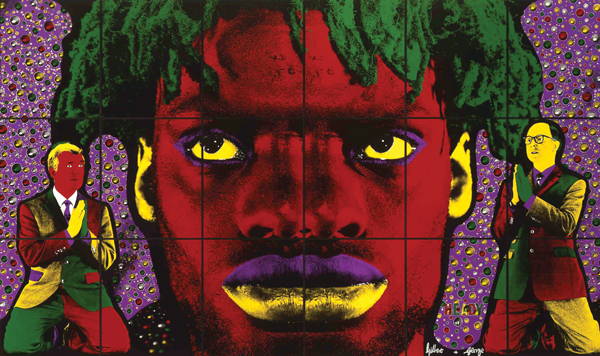 McMaster Museum of Art proudly presents
it is from here that the world unfolds: The Levy Collection
Curated by Pamela Edmonds
On view until December 14, 2019
OPENING RECEPTION: Thursday, September 12, 6 – 8 pm
The philanthropy of Hamilton businessman Herman H. Levy (1902 – 1990), his donations and bequest to McMaster University and the Museum of Art radically changed the depth and scope of the museum's collection. It ranks among the most important gifts to a university gallery in Canada for its quality and significance. Levy's personal collecting interests covered a broad range of areas―from antiquities and historical maps, to European historical works and paintings by some of the world's most renowned artists.
This remarkable collection provides the framework for the exhibition, it is from here that the world unfolds, which reconsiders how a museum collection predominantly committed to the European canon, might be positioned in order to broaden its scope within a globalized present that looks to the future. Instead of constructing a linear historical survey, individual works and groupings provide points of departure for relationships reflecting transcultural exchange and/or re-orientations. The selected works span over five centuries of historical, modern and contemporary art by notable artists such as Gustave Caillebotte, Gustave Courbet, Marcel Duchamp, Paul Gauguin, Wassily Kandinsky, Tadashi Kawamata, Anish Kapoor, Paul Klee, Henri Matisse, Paula Modersohn-Becker, Claude Monet, Gerard Richter, J.M.W. Turner, Victor Vasarely and many of whom led significant artistic movements.
Curator Pamela Edmonds explains, "This project has allowed me to explore ideas that I have been thinking about around the place and relevance of museum collections in our contemporary moment and propose an alternative premise for bringing works together that question the ideological constructs around universalism and humanity as it has been understood within the Western art".
Posited from a post-colonial lens, the exhibit brings to attention the kinds of difference―racial, religious, gender, and class―which are important to decipher in re-configuring established ideas around space, modernity and the politics of display in art. Presented in recognition of the Levy's Collection's celebrated return to McMaster following its cross-Canada tour in the exhibition, A Cultivating Journey.
This slideshow requires JavaScript.
About the Curator:
With just over 20 years of curatorial, administrative and educational experience in various arts institutions across the country, Pamela Edmonds has been an advocate for inclusive curatorial practices and cultural equity in the visual arts throughout her career. Originally from Montreal, she holds a BFA in Studio Art/Art History and an MA in Art History from Concordia University.  She began her curatorial career in Halifax beginning in the late 1990's, holding programming positions at the Anna Leonowens Gallery (Nova Scotia College of Art and Design University), the Art Gallery of Nova Scotia, Dalhousie Art Gallery, Mount Saint Vincent University and the Centre for Arts Tapes to name a few. She has also held curatorial positions at A Space Gallery, (Toronto), the Art Gallery of Peterborough and the Thames Art Gallery (Chatham). More information on her projects can be found at pe-curates.space.
Events
GUEST SPEAKERS SERIES
Curator's Talk by Pamela Edmonds: Friday, November 1, 12:30 – 1:20 pm

Talk by Dr. Kenneth Montague, Director of Wedge Curatorial Projects / Collector of African diasporic art: Friday, November 15, 12:30 – 1:20 pm

Talk by Merray Gerges, Art Critic and Editorial Resident at C Magazine: Thursday, November 28, 12:30 – 1:20 pm

All events are free and open to the public
*     *     *
For more information about the exhibition, please contact:
Pamela Edmonds, Senior Curator, McMaster Museum of Art
905-525-9140 ext. 27577   edmondsp@mcmaster.ca