Recently opened here at the MMA is a collection of work by the American artist Leonard Baskin (1922-2000). He was interested in art that imparted moral messages and the reality of human nature and suffering; his skills ranged from sculpture to poetry, printmaking to book designing.
A fantastic quote that demonstrates this comes from a 1959 Art in America article,
"To burst the bounded fen, to be a master jack, to enrich oneself and one's work by multi-faceted activity; to do this is to spread oneself thick and is to invite sanity."1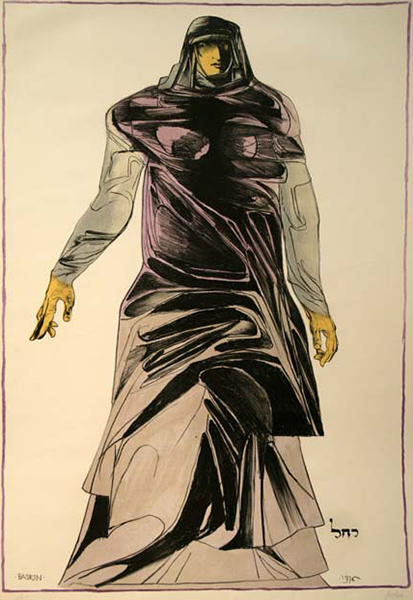 One of the number of lithographs on display is Rachel.
(1976, From the Old Testament Series Ed. 42/100 Lithograph)
Rachel is one of the matriarchs of Judaism. Baskin chose to depict Rachel with very broad shoulders, strong hands, and an impressive, tall figure.   Often, viewers will mistake her for a man, and are surprised to discover her identity.
When compared to an art historical example, Rachel can be seen to have precedents in her apparent masculinity.
Michelangelo's Sibyls from the Sistine Chapel ceiling are a great example of this. Incidentally, one of the first sculptures carved by a young Baskin was a plasticine copy of Michelangelo's Moses.2
– Teresa Gregorio, McMaster Museum of Art
___________
1Art in America XLVII, 31 (Winter 1959).
2Jaffe, Irma. The Sculpture of Leonard Baskin. The Viking Press, New York, 1980. p. 20.