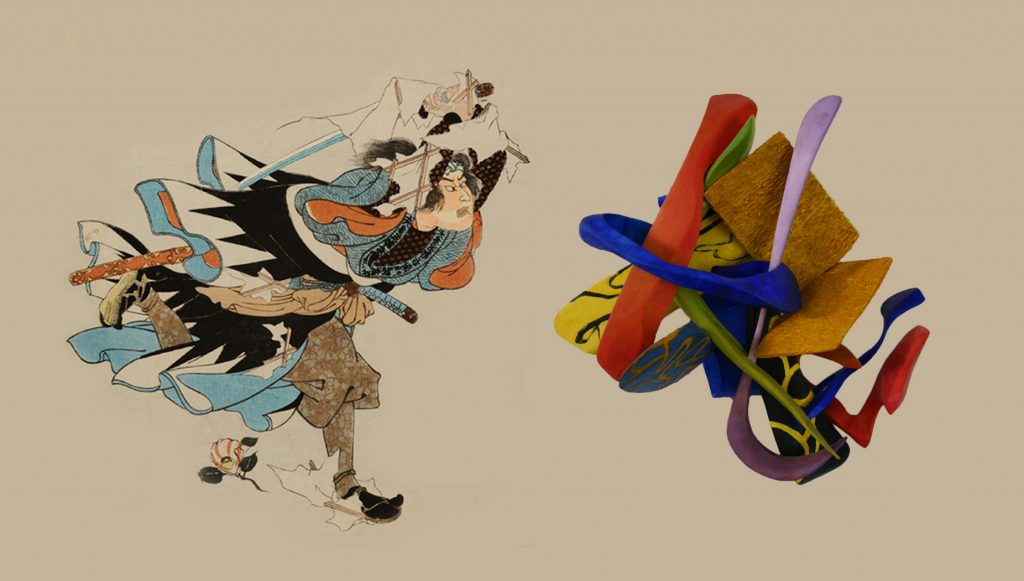 The McMaster Museum of Art presents
KUNIYOSHI vs CVETICH: Gangnam Style
January 12 – April 15, 2017
This exhibition presents a selection of recent sculptural works by Hamilton-based artist Paul Cvetich alongside woodblock prints from McMaster Museum of Art's collection by Utagawa Kuniyoshi (Japanese 1797 – 1861).
Reception: Thursday, January 12, 6-8 pm
Artist Talk: Thursday, January 19, 7:30 pm at Mills Hardware (95 King St. E., Hamilton), Presented by the Hamilton Arts Council as part of their Echo Artist Talk series.
It came about because of Cvetich's interest in aspects of Kuniyoshi's art, an interest which grew while he was teaching English in Korea and Japan twelve years ago.  At that time, Cvetich purchased several Kuniyoshi prints for himself. Upon his return, he examined McMaster's collection.
For Cvetich, Kuniyoshi's work is food for thought, to generate his creative action or enactment as he delves into the possible intersections of the respective visual languages and cultural distinctions over a 150 year period.
Cvetich commented:
I had found a strange sort of comfort in both Korean and Japanese calligraphy when walking the streets.  I loved the torque in Kuniyoshi's figures, the same torque I recognized in the work of Italian Baroque sculptor and architect Gian Lorenzo Bernini and British 20th century painting Francis Bacon. I draw endless grids of my own calligraphic mimicry, then finding little pictographs that inspire me to cut forms out of wood. I play with the pieces, small compositions that then seem to be attracted to each other to form more complex compositions.
The "vs" and "Gangnam Style" in the title is a nod to Korean rapper Psy's song that went viral in 2012. If the original Psy subtext was living beyond one's means—referring to a wealthy enclave in Seoul—it can also suggest that the imagination can have free play, to be serious and playful at the same time. Culture, style and attitudes have a shifting set of perspectives and views, and embrace selective adaptations.
Paul Cvetich is a Hamilton-based artist.  He studied at McMaster University and received his MFA from the University of Guelph.  In 1990 he was awarded the Hamilton and District Labour Council commission for the Day of Mourning Memorial, which is permanently sited at the corner of Bay and Main Street. This is his first exhibition at the McMaster Museum of Art, and includes selected Kuniyoshi prints from the Museum collection.