In School Art Program Update
We're nearing the end of an action-packed 10 week run of the McMaster Museum of Art's In-School Art Program. Thank you to all the enthusiastic teachers and talented students who made this initiative such a great success.
The response was overwhelming with all 75+ spaces filled within a week of our first announcement. We only wish we could have accommodated everyone.
To date we have been welcomed at schools from Hess Street to Bellmoore, and Waterdown to Winona. Over 1500 students from grades 1-8 have participated. Together we dove into topics from Cubism and math to Impressionism and optics, and explored a wide-range of hands-on art making activities.
Programs such as this one are made possible by the N. Gillian Cooper Education Program.
Teacher Feedback:
A great learning experience for all! Incorporated math with art, interesting paintings from hundreds of years ago, hand on activity (all the kids loved it), liked sharing their thoughts about the art and hearing you then tell about it, liked looking at the art.
Thank you for this unique art lesson. It was engaging and linked well with science. Students really enjoyed the activity and take home photograph.
We really enjoyed the art lesson! All the students were engaged and enjoyed the process of printmaking
Teresa had great energy. My class needs that! Great job! Very positive and informative. Great with my special needs students!
The program was AWESOME! The kids were very engaged!
The students LOVED this activity – they were so engaged in the task from beginning to end. It was great to see the finished project. Excellent job to the presenters!
This was excellent! My students were so engaged the entire time and made some beautiful art! Thank you!
I LOVED this opportunity. Having you come to the school and in our classrooms made the experience even better and more seamless. I am 100% interested in having you back in my classroom if you do this again. They LOVED it!
We really enjoyed the art lesson! All the students were engaged and enjoyed the process of printmaking
The museum of art may be closed a while longer, but the art education programming continues. We will be leading and participating in various children's camp art activities, including McMaster's Mini-University, throughout the summer.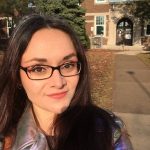 -Teresa Gregorio, Education Officer