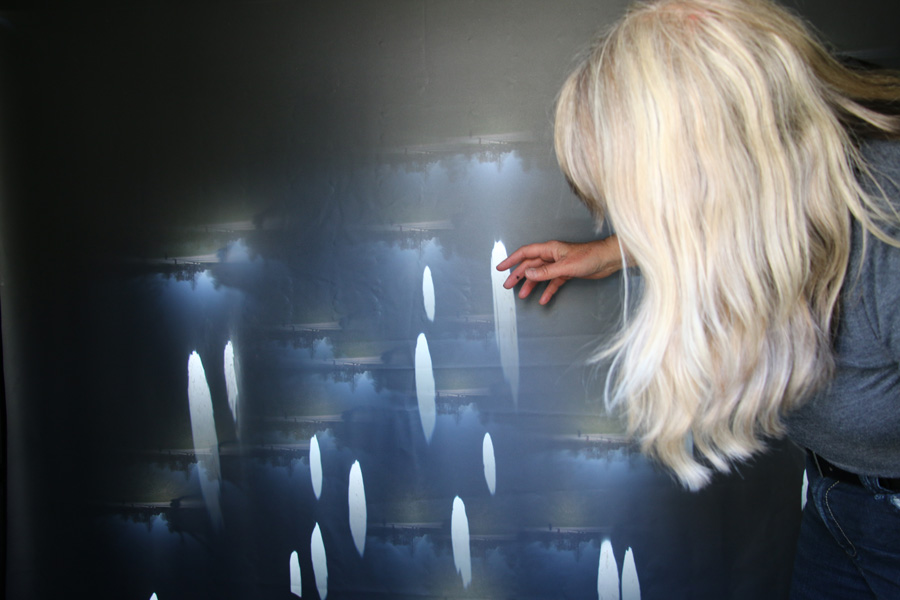 As part of the exhibition The Midnight Sun Camera Obscura Project, Canadian artist Dianne Bos is building Star Shed, a multi-aperture camera obscura chamber, in front of the McMaster Museum of Art.
Camera obscura means 'dark room' in Latin. A forerunner of the modern camera, it is a darkened box with an aperture for projecting the image of an external object on to an inner screen.
Bos drilled holes, patterned according to the stars as they would now be seen in the southern skies, into the shed wall. Upon looking into the Star Shed doors, we do not see the constellations, but rather a kaleidoscopic field of the campus landscape, projected upside-down and in reverse.
"I am fascinated by the history of photography and the ways different devices change our perception of time and space," says Bos. "Pinhole photography allows me to create my own unique camera objects and to suggest a relationship between it and the image it makes.  Large scale public works such as this allow me to explore the science and wonder of optics, light and space, without needing to "take a photograph."
Once completed, the Star Shed doors will be open for viewing during the Museum's open hours: Tuesday-Wednesdays 11am-5pm, Thursdays 11am-7pm, Fridays 11am-5pm and Saturdays 12pm-5pm
About the Artist
Dianne Bos was born in Hamilton, Ontario, received her B.F.A. from Mount Allison University in Sackville, New Brunswick. Bos is represented by Newzones Gallery of Contemporary Art, Calgary; Kostuik Gallery, Vancouver; and Beaux Arts des Ameriques, Montreal. For more information see www.diannebos.ca.
Her photographs have been exhibited internationally in numerous group and solo exhibitions since 1981. Important national exhibitions of Dianne's work include: 'Light Echo', an innovative installation at the McMaster Museum of Art, in collaboration with Astronomer Doug Welch, which linked celestial and earthly history; It's You!: Unexpected Photographs from Papua New Guinea, at the Confederation Centre of the Arts, Art Gallery, PEI.,; and Reading Room at the Cambridge Galleries, an exhibition exploring the book as a camera. Her work is currently part of the exhibition Poetics of Light, Contemporary Pinhole Photography, at the New Mexico Museum of Natural History, New Mexico. Recent exhibitions at the University of Lethbridge Art Gallery included 'See Attached' a photographic dialogue with photographer Sarah Fuller and ' Dianne Bos: The Sleeping Green. no man's land 100 years later '.  The Sleeping Green opened at the Canadian Cultural Centre in Paris April 2017 and will travel to various galleries in Canada in 2018
Bos' public art commissions include a large light box installation at Toronto's VU condominiums entitled 'Palimpsest' and the banner design for the city of Calgary's bridges.
Many of Bos's recent exhibitions feature handmade cameras, walk-in light installations, and sound pieces.  In 2015 Bos also created a site-specific installation for Dawson City, Yukon, a work that has continued to be shown as part of the 'Midnight Sun Camera Obscura' traveling exhibition. In 2016 one of Bos' Galaxy Projection devices was part of the exhibition 'Seeing' at the Science Gallery, Trinity College, Dublin and is now traveling in the USA.
These tools and devices formulate and extend her investigations of journeying, time, and the science of light.
Dianne Bos has been the recipient of many awards and grants including the Canada Council for the Arts and the Alberta Foundation for the Arts Grants. Bos has also been nominated twice for the Scotia Bank Photography Award.