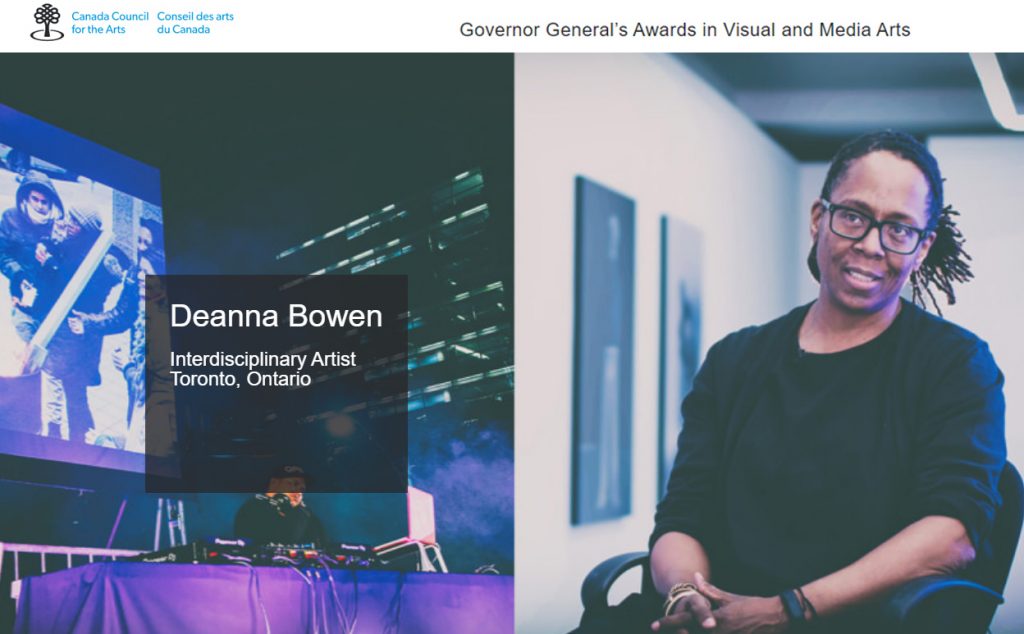 Critically-acclaimed artist Deanna Bowen, whose solo show A Harlem Nocturne is currently on view at the McMaster Museum of Art, is among eight winners to receive the 2020 Governor General's Award in Visual and Media Arts. All honourees will receive a $25,000 prize for their contributions to Canadian creativity at a ceremony in Edmonton on July 3.
"Year after year, the winners have demonstrated how dynamic, exciting, and deeply relevant Canada's visual and media arts scene truly is," Simon Brault, director and CEO of the Canada Council for the Arts, said in a statement.
Bowen will be at the McMaster Museum of Art next Thursday, February 27, 7 – 9 p.m. giving a public artist talk, in conversation with Selina Mudavanhu, Assistant Professor, Communications Studies and Multimedia. She will also return to campus April 3 for the film screening and discussion of her edited cut of On Trial The Long Doorway. Bowen's exhibition is circulated by the Contemporary Art Gallery, Vancouver and is on view at the museum of art until May 9, 2020.
Deanna Bowen is an interdisciplinary artist who makes use of a repertoire of artistic gestures in order to define the Black body and trace its presence and movement in place and time. A descendant of two Alabama and Kentucky born Black Prairie pioneer families from Amber Valley and Campsie, Alberta, her family history has been the central pivot of her auto-ethnographic interdisciplinary works since the early 1990s. In recent years, her work has involved close examination of her family's migration and their connections to Vancouver's Hogan's Alley and Black Strathcona, the "All-Black" towns of Oklahoma, the Kansas Exoduster migrations and the Ku Klux Klan in Canada and the US.
Bowen was nominated for this award by artist Vera Frankel who said, "With an uncanny ability to discover in an archive the heartbeat of the lives it recounts, its masked agendas, and the implications of decisions taken along the way, Deanna Bowen creates videos, installations and performance works that allow us to experience these grave and startling meanings as if for the first time."
Canada Council for the Arts
https://en.ggarts.ca/deanna-bowen
CBC Arts In the Making
Every family, every community needs an archivist — Deanna Bowen's art does this with warmth and care