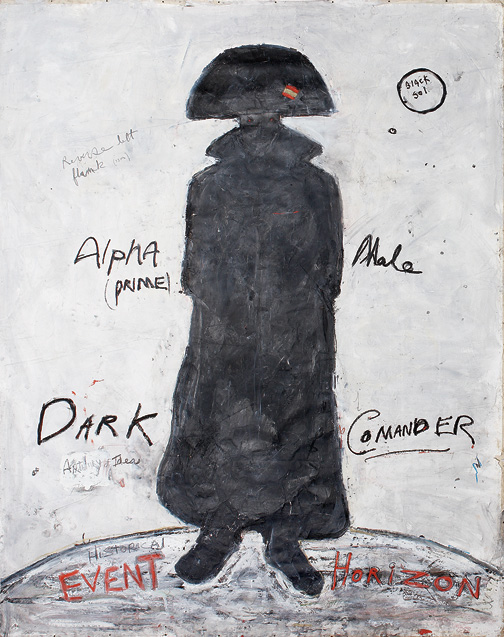 McMaster Museum of Art presents
DARK COMMANDER: The Art of John Scott
22 August – 5 December 2015
A two-part exhibition: McMaster Museum of Art Fall 2015 | Art Gallery of Hamilton Winter 2016
Organized by The Faulconer Gallery, Grinnell College, Iowa
Curator: Daniel Strong
RECEPTION: Thursday, September 17, 6 – 8 pm
                       The artist will be in attendance
JOHN SCOTT and ANN MACDONALD in conversation: Thursday, October 29, 6 pm.
Ann MacDonald is Director/Curator, Doris McCarthy Gallery, University of Toronto Scarborough
In coarse black lines, hand-scratched metal, fragmented text and visceral colour, Toronto-based artist John Scott traces the trajectory of heavy industry, high technology, military might and maniacal folly as they clear-cut their way through blighted landscapes and a besieged human psyche. From his working-class roots in Windsor, the self-aware and wry-humoured Scott has remained consistent and eerily prescient in raw-edged drawings and found-object installations that plot a vector from Space Age optimism—mankind's ''giant leap'' in the 20th century to the nihilism of unceasing war and terror in the 21st. In just over 35 years we've gone from the Voyager spacecraft to the Predator drone, and all along John Scott seems to have seen this new reality coming.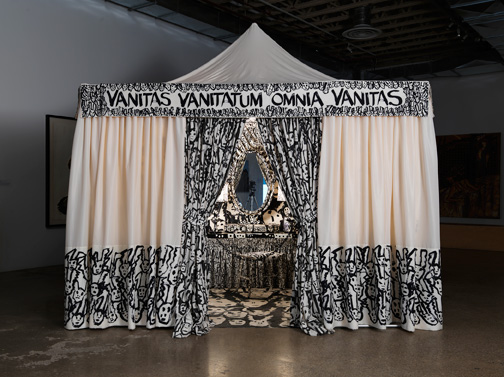 The exhibition at McMaster presents John Scott works drawn from over 30 years, with a focus on his studio practice of the past 15 years.  It includes works on paper, sculpture and two reconstructed major installations, Bunny Boudoir (1983) and Europe (1993). One of the icons of Scott's work, the inspiration for the exhibition's title, is Alpha Male/Dark Commander (2008) a monumental-scaled and imperious Napoleonic figure that recurs in his recent works. The McMaster installation will also include "interjections" from the Museum collection, works by Francisco Goya (Spanish, 1746-1828) and the early 20th century by European avant-garde and expressionist artists Ernst Barlach, Natalia Goncharova and Käthe Kollwitz.
Scott's works are represented in major Canadian public collections and in the United States and Europe.  He was the first recipient of the Governor General's Award for Visual Art in 2000. He is also a long-time faculty member at OCADU.
A 108 page, illustrated publication is available. Forward by Daniel Strong, Curator, Faulconer Gallery, Grinnell College. Essays by Ihor Holubizky, Gary Michael Dault, and Deirdre Hanna.
— 30 —
For more exhibition information please contact:
Ihor Holubizky, Senior Curator, McMaster Museum of Art
905-525-9140 ext. 27577 or holubiz@mcmaster.ca
For images please contact:
RoseAnne Prevec, Communications Officer, McMaster Museum of Art
905-525-9140 ext. 27574 or prevecr@mcmaster.ca
McMaster Museum of Art
Alvin A. Lee Building
McMaster University
1280 Main St W
Hamilton, ON L8S 4L6
905-525-9140 ext. 23241
museum@mcmaster.ca
http://museum.mcmaster.ca
Admission is Free
Museum hours: OPEN Tue/Wed/Fri 11am-5pm, Thu 11-7, Sat 12-5