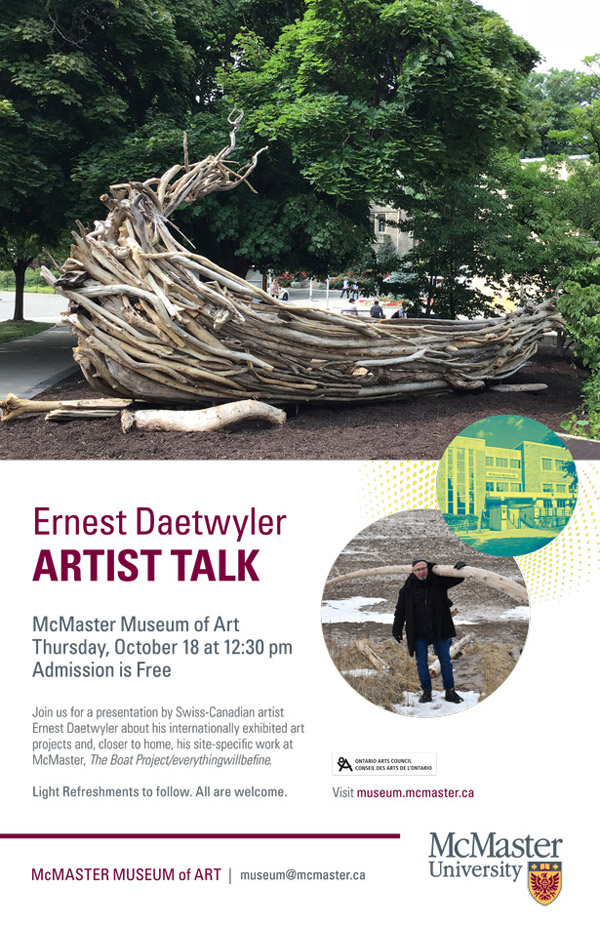 Artist's Talk by Ernest Daetwyler
at the McMaster Museum of Art, McMaster University 
Thursday October 18 at 12:30 pm
followed by light refreshments.
Free and open to the public. Seating is available first-come, first-served.
Find out more about the Swiss-Canadian artist and his impressive practice, including a discussion about his new installation at McMaster, The Boat Project/everythingwillbefine.
Ernest Daetwyler's multidisciplinary projects, exhibitions and public interventions are presented internationally. His numerous awards include the Canada Council for the Arts, the Ontario Arts Council, Pro Helvetia, Switzerland, the Swiss Federal Office of Culture, Presence Suisse, the OAAG 2010 Exhibition of the Year Award, the Region of Waterloo Arts Fund, the Waterloo Region Arts Award and the Pollock-Krasner Foundation, New York, N.Y. He is based in Atwood, Ontario.
The Boat Project/everythingwillbefine will be on view in the Museum's Artist Garden from 2018 – 2020. It was generously supported by the Ontario Arts Council.
McMaster Museum of Art
Alvin A. Lee Building
McMaster University
1280 Main St W
Hamilton, ON L8S 4L6
905.525.9140 x.23241
museum@mcmaster.ca
Follow us on Facebook | Twitter | Instagram
Admission is Free
Museum Hours: Tue/Wed/Fri 11am-5pm, Thu 11-7, Sat 12-5