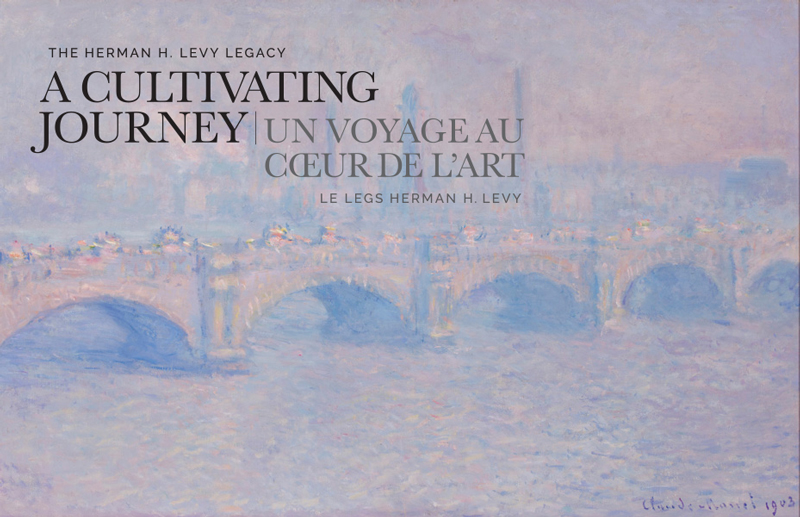 McMaster Museum of Art presents
A Cultivating Journey: The Herman H. Levy Legacy
Sherman & Panabaker Galleries
1 September – 9 December 2017

RECEPTION: Thursday, September 14, 6 – 8 pm

CURATOR'S TALK by Ihor Holubizky: Tuesday, Oct 24, 12:30 – 1:20 pm

TALK | Cultivating Collections and 50th Birthday Celebration: Thursday, November 23, 6 – 8 pm
Tobi Bruce (Director, Collections and Exhibitions, Art Gallery of Hamilton) and
Ihor Holubizky (Senior Curator, McMaster Museum of Art)
A Cultivating Journey examines and celebrates the collection of significant European historical and modern art donated to the McMaster Museum of Art by Herman Levy in 1984. Alone, this was a transformative moment for the Museum, but the Levy Bequest, announced in 1991 after his death, revealed substantial funds expressly for art purchases with the only proviso that they be non-North American in origin.  The openness and generosity of the terms allowed for a unique opportunity to support the Museum's prime purpose of teaching and research, and to re-imagine the collection, bringing it forward into the late twentieth century in a purposeful and thought-provoking way.
Appropriately, the exhibition coincides with the 50th anniversary of the Museum this year.
Herman Levy was a life-long supporter of the University, the Museum and art history as well as the Art Gallery of Hamilton, which was located on the University grounds from 1953 to 1974.  The exhibition works are drawn from the original Levy donation to the Museum (including paintings by Courbet, Derain, Monet, Pissarro, Soutine,Van Gogh), Bequest purchases, and selected works that Levy gifted to the Art Gallery of Hamilton. Included are Levy's first purchases of Chinese artifacts. His dual passion for European and Asian art, was also reflected in the donation of his Asian collection to the Royal Ontario Museum in 1983-84 and a Bequest to the ROM for Asian purchases.
A Cultivating Journey Publication
An exhibition and scholarly publication is forthcoming. Contributors include:
Tabitha Barber (Curator of British Art 1550–1750, Tate)
Tobi Bruce (Director, Collections and Exhibitions, Art Gallery of Hamilton)
Dr. Lloyd DeWitt (Chief Curator, Chrysler Museum of Art)
Alex Kidson (Art Historian and Curator, England)
Dr. Alison McQueen (Professor of Art History, Director of the School of the Arts, McMaster University)
Kim G. Ness (Former Director/Curator, McMaster Museum of Art)
Dr. Caterina Y. Pierre (Professor of Art History at the City University of New York at Kingsborough Community College).
A Cultivating Journey will tour to the Vancouver Art Gallery, opening in March 2018.  Other venues and dates, to be announced.
This project is generously supported by the Government of Canada through the Museums Assistance Program,
Canadian Heritage.


MCMASTER MUSEUM OF ART
Alvin A. Lee Building
McMaster University
1280 Main St W
Hamilton, ON L8S 4L6
905.525.9140 x.23241
museum@mcmaster.ca
Follow us:  Facebook |  Twitter  |  Instagram
Admission to all exhibitions and events is FREE
Museum Hours: Tue/Wed/Fri 11am-5pm, Thu 11-7, Sat 12-5