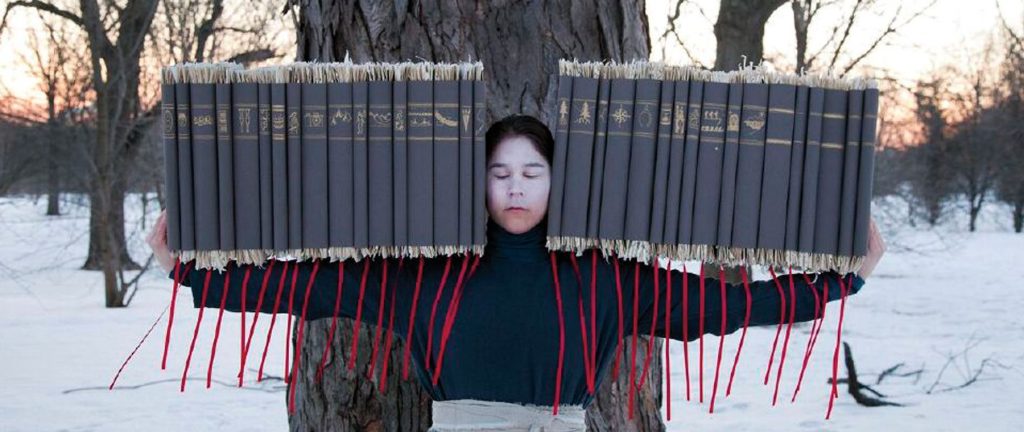 The McMaster Museum of Art proudly presents the exhibition
COYOTE SCHOOL
June 8 – August 19, 2017
Curator:
Rhéanne Chartrand, Aboriginal Curatorial Resident, McMaster Museum of Art
Artists
Joi Arcand, Sonny Assu, Jason Baerg, Jordan Bennett, Christian Chapman, Amy Malbeuf, Meryl McMaster, and
Bear Witness aka Ehren Thomas

Coyote School presents contemporary works by eight mid-career Indigenous artists who acknowledge the influence of senior Indigenous artists on the development of their own artistic practice. Through their visual and verbal stories, we learn that influence comes in many forms; through familial and kinship bonds, through formal and informal mentorships, and through artistic inspiration. Whether literal and visible or conceptual and covert, the influence of senior Indigenous artists on current and future generations of Indigenous artists is not taken for granted, but rather, held up, acknowledged, and honoured.
As Tricksters in training, this exhibition asserts that these eight artists continue to push the boundaries of the institutional spaces carved out for them by senior Indigenous artists by committing their own acts of survivance in ways that further disrupt and subvert colonial narratives. These artists continue to claim space(s) to negotiate Indigenous futurities by (re-)presenting Indigenous identity and (re-)imagining Indigenous creative potentialities in new and provocative ways.
Opening Reception: Thursday, June 8, 6 – 8 pm
6:30 pm Opening Remarks by Elders and the exhibition Curator
7 pm Musical Performance by Jeremy Dutcher, an operatic tenor and composer who blends his Wolastoq First Nation roots into his music

Admission is Free. Light Refreshments will be served.
Coyote School is on view June 8 – August 19, 2017.
Read the Exhibition Guide online.
Coyote School is the second curatorial project of Rhéhttp://Primary Manifestos in Yellowanne Chartrand, Aboriginal Curatorial Resident, to be presented at McMaster Museum of Art.  The first, Unapologetic: Acts of Survivance,  presented earlier this year, included works from the 1980s by eleven foundational contemporary Indigenous artists. Together, Coyote School and Unapologetic: Acts of Survivance foreground continuity in Indigenous art and honour the interpersonal relationships that buttress the Indigenous art community.
MCMASTER MUSEUM OF ART
Alvin A. Lee Building
McMaster University
1280 Main St W
Hamilton, ON L8S 4L6
905.525.9140 x.23241
Follow us on Facebook: mcmastermuseum
Follow us on Twitter: @macmuseum
Follow us on Instagram: macmuseum
Admission is Free
Museum Hours: Tue/Wed/Fri 11am-5pm, Thu 11-7, Sat 12-5

museum@mcmaster.ca
http://museum.mcmaster.ca