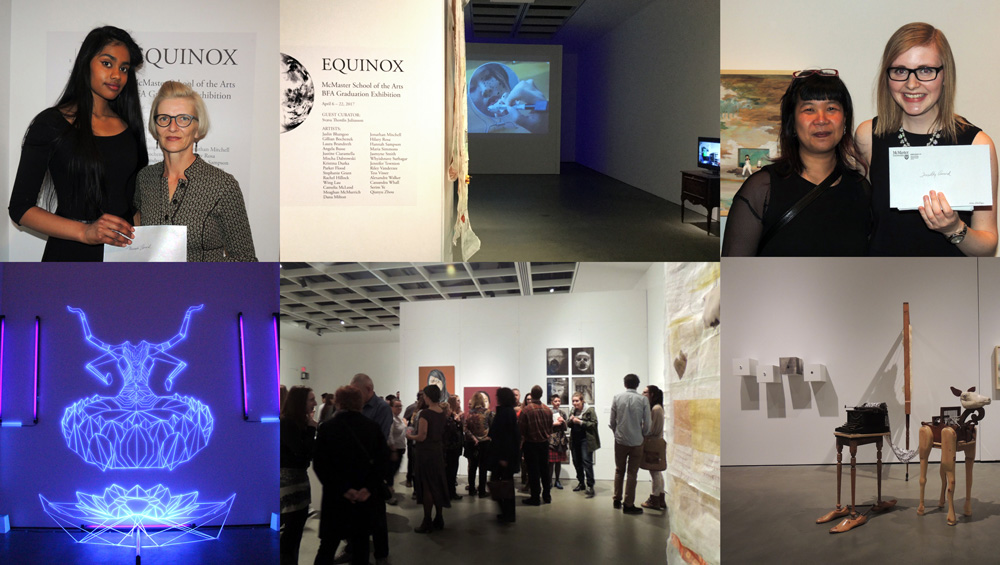 This weekend we welcomed over 550 people to the Museum to celebrate McMaster's graduating BFA class of 2017 (aka SUMMA) and the opening of their group exhibition at the Museum. Congratulations to all the extraordinary students, McMaster School of the Arts faculty and guest curator, Svava Thordis Juliusson.
Among the exciting announcements of the day:
the 2017 SUMMA award winners:
Alexandra Walker   (Faculty Award, selected by the McMaster Studio Art Program Faculty)
Whyishnave Suthagar   (Museum Award, selected by the Curator)
The SUMMA 2018 Guest Curator will be Paul Cvetich, Hamilton-based Artist and McMaster alumnus. Note that an exhibition of Paul's work is on view in the exhibition Kuniyoshi vs Cvetich: Gangnam Style at the Museum until May 6.
The exhibition, titled Equinox, continues until April 22. Don't miss it! Below are more pics from the day (photographer: Sheetal Prasad) followed by some installation views.
This slideshow requires JavaScript.
Installation pics:
This slideshow requires JavaScript.
To see more photos, check out the
Equinox 2017 album
on the Museum's Facebook Page.