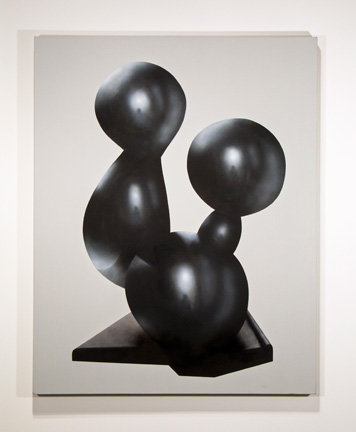 The McMaster Museum of Art proudly presents
CHRIS CRAN: It's My Vault
January 8 – May 9, 2015

For this new exhibition at the McMaster Museum of Art, Canadian artist Chris Cran was invited to select works from the Museum's collection, and to nominate a work of his own to be included.
Cran has selected paintings by: Art & Language, Eric Atkinson, David Bolduc, Louis de Niverville, Raoul Dufy, John Hoyland, Sir Thomas Lawrence, Leon Kossoff, Ray Mead, Albert Marquet, Bruce McLean, David Milne, Alfred Pellan, Robert Rauschenberg, Gerhard Richter and his own work, The Disputed Sculpture, 2007, acrylic on canvas, on loan from Bennett Jones LLP.
He explains the reasoning behind his selections:
At the beginning of each semester I used to assign every senior seminar class I taught at the Alberta College of Art and Design the task of answering a question: If I were to curate an exhibition with these two artists (A and B), what do you think would be the reason?
The works I selected for this exhibition hit me.  They hit me first with pleasure and then they hit me relative to others that I had already selected. They hit me both with their similarities and differences and I grouped these hits: portraits, landscape to abstraction, collage/wallpaper and squeeze and stretch.
It's my vault.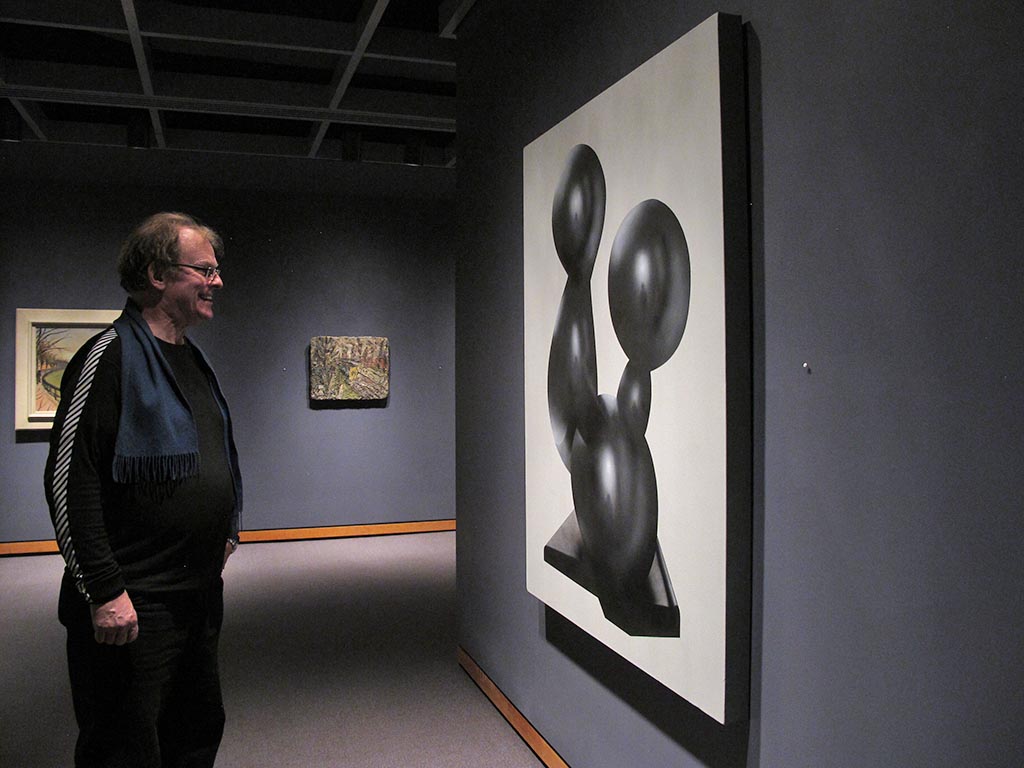 Chris Cran is based in Calgary. His work has been exhibited across Canada in solo and group exhibitions, with work in the collections of the National Gallery of Canada, Musée des Beaux Arts de Montréal, Art Gallery of Alberta, Art Gallery of Nova Scotia, Glenbow Museum, Mendel Art Gallery, and many others.  Cran has lectured widely in Canada, is an active advocate for the arts, and received the Doug & Lois Mitchell Outstanding Calgary Artist Award in 2014. A major survey of Cran's painting is currently in development by the Art Gallery of Alberta and the National Gallery of Canada, which will open in September 2015 and May 2016 respectively.
Join us for CHRIS CRAN ARTIST'S TALK:  March 24 at 12:30 pm
Open to the public. Admission is free.
---
LIST OF WORKS
By the Artist / Curator:
Chris Cran (Canadian b. 1949), The Disputed Sculpture, 2007, acrylic on canvas, 152.5 x 122 cm. On loan from Bennett Jones LLP
From the Collection of McMaster Museum of Art, McMaster University:
Art & Language (English, formed 1968) INDEX: Incident in a Museum III, 1985, oil, collage and alogram on canvas mounted on plywood. Levy Bequest Purchase, 1994
Eric Atkinson  (Canadian b. England 1928) Greysilver Shoreline, 1997, acrylic and sand on canvas.  Gift of the artist, 2009
David Bolduc (Canadian 1945-2010), Floating World, 1979-1991. acrylic on canvas. Gift of Mr. Irving Zucker, 1991
Raoul Dufy (French 1877-1953), La Chasse, 1920, gouache on paper laid on canvas. Gift of Gordon Eberts, 1991
John Hoyland (English 1934-2011), 17.10.72, 1972, acrylic on canvas. Gift of Gordon Eberts, 1991
Leon Kossoff (English b. 1926), Between Kilburn and Willesden Green, 1993, oil on board, Levy Bequest Purchase, 1995
Sir Thomas Lawrence (English 1769-1830), Portrait of William Esdaile, 1829-1830, oil on canvas. Gift of Herman Levy, Esq., O.B.E., 1984
Pierre Albert Marquet (French 1875-1947), L' Usine au Bord du Canal, Hambourg / Hamburg, A Factory, 1909, oil on canvas. Gift of Herman Levy, Esq., O.B.E., 1984
Bruce McLean (English b. 1944), Nouveau Niche, 1991, three panels of powder-coated steel bolted together, screen-printing and paint. Gift of Leon Liffmann, 2010
Ray Mead (Canadian 1921-1998), Untitled, 20th Century, oil on canvas. Gift of Miriam Shiell, 1988
David Milne (Canadian 1882-1953), The Shore Line, Six Mile Lake, 1933-1937, oil on canvas. Lois M. Scott-Thomas Bequest for the John R. and Margaret MacLaurin Memorial Collection, 1964
Louis de Niverville (Canadian b. 1933) Two Trees, 1988, mixed media on two hollow core doors. Gift of the artist, 2003
Alfred Pellan (Canadian 1906-1988), Fondre un Désir de Plume / To Melt a Feather as Desire, 1949, oil on canvas. Wentworth House Art Committee Purchase, 1965
Robert Rauschenberg (American 1925-2008), Soviet / American Array I, 1988-1989, Ed. 41/55, intaglio and collage on paper. Gift of Gordon Eberts, 1992
Gerhard Richter (German b. 1932), Isa (717-6), 1990, oil on canvas. Levy Bequest Purchase, 1997