Rhéanne Chartrand, Curator of Indigenous Art at McMaster Museum of Art, is heading to London to speak on a panel, celebrating the opening of As Immense as the Sky, an exhibition of work by artist/photographer Meryl McMaster at Canada House, Trafalgar Square. Chartrand is a long-time friend and supporter of the artist. Having curated McMaster's work for numerous exhibitions, including the 2017 Coyote School at McMaster Museum of Art, Chartrand also facilitated the purchase of her photographs for the Museum's permanent collection.
All of us here at the Museum join Rhéanne in congratulating Meryl McMaster on this major presentation in the U.K.
As Immense as the Sky is on view at Canada House March 6th – May 9th, 2020. The Private Viewing and Panel Discussion, presented by The Baldwin Gallery, will be held March 10.
*MAY 2020 UPDATE: VISIT THE EXHIBITION ONLINE*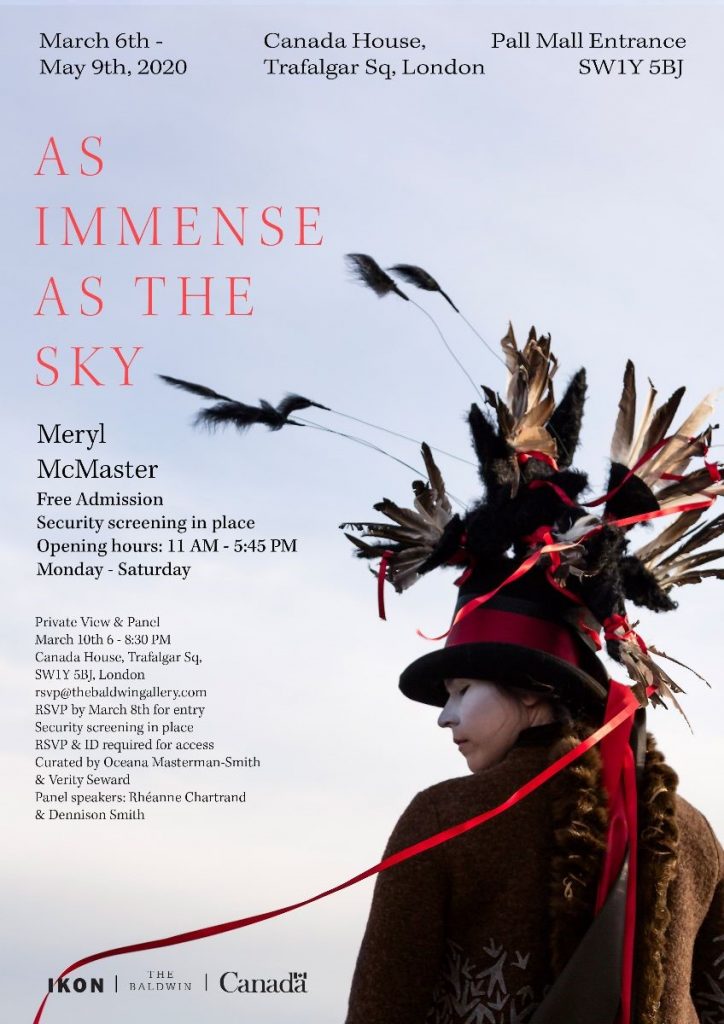 Following on from the first solo presentation in the United Kingdom of McMaster's work at IKON Gallery, Birmingham (December 2019), the exhibition features a selection of works from McMaster's latest series As Immense as the Sky (2019) and Edge of a Moment (2017).
A member of the Siksika First Nation (Plains Cree) on her father's side and with Euro-Canadian (British and Dutch) ancestry on her Mother's side, McMaster's sculptural photography navigates her dual heritage to expand our understanding of self-hood. Incorporating props, constructed garments and performance, the artist adopts fluid guises to explore the intersections of her Indigenous and European heritage, revealing Canada's conflicted histories. Her dream-like images encourage self-exploration, wonderment and hope, transporting the viewer to a space of contemplation and introspection. Curated by Oceana Masterman-Smith and Verity Seward, this is the first solo presentation of McMaster's work in London.
Panel speakers include Rhéanne Chartrand and Dennison Smith, PhD, Owner and Creative Director of The Baldwin Gallery, London. The panel will be chaired by As Immense as the Sky's co-curator Verity Seward.