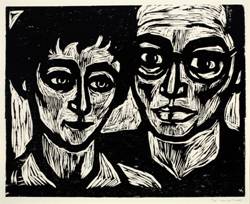 Wood is a wonderfully versatile artistic material; it can work with a visual language in such different art forms as prints and sculpture. You can see examples of its expressive potential in the MMA's current exhibition of work by former McMaster art professor Anne Kahane.
In addition to a display of Kahane's wood cuts and sculpture in wood from McMaster's collection, this exhibition also features work by several other artists, including the wood cut by Kahane's artist husband Robert Langstadt (1912-1987).
Langstadt studied art, design, typography and art history in Berlin, Nuremberg, Munich and Florence. He lived for a period with the family of Max Pechstein, one of the members of the German Expressionist group Die Brucke. Langstadt emigrated to Canada c.1940, taught art at McGill and Concordia universities and moved to Hamilton in 1980. He had solo exhibitions at McMaster University Art Gallery in 1982, and the Carnegie Gallery in Dundas in 1987, shortly before his death.
In 1982, Langstadt stated:
To make woodcuts I use ordinary wood planks, a few sculptor's chisels and an old cutting knife, which has traveled with me for fifty years. This last, my chief tool, makes its own laws.
In its essentials, this directness of cutting and printing differs little from the early Gothic woodcuts, or those of Durer, of Gauguin to Edvard Munch and the Expressionist of the twentieth century.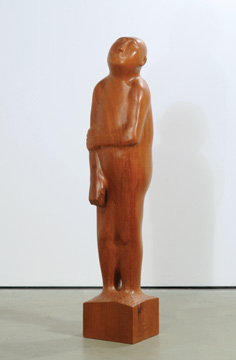 In a 1967 interview Anne Kahane spoke of working with wood:
I must adapt it to work in wood. Wood suits me: I like the challenge of its restrictions [and] I often consider myself as a sort of carpenter who makes sculpture, whose pieces fit together like well-made tables and chairs.
Unpolished wood has a quality of breathing and scintillating, of catching every flicker, like a drawing [and] I wanted to make sculpture with this kind of intimacy.
Check out the Anne Kahane exhibition at McMaster, on view until August 13.
– Teresa Gregorio,
McMaster Museum of Art