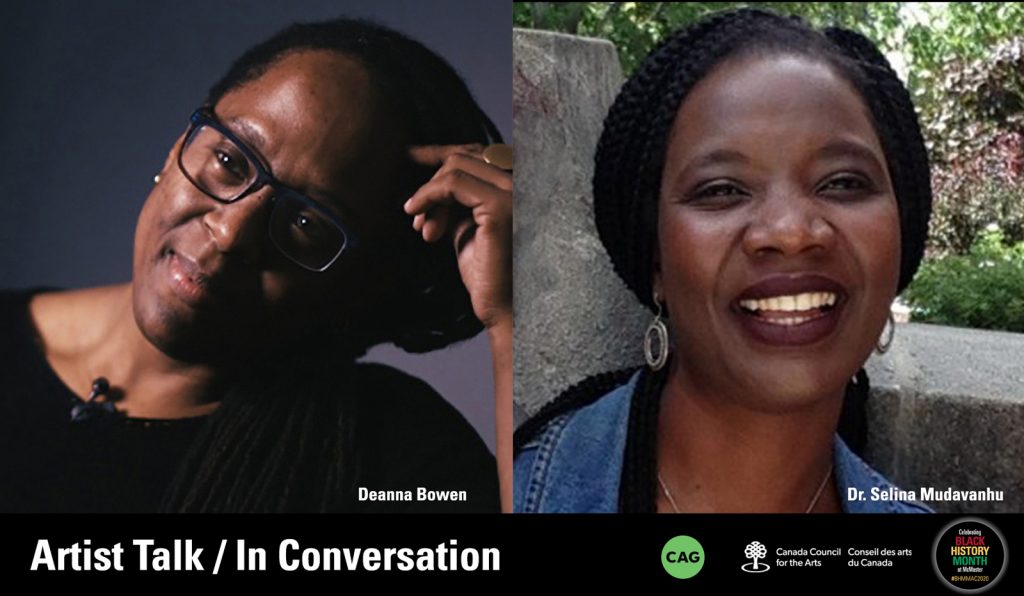 Artist Talk / In Conversation: Deanna Bowen and Professor Selina Mudavanhu
Location: Level 4 Galleries, McMaster Museum of Art
Date: Thursday, February 27, 2020 from 7:00 pm – 9:00 pm
Join us for a public conversation between artist Deanna Bowen and Professor Selina Mudavanhu from McMaster's Department of Communication Studies and Multimedia. Admission is free.
This talk is presented as a complement to Bowen's solo exhibition A Harlem Nocturne currently on view at the McMaster Museum of Art. The exhibition presents still and moving images drawn from the artist's ongoing research into her family lineage in Canada, specifically Vancouver's Black entertainment community from the 1940s to the 1970s. Mining overlooked archives, forgotten documents, and related ephemera, Bowen employs a range of artistic gestures to bring traces of a complex, deeply personal and often violent past into public visibility. The exhibition takes up many of the concerns currently shaping discussions in photography and Black visual studies. Deanna Bowen: A Harlem Nocturne is curated by Kimberly Phillips, circulated by the Contemporary Art Gallery, Vancouver, and on view at the McMaster Museum of Art until May 9, 2020
This special event is supported by McMaster's Office of Equity and Inclusion as part of the University's Black History Month celebrations.
Deanna Bowen is a Toronto-based interdisciplinary artist whose practice examines race, migration, historical writing and authorship. Bowen makes use of a repertoire of artistic gestures in order to define the Black body and trace its presence and movement in place and time. In recent years, Bowen's work has involved rigorous examination of her family lineage and their connections to the Black Prairie pioneers of Alberta and Saskatchewan, the Creek Negroes and All-Black towns of Oklahoma, the extended Kentucky/Kansas Exoduster migrations and the Ku Klux Klan. She has received several awards in support of her artistic practice including 2017 Canada Council New Chapter and Ontario Arts Council Media Arts production grants, a 2016 Guggenheim Fellowship and the 2014 William H. Johnson Prize. She has exhibited at the Royal Ontario Museum, Toronto (2017); the Art Museum at the University of Toronto (2016); the Institute of Contemporary Art at the University of Pennsylvania, Philadelphia (2015); McMaster Museum of Art, Hamilton (2014 – 15) and the Art Gallery of York University, Toronto (2013).
Selina Mudavanhu is Assistant Professor in the Department of Communication Studies and Multimedia at McMaster University. She holds a PhD in Media Studies from the Centre for Film and Media Studies at the University of Cape Town (UCT) in South Africa. Mudavanhu's research interests are in critical media studies, critical race studies, anti-colonial studies, (social) media and the politics of representation and framing, media audiences, ICT4D and digital storytelling. Her current research focuses on understanding the ways those with power constitute meanings on different topics in mainstream media and social media texts. A large portion of this research examines the likely implications of the dominant constructions on the lives of ordinary people. Mudavanhu's research also prioritizes the voices of the 'subaltern.' Mudavanhu is interested in the manner ordinary people speak back to power and create alternative meanings on social media platforms and through methodologies such as digital storytelling.
#BHMMAC2020