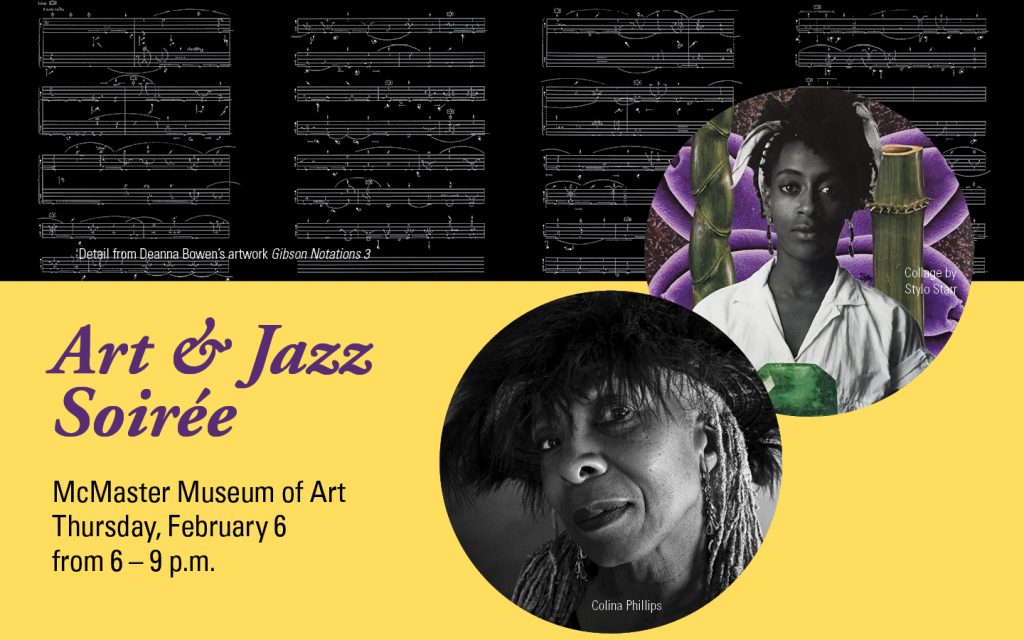 Join us for an Art & Jazz Soirée at the McMaster Museum of Art on Thursday, February 6 from 6 – 9 p.m.
Presented as part of the University's Black History Month celebrations, this exciting night will feature various displays of art, art-making and music, including the museum's current exhibition "A Harlem Nocturne" by artist Deanna Bowen which archives Vancouver's Black entertainment community from the 1940s to the 1970s. The evening includes a collage-making workshop with Hamilton designer and visual alchemist Stylo Starr and musical performances by acclaimed vocalist Colina Phillips.
The community art show will feature work by Anisa Nour, Sydney Kuhne, Menny, Aaron Parry, Fathi Hussein and Sara Mustafa.
Refreshments provided.
Admission is free.
All are welcome.
This special event is presented by McMaster's Office of Equity and Inclusion and McMaster Museum of Art.
About Colina Phillips
Colina Phillips has sung with an A-list of Canadian and international music artists who stretch from rocker Bryan Adams to crooners Anne Murray and Celine Dion to sizzling Chaka Khan, on television and radio shows, recordings and jingle sessions.
Blue Mood a jazz recording by SVP featuring Colina's vocals with Jonathan Goldsmith/piano; Michael Stuart/ saxophone, was Colina Phillips' first release as a song writer. A Gold Record was awarded to SWAY (Phillips, Sharon Lee Williams and Vivienne Williams) for Hands Up Baby (Give Me Your Heart). Phillips is also a director. Her first film Making Change was invited to screen at the Toronto International Film Festival.
Colina Phillips Solo, original songs sung and accompanied on a Merlin, is the latest step along her musical path. Phillips also sings with respected singer/songwriter Edgar Breau and the cult band Simply Saucer (vocals/percussion/synth).
Colina Phillips career includes multi-genre work with short-listers Bryan Adams, Ronnie Hawkins, Celine Dion, Ronnie Prophet, Marc Jordan, Bruce Cockburn; a JUNO nomination/Kaleefah; a Gold Record/Sway; a directorial debut at TIFF/Making Change. Jazz CD Blue Mood captures Phillips' vocal artistry and original songs.