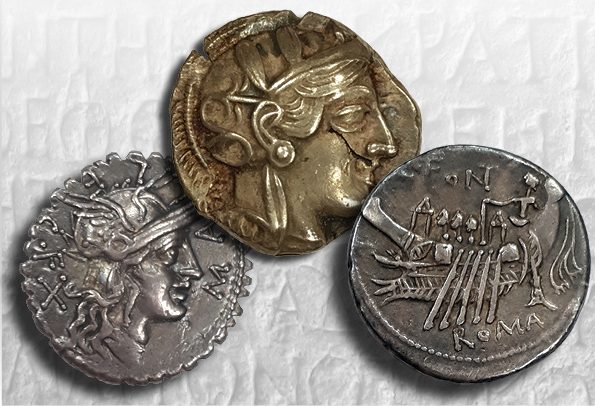 McMaster Museum of Art presents
Instruments of Exchange: Coins from Antiquity to Today
Curator: Spencer Pope, Department of Classics and Honorary Curator of McMaster's Bruce R. Brace Coin Collection
Togo Salmon Gallery
September 12, 2019 – August 2020
OPENING RECEPTION: Thursday, September 12, 6 – 8 pm
CURATOR'S TALK by Spencer Pope: Thursday, September 19 ,12:30 – 1:20 pm
Because they are instruments of economic exchange, coins contain richly detailed images that provide an assurance of their value. And because they are issued by a political authority, the images represent the community that produced and keep them in circulation. In this way, coins sit at the intersection of economic, political, and artistic interests.
Coinage developed a visual language that spoke both to their value and their origin as early as the seventh century BCE. It remained a fundamentally conservative medium throughout antiquity and even beyond: their recognizability is part of their function. The visual language established in antiquity still governs many coins today, with the result that much of what circulates now is indebted to long-lived traditions.
This exhibition presents coins from the McMaster Museum of Art and considers their role as instruments of exchange. Complementing the coins are a selection of ceramic and glass vessels from the antiquities collection.