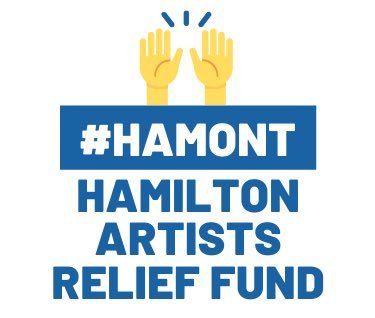 The McMaster Museum of Art is a proud supporter of the Hamilton Artists Relief Fund. Organized by The Hamilton Arts Council, it is raising and distributing emergency relief funds for artists struggling during this difficult time, as well as providing a curated online platform for local artists to present and perform. Video performances will air through Facebook Live and will be shared across all HAC social media platforms.
******************
For Immediate Release:
Friday, April 16,  2020
Hamilton Arts Council have dispersed over $10,000 to first wave of Hamilton arts professionals

The Hamilton Arts Council Board of Directors is pleased to announce that the first round of applications have been reviewed, with financial relief to dozens of Hamilton arts professionals being distributed April 16th, 2020.
The assessment criteria for funding decisions is closely based on the requirements of the application process:  A professional CV, Hamilton residency, and a brief summary of both monetary losses and needs for the continuation of artistic practice. In the broadest terms possible, the Board of Directors has taken into account the demonstrated financial need, professional losses, and how the applicant proactively addresses their ability to continue their arts practice during this crisis.
To date, the HAC has processed approximately one-third of the applications, dispersing over $10,000. We will continue to assess applications as we are able. All applicants will be advised by email as funding decisions are made.
We are committed to dispersing 100% of the Hamilton Artist Relief Fund directly to local artists. Our continued efforts to financially assist the local arts community are dependent on the revenues raised. To that end, we would like to thank our partner donors, including the Hamilton Public Library, Art Gallery of Hamilton, Hamilton Artists Inc and McMaster Museum of Art. As our fundraising continues, we hope that the Hamilton community will continue to support our artists by participating in the online performance series  on Tuesday-Friday afternoons, and by donating to the Relief Fund.
For more information or media inquiries, please contact:
David Hudson
Community Engagement Officer
, Hamilton Arts Council