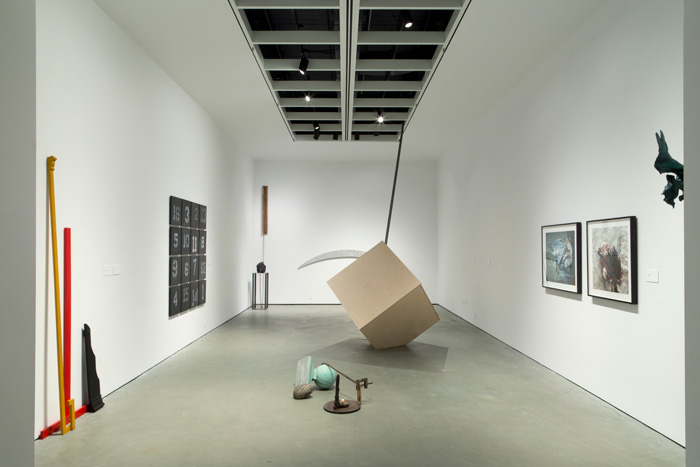 McMaster Museum of Art is proud to present the exhibition
Michael Allgoewer: 1514
A meditation on Dürer's Melencolia
McMaster Museum of Art, Panabaker Gallery
January 17 – March 16, 2019
OPENING RECEPTION: Thursday, January 17, 6 – 8 pm
ARTIST'S TALK: Thursday, February 7, 12:30 – 1:20 pm
Taking Albrecht Dürer's 1514 print, Melencolia I, as an inspiration and starting point, this installation by Hamilton-based artist Michael Allgoewer deconstructs Dürer's image into discrete sculptural elements.
This exhibition includes nine recent sculptural and mixed media works by the artist and a reproduction of Albrecht Dürer's Melencolia I.
Artist's Statement:
In the year 1492, a meteor landed in a field near the village of Ensisheim, in what is now Alsace.
Albrecht Dürer was not far away and speculation has always been that he may have seen the 'thunderstone' come down. On the verso of his St. Jerome painting is an image of an exploding celestial object, and in his 1514 engraving Melencolia it shows up again. Dürer's benefactor, Emperor Maximillian, had the meteor chained to the wall of the parish church to prevent it from escaping to the heavens.
For over five hundred years Dürer's Melencolia has been a source of fascination and inspiration for artists, scientists and occultists. My body of work entitled "1514", takes some of the elements in the engraving and envisions them as discrete sculptural objects.
At the same time, the work of contemporary artists such as Anselm Kiefer, Joseph Beuys, Donald Judd and Gerhard Merz are obliquely referenced. Many of these artists have themselves created work directly influenced by Melencolia.
Touching on Geometry, Alchemy, Mathematics and the very nature of beauty, Dürer's Melencolia has resisted definitive interpretation. As Erwin Panofsky writes, "it typifies the artist of the Renaissance who respects practical skill, but longs all the more fervently for mathematical theory – who feels 'inspired' by celestial influences and eternal ideas [and] in doing all this it is in a sense a spiritual self-portrait of Albrecht Dürer".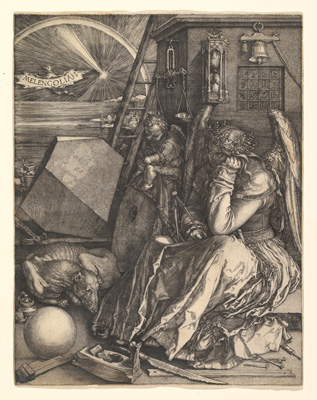 About the Artist
Michael Allgoewer was born in Montreal in 1954. He lived and worked in several provinces and studied briefly at the Ontario College of Art in the mid 1980s. Since then he has shown extensively in solo and group exhibitions, in both public and private galleries.
His work ranges from installation, emphasizing a connection with history and myth, often incorporating recontextualized found material; to paintings which are abstract and rigorous in concept and execution.
He is represented by b contemporary gallery in Hamilton, Ontario.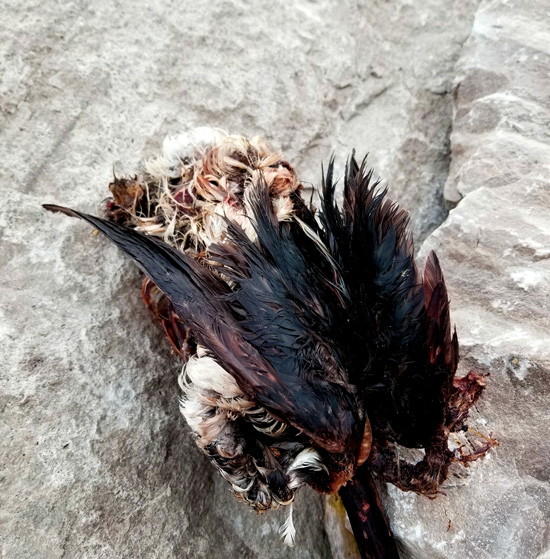 The Artist would like to acknowledge the support provided through the City Enrichment Fund.