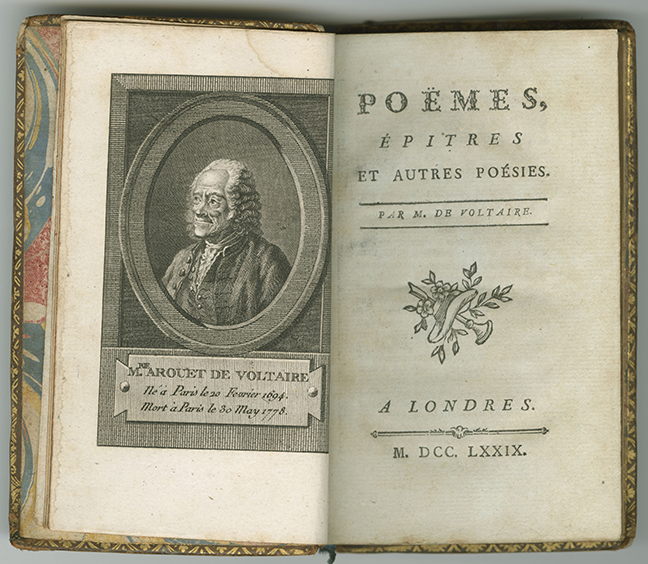 McMaster Museum of Art, in collaboration with McMaster Libraries, proudly presents
The Age of Enlightenment: The Pierre Conlon Book Collection
January 12 – May 6, 2017
Curator: Renu Barrett, Archivist, Mills Memorial Library
Reception: Thursday, January 12, 6 – 8 pm
Special Guest Speaker Dr. William Hanley: Thursday, January 26, 6 – 8 pm
Dr. Hanley will speak about the exceptional career and influence of Pierre Conlon. Dr. Hanley is a professor in the Department of French at McMaster University. His research areas include Voltaire and novel in XVIIIth century. This free public event is presented as a complement to the exhibition.
Guided Tour and Bookmaking Activity – Telling our stories: February 11, 1 – 3 pm
Free Hamilton Winterfest event. Registration is required.
To register, contact Nicole Knibb: knibbn@mcmaster.ca or 905-525-9140 x.27576.
This exhibition focuses on selected books from donations acquired by McMaster University Library from Professor Pierre Conlon (1924-2014) between 2007 and 2011. The collection consists of nearly two hundred 18th century books and includes important and rare editions of works by philosophers such as Voltaire, Rousseau and Montesquieu. The books were collected by Conlon over a period of 40 years and used to compile his monumental bibliography of the entire French Enlightenment: Le Siècle des Lumières (32 volumes) preceded by Prélude au Siècle des Lumières (6 volumes). The bibliography includes works by French authors beginning in 1680 to the onset of the French Revolution. The exhibition is a tribute to Pierre Conlon's extraordinary scholarship and his contribution to McMaster University.
Art was also thriving during the Enlightenment, and works from or inspired by the period, drawn from the outstanding collection of the McMaster Museum of Art, are a natural pairing. The exhibition includes works by:
Jean-Victor Bertin (French, 1767-1842)
Francois Boucher (French, 1703-1770)
Pierre Drevet (French, 1663 – 1738)
William Hogarth (English, 1697-1764)
Jiri Ladocha (Canadian b. Czechoslovakia, born 1942)
George Romney (English, 1734-1802)
Tony Scherman (Canadian, born 1951)
Jean-Joseph Taillasson (French, 1745-1809)
Professor Pierre Conlon was an eminent eighteenth century scholar and a distinguished member of McMaster faculty.
More about Professor Conlon, in tributes from McMaster friends and colleagues: here
More about his Collection at McMaster here