This is a peek into the exciting world of the McMaster Museum of Art docent.  They are a small but mighty team – six in all – of varying age and life experience, something which surely feeds their strength and makes for interesting discussions around here…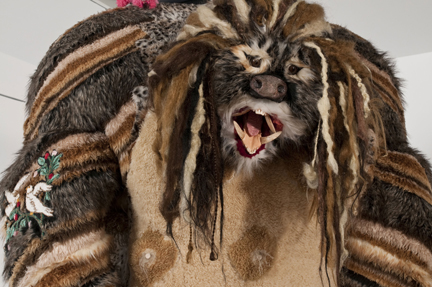 Prior to the opening of Allyson Mitchell's Ladies Sasquatch (an exhibition which captures lesbian feminist politics in the body of repurposed fun fur clad sasquatches), the artist, along with guest curator Carla Garnet, led the docents in a rollicking discussion about the meaning behind the sculptures.  We discovered, as a group, that our expertise as feminists was quite varying.  With the insight of Allyson, Carla and our own knowledgeable docent, Sarah Bardwell, we slogged through some heavy discussion.  The award for Museum Docent Bravery certainly goes to our only male colleague, Jim Casey, who asked some excellent questions from the male point of view, ensuring we fully explored the scope of such dense, although plush, works of art.
Of course with such heady material, we felt the need to embark on a second meeting at which we discussed how to approach the exhibition, particularly for those who, like some of us, are neither female nor lesbian.  In the end we agreed that work like this is more about identity and how we relate as humans, not as genders.  Questioning our existence and oppression under the patriarchal system involves us all – men and women equally, be they queer, straight or transgendered.  We all strive for political, social and economic equality within this primeval patriarchy, an arrangement which benefits so few.  It was an awakening of minds on a cold February afternoon.
Working with our docents is one of my favourite parts of my position here at the Museum.  These past meetings proved to be challenging, extremely insightful, and gratifying…as usual!
Allyson Mitchell's Ladies Sasquatch are here hanging out until March 21.
– Nicole Knibb, McMaster Museum of Art