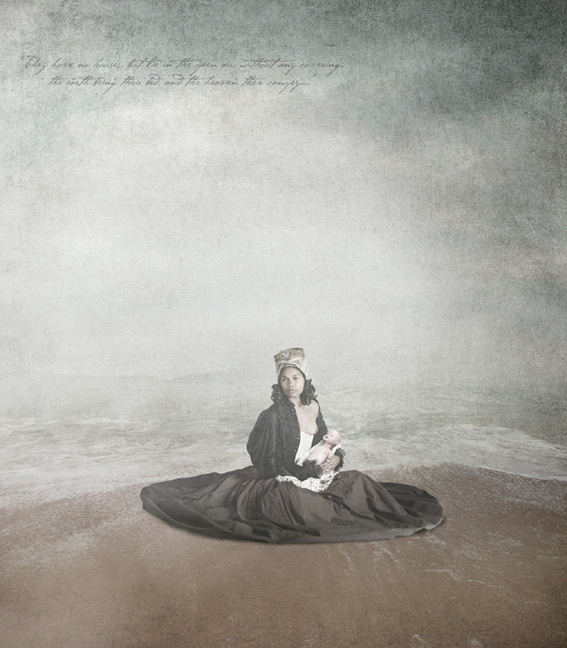 The McMaster Museum of Art has acquired a photo-based work Civilised #12, from a suite of 14 images, by artist Michael Cook (Australian, Bidjara people of south-west Queensland, b. 1968).  It is the first international contemporary purchase by the Museum since 1997, and was made possible through the Donald Murray Shepherd Trust funds.
The artist wrote:
I was never taught Aboriginal history at school, only about European settlement of Australia. This body of work [presents] Aboriginal Australians in the fashions of the four European countries..in the early stages of colonialisation: Spain, The Netherlands, England and France.  It asks "what makes a person civilised?" and suggests how different history might have been had those Europeans realized that the Aborigines were indeed civilized.
Civilised #12 invokes the use of Aboriginal women as wet nurses, and includes a passage from the English buccaneer William Dampier who first visited Western Australia in 1688:  "They have no houses, but lie in the open air, without any covering;  the earth being their bed, and the heaven their canopy…"
Michael Cook was the winner of the 2012 National Aboriginal & Torres Strait Islander Art Award, and Civilised was featured in the 7th Asia Pacific Triennial of Contemporary Art at the Queensland Art Gallery/Gallery of Modern Art in 2012-13.  His work is represented  in major collections across Australia including the National Gallery of Australia.  This is the first work by Cook to enter a Canadian collection.
It will be exhibited in a permanent collection exhibition at the Museum, scheduled for summer 2014.